Preah Sihanouk Province to Be an Engine for Cambodia's Economic Growth, Prime Minister Hun Sen Says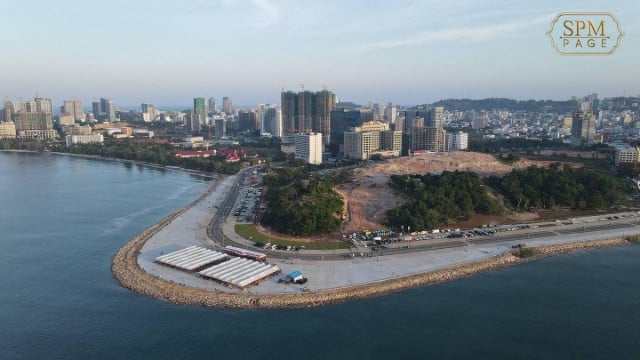 The Cambodian government is investing into the infrastructure of the province, which is expected to play a key role in the country's economy over the next decade
SIHANOUKVILLE--Preah Sihanouk Province has undergone a dramatic transformation over the last few years with its quiet capital of Sihanoukville developing a thriving economic sector in tourism and industry, according to the Cambodian authorities. In particular, the province has become an important link between domestic production and trade with countries in the region, they say.
The development momentum in the province, both in the public and private sectors, makes this province a new engine for potential economic growth in Cambodia, Prime Minister Hun Sen said.
Speaking during the inauguration ceremony of wastewater treatment systems and 37 roads in Sihanoukville on Dec. 2, 2021, the prime minister said that these projects have been in line with Cambodia's vision to turn Sihanoukville into a multi-purpose model economic zone and become an engine for national economic growth.
"This is the first time we have invested more than $300 million in this city," he said. "These works are very crucial, in which we focus on the construction of infrastructure in Sihanoukville as we want to develop a multi-purpose province that will contribute to Cambodia's economic growth."
Developing Preah Sihanouk Province's infrastructure is a must, Hun Sen said, as many companies have invested and built high-rise buildings in the coastal city.
"After the collapse of the Pol Pot regime, Sihanoukville lacked everything," the prime minister said. "But today, Sihanoukville has changed so much that many high-rises have sprung up in this city. Therefore, we need to strengthen our infrastructure."
According to Minister of Land Management Chea Sophara, the construction of 37 roads in Preah Sihanouk Province is part of the government urban planning strategy to develop the business and tourism sectors in Sihanoukville while playing a role in reducing poverty and improving living standards for the people in the area and also maintain the beauty of the province.
"The construction of these roads has made a significant contribution to achieving the Royal Government's vision set out in the Royal Government's Land Management Plan for Sihanoukville," he said during the inauguration ceremony. "The 2030 vision aims to develop Sihanoukville—a sustainable national development pole in Cambodia's coastal region—into a multi-purpose model economic zone and a national growth center through smart city development and coastal integration in Cambodia."
Developing Sihanoukville into a special economic zone with China's support
As Kouch Chamroeun, governor of Preah Sihanouk Province, was mentioning during a press conference on Nov. 29, 2021, development projects for Sihanoukville also includes a third wastewater treatment plant with a capacity to clean up to 20,000 cubic meters of wastewater per day and which is now under construction.
Moreover, Sihanoukville will have an expressway to Phnom Penh by the end of 2022 and a new deep container dock with a length of 350 meters and water depth of 14.5 meters in early 2025, he said.
Public and private sector investment into the province's development has greatly expanded its economic potential, with projects over the last five years taking it into the 21st century, in the direction set by the Cambodian government, Chamroeun said.
On Oct. 18, 2021, China's Urban Planning Design Institute of Shenzhen (UPDIS) signed an agreement with the Ministry of Economy and Finance to provide a master plan service for the development of Sihanoukville to transform it into a multi-purpose special economic zone under the presidency of Finance Minister Aun Pornmoniroth.
Covering an area of 2,659 square kilometers, two-thirds of which are mountains and plateaus, Preah Sihanouk Province also stretches over 32 big and small islands and a coastline of 175.81 kilometers.
The province registered 6.8 percent economic growth and an average income of $4,378 per capita in 2020, Chamroeun said, adding that the poverty rate had dropped to 2.68 percent by early 2021.
With its great potential for economic development and equipped with a deep-sea port, Chamroeun said, the goal is to seize every opportunity and attract more business investment once the COVID-19 crisis is over and this, in order to accelerate the province's development in the industry, agriculture and service sectors in a sustainable manner.
As Finance Minister Aun Pornmoniroth said on Oct. 18, Cambodia has now set its vision to turn Sihanoukville into an important economic pole to attract and absorb foreign investment, which could become a new engine for national economic growth. Sihanoukville will play an important role in seeing Cambodia attain upper-middle-income status by 2030 and high-income status by 2050, he added.
Related Articles