Preah Vihear 100 Percent Organic: A Switch without a Future?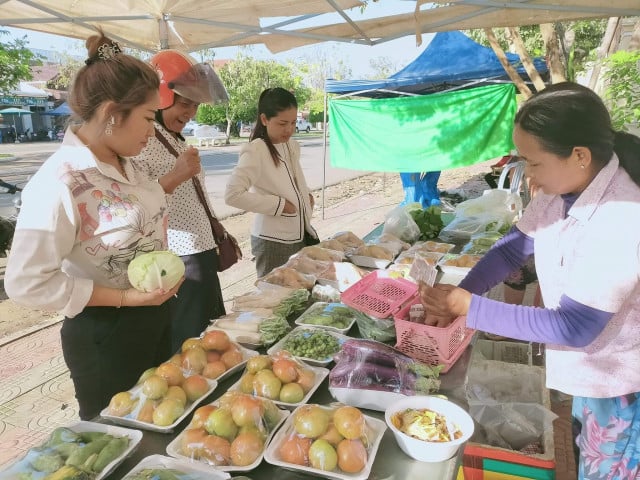 Already known internationally for its temple emblematic of the Khmer empire, will the province of Preah Vihear soon be a symbol again for becoming the first province in Cambodia 100 percent organic in agricultural production?
The province is in any case on its way to being so due to the stated determination of its governor Kim Rithy to convince all farmers in his province to adopt organic production practices. He sees this as a mean to create added value compared to conventional production overflowing with chemical products at a time when consumers are more and more concerned with the health impact of what they eat.
Organic rice, cashew nuts and cassava are already being grown in that province and, according to the governor, are well received by the public.
"According to our studies, our local farmers can sell their organic products at prices 20 to 50 percent higher than conventional agricultural products, and some products can even be sold for double the price," he told the Agence Kampuchea Presse—the Cambodian government's press agency—on Feb. 16.
However, for a 100-percent switch to organic farming to work in the long term, this involves a true commitment on the part of consumers.
In Europe where the organic trend was starting to increasingly take a firm foothold in the large supermarket chains, there is some evidence that the rising food prices due to the war in Ukraine have led consumers to go back to the less expensive products of conventional farming, creating hardship in the organic sector as more and more farmers were in the process of switching to organic farming.
The additional cost of organic products remains a handicap for the sustainability of this sector. Since the health and environmental benefits of organic production constitute a public policy issue, the government authorities could intervene to eliminate or limit these increased costs through subsidies.
Organic conversion would then move on to the phase of societal choice assumed by the public authorities. Let's hope that the Preah Vihear province experiment will be viewed not as a simple marketing move by a province to appeal to a niche market but as a first step in a new national policy direction in agriculture.
Related Articles