Preparing the Youth of ASEAN for the Future of ASEAN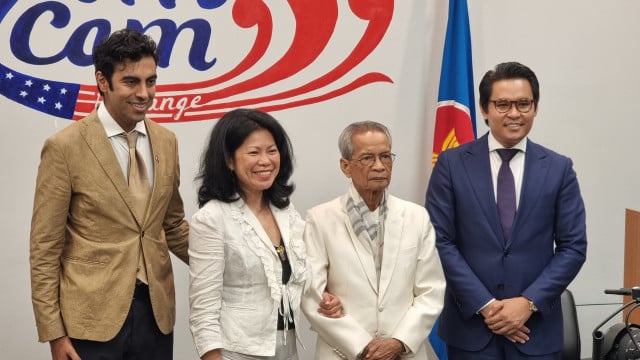 PHNOM PENH – Nearly 100 students representing the ASEAN countries took part in the opening ceremony of the 7th ASEAN Foundation Model ASEAN Meeting (AFMAM 2022) that was held at the AmCam Exchange in Phnom Penh on Sept. 16.
"AFMAM 2022 is organised to provide an immersive platform for youth to dissect and discuss issues that can contribute to achieving the objectives of this year's ASEAN chairmanship," said Dr. Yang Mee Eng, Executive Director of the ASEAN Foundation, which was launched in 1997 to help build a cohesive and prosperous ASEAN community.
The event will help young people contribute their insights in a spirit of cooperation, she said of the event that is also presented live online through Sept. 18 and on Sept. 24 and 25.
Launched in 2015, more than 700 students and teachers have had, through AFMAM, the opportunity to look into how ASEAN functions as a regional and world player on the international stage, and familiarize themselves with the issues and challenges ASEAN has had to deal with. The selected students are called upon to take on roles in simulated meetings to discuss those issues.
In view of the current security challenges in the region in addition to the COVID-19 pandemic, Cambodia, as the chair of ASEAN, set this year's theme for AFMAM as being A.C.T., that is, Addressing Challenges Together.
Through this theme, the 94 student delegates from across ASEAN have been familiarizing themselves with issues such as ASEAN centrality, strengthening competitiveness, regional integration, and sustainable development.
Horn Keany, a Cambodian student delegate, said that she applied to take part in the event because she wanted to expand her understanding of the outside world beyond what she currently knows. "This is also a time for me to re-evaluate myself," she said, "I don't want to be weak anymore. I need to learn something new even though it is hard." Originally from Kampong Chhnang province, Keany has recently graduated in physics at the Royal University of Phnom Penh.
Applying to become a delegate at AFMAM was no easy process, Keany said. But ASEAN is important for the country, and she wanted the opportunity to know more about it, she stresssed. "I spend a lot of time and I challenged myself by reading a lot and finding relevant articles," Keany said. Being part of the Cambodian student delegation, Keany may one day use her knowledge of physics and what she learned at this event to help build relations across borders in her field in ASEAN countries.
The AFMAM delegate-selection process and meetings have also brought to light the difference in education levels in ASEAN countries, differences that may hinder development of the regional community, said Yang of the ASEAN Foundation. "To level the gap and make it smaller, there is a lot to do at the national levels," she said.
While learning from other regions can also be a good option, countries getting to know more about their ASEAN neighbours as well as intra-regional study can be beneficial approaches as well, she said.
Through AFMAM training and many other training programs at ASEAN, young people are encouraged to observe the job market and try to align themselves with the demand at national and regional levels, Yang said. "We still cannot know for sure about 30 percent of the jobs that will appear during the next five years or so."
Speaking of economic sectors, she suggested that, as Cambodia has an important agricultural sector, the country could focus more on digital agriculture and attempt to get young people more familiar with digital technology to work with older farmers.
Through the years, AFMAM has also helped young people become leaders in their countries, said Mahmudi Yusbi, ASEAN Foundation's head of programs. "Youth who participated in our programs also went further and have attended training-for-trainer programs through which they can become trainers and conduct other model ASEAN meetings in their respective countries or universities."
Related Articles