Prime Minister Hun Sen Soon to Be Injected with the AstraZeneca Vaccine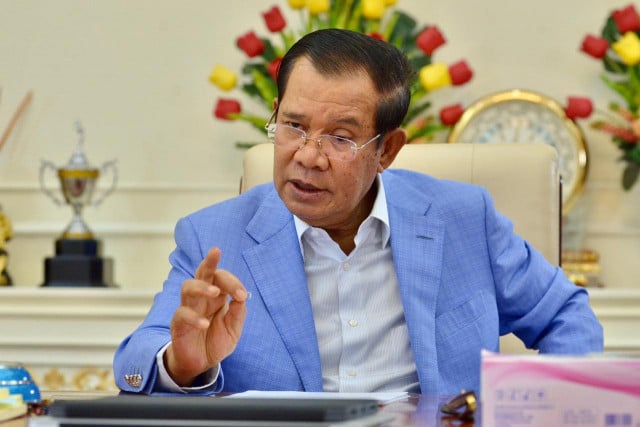 Sao Phal Niseiy
February 28, 2021 12:52 PM
Over 300, 000 doses of this vaccine are due to arrive in Cambodia within days
PHNOM PENH--Prime Minister Hun Sen on Feb. 28 announced that he will get the AstraZeneca vaccine on March 4 as the country is set to receive the first batch of 324,000 doses of the vaccine on March 2 through COVAX, the World Health Organization's vaccine distribution platform.
"I would like to inform that, if nothing changes, I will receive the vaccine at 8:30 am on March 4 at Calmette Hospital during which there will be a press conference," Hun Sen said. He added that Cambodia is thankful to the countries, companies as well as donors around the world for contributing the vaccine through the COVAX Facility.
The prime minister's statement was released one hour after Or Vandine, spokesperson for the Ministry of Health, announced in a statement that the Oxford/AstraZeneca vaccine manufactured by the Serum Institute of India and locally known as Covishield will arrive in Cambodia on March 2.
With the high attention and authorization of Hun Sen, Vandine said, Health Minister Mam Bunheng will represent the Cambodian government during the handover event, which will be held at the Phnom Penh International Airport and will be attended by World Health Organization Representative Li Ailan and UNICEF Representative Foroogh Foyouzat.
"The doses coming in are the first shipment provided to Cambodia by the COVAX Facility," Vandine said in the statement. "Further batches will arrive throughout the year 2021."
Cambodia officially rolled out its vaccination program on Feb. 10 using the vaccine Sinopharm developed in China, extending it later on to nine provinces bordering Thailand, Laos and Vietnam. On Feb. 27, it was scheduled in the third phase to be conducted in 15 provinces.
According to the Ministry of Economy and Finance, Cambodia so far has secured at least 11 million doses of vaccines. Among them, 7 million doses will be acquired through COVAX, 3 million doses are donated by Australia, 1 million doses by China, and 100,000 doses by India.
In addition, Russia has been considering a proposal from Cambodia regarding a COVID-19 vaccine donation, the ministry said.
Related Articles