Prime Minister Hun Sen Stresses that the Pandemic Is Far from Over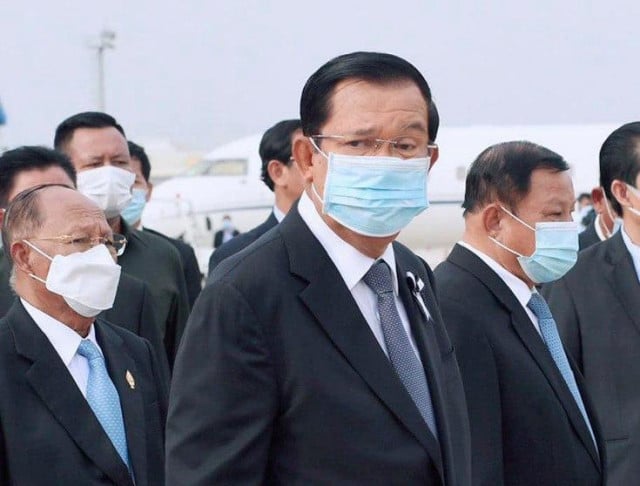 Phoung Vantha
May 28, 2020 4:20 AM
This is not the time to let go of health and hygiene measures, he says

PHNOM PENH--Prime Minister Hun Sen Thursday (May 28) reminded people to be on the alert for a second wave of the Coronavirus Disease 2019 (COVID-19). His warning was prompted, he said, by seeing some people neglecting both health and hygiene directives as the pandemic continues.

"Please don't regret being neglectful and carelessness in the present situation," he said on his Facebook page.

"Although the number of people infected in our country is small, we need to pay greater attention and be ready to prevent it at any time, especially in the second wave of the coronavirus' deadly outbreak," he added, since health organizations across the world are fearing a second wave of infection.

As of May 28, Cambodia had identified a total of 124 people infected with COVID-19, of whom 122 have made full recovery. The remaining two active cases are receiving treatment at the Khmer-Soviet Friendship Hospital in Phnom Penh.

In his message, Hun Sen appealed to people to keep on following the instructions of the Ministry of Health at all times. "If you have any questions or concerns, please call 115 immediately.

"We must all continue to take action to prevent the spread of COVID-19 across the country," he said.

At the present time, there is no vaccine available against the coronavirus, Hun Sen said. This is why people must continue to wear masks and regularly wash their hands with alcohol or hand-sanitizing gel, he said.

On May 27, the prime minister announced that Cambodians currently abroad can return to the country without obtaining health certificates. This comes as a number of Cambodians have been stranded in China and Malaysia during the pandemic.
In the meantime, measures put in place by the government to prevent the spread of COVID-19—from school closures to international visitor restrictions—remain in place.
On May 11, Dr. Tedros Adhanom Ghebreyesus, director-general of the World Health Organization (WHO) praised the Cambodian government's efforts to contain the pandemic in line with the strategy outlined by WHO.
"I seize this opportunity to commend the efforts of your Government," he wrote in a letter addressed to Hun Sen. Mentioning the direct involvement of the prime minister in the campaign against COVID-19, he added, "[t]ogether, and in solidarity, we will prevail." Dr. Tedros' letter was published Thursday (May 28) on the Royal Government Spokesperson Unit's Facebook page.
Related Articles