Prime Minister Hun Sen Tells the Press that Journalists' Misconduct Will Not Be Tolerated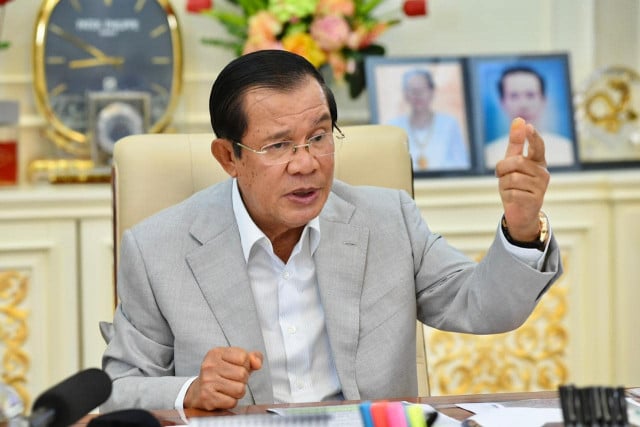 Phoung Vantha
January 15, 2021 9:20 AM
As journalists' associations speak of threats and violence against them escalating
PHNOM PENH--Prime Minister Hun Sen on Jan. 14 warned the press that the government would "not tolerate" any journalist who breaks the law, disrespects ethics or use his role as journalist to extort money.
In a 4-page message released on the fifth anniversary of his annual meeting with the press—a meeting that did not take place this year due to the pandemic—he stressed that the Cambodian authorities would not tolerate any journalist who does not respect his profession and uses it to oppress others, extort money or disseminate false information. Legal action will be taken against those who do so, he said.
"Over the past year, some journalists and opportunists have used media organization to engage in fraudulent activities, extort money in exchange for not publishing or deleting published news, acting as judge in land disputes, spreading false information, distorting the truth, inflating situations, insulting, inciting and polluting society, which lead to damaging the value of journalists [which is] to work ethically and professionally," Hun Sen said.
The prime minister added that his government will not tolerate any journalist who violates the law, does not respect his profession and commits corruption using the press for personal gain, which may affect security, order and stability in society.
According to the Cambodian Journalists Alliance (CamboJA), the Cambodian Center for Independent Media (CCIM), the Overseas Press Club of Cambodia (OPCC) and the International Federation of Journalists (IFJ), crimes against journalists and the persecution of journalists seem to be on the rise in the country.
"In the last 10 months alone (January to October 2020), CamboJA recorded 59 journalists who have been the victim of violence, arrest, death, and court complaints," they wrote in a joint statement on Nov. 2, 2020. "Of those, 27 were arrested, seven were victims of violence and one died in what police have said was a traffic accident.
"[We] express our deep concern over systems which rarely bring perpetrators of crimes against journalists to justice, and we urge authorities to take immediate action to ensure effective, independent and transparent investigations into such crimes," the statement read.
Since 1994, at least 15 journalists have been killed in Cambodia. In almost all cases, the victims were targeted because of their work, the journalist groups said in the statement. Twelve of the 15 journalists killed were reporting on sensitive issues at the time of their death, and in 12 cases, no one has been convicted for the killing of those journalists, they added.
Measures against journalists have included the arrest of two Radio Free Asia (RFA) journalists on Nov. 14, 2017. Yeang Sothearin and Uon Chhin were held in Prey Sar Prison for 10 months before being released on bail on Aug. 21, 2018. They have been under reinvestigation since the Phnom Penh Municipal Court ordered the reopening of their case in October 2020.
Both Chhin and Sothearin were released with severe caveats on their freedom. They both remain under the court's surveillance, as such neither can change their address, travel abroad and are both required to check in with their local police stations on a monthly basis.
Cambodia ranked 144 out of 180 countries on the Reporters Without Borders' 2020 World Press Freedom Index.
Related Articles