Prime Minister's Brother Hun Neng Dies at 72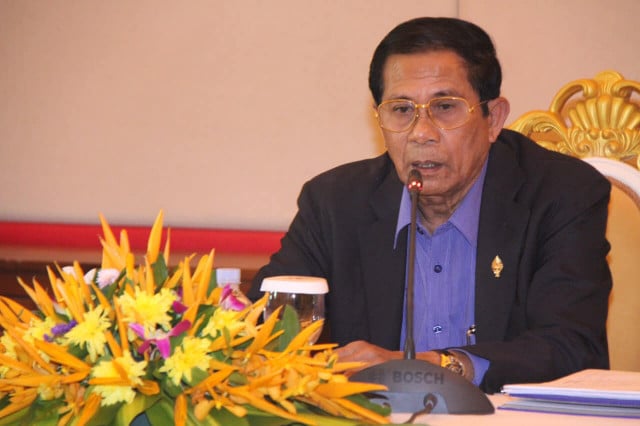 Condolences flow after life of public service
PHNOM PENH – The older brother of Prime Minister Hun Sen, Hun Neng, also a member of the permanent committee of the National Assembly, passed away after a heart attack on May 5 at the age of 72.
"Our brothers are separated without saying goodbye and talking to each other, even a word," the PM said in a Facebook post. "Separating this time is separating forever. We cannot meet again."
Hun Neng, chairman of the Fourth Commission of the National Assembly and member for Kampong Chham province, died at home in Kampong Cham province.
His body will be laid to rest at the house of Village 7, Sangkat Kampong Cham, Kampong Cham city. He will be buried at Wat Sovankiri Rattanak Phnom Pros in Kampong Cham province on May 9, the National Assembly said.
Interior Minister Sar Kheng said in a condolence letter he was shocked and deeply saddened by the news.
Kem Sokha, former president of the Cambodia National Rescue Party, also sent a message to Hun Sen, expressing his condolences, Fresh News media said. Hun Sen sent a message of thanks to Kem Sokha and his wife and family.
Officials in the government sector also sent condolence letters.
Hun Many and Hun Mana, the son and daughter of Hun Sen, changed their Facebook account profile to black as a sign of mourning on the night of May 5.
Hun Neng was originally named Hun Long Seng and was born on November 25, 1950, in Peam Krao village of Kampong Cham province, in a farming family to a father named Hun Neang and a mother named Di Pok, according to a biography.
He was the second son of six siblings, including three sisters. Before 1970, he received an education at Peam Koh Sna Primary School and Stung Trang Secondary School. He gained a master's degree in economics and administrative management in 1997.
Hun Neng served in the Kampuchea United Front for National Salvation, also known as the Salvation Front, during the Khmer Rouge regime.
In addition, he was the director of Kampong Cham Provincial Department in 1979 and became the director of the Department of Planning in 1981.
Later, he became the governor of Krouch Chhmar district in 1982 and became the governor of Kampong Cham province in 1984. In 1999, he became the governor of Svay Rieng province and returned to be the governor of Kampong Cham province in 2005.
In 2013, Hun Neng retired and was elected as a member of Parliament for Kampong Cham province. He was chairman of the Interior, National Defense and Civil Service Administration Commission of the National Assembly
Related Articles