Prisoners in Banteay Meanchey Evacuated due to Flooding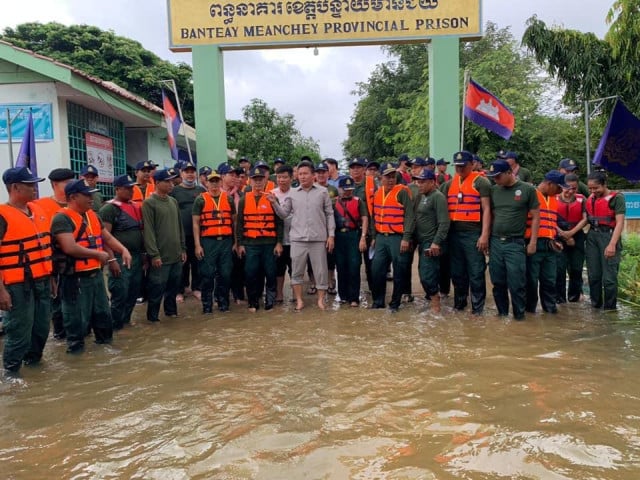 Ministry of Water Resources and Meteorology warned the heavy rain will continue as more than 1,600 prisoners were evacuated from Banteay Meanchey Provincial Prison to Siem Reap due to flooding.
PHNOM PENH--Banteay Meanchey authorities on Oct. 13 were forced to evacuate more than 1,600 prisoners from the provincial prison to nearby provinces after the prison was flooded by torrential rains.
Ung Siphan, director of Banteay Meanchey Provincial Prison, on Oct.14, said that 811 prisoners, including 85 women, were evacuated to the Siem Reap Provincial Prison on Oct. 13.
He said that a further 789 prisoners will be sent to correctional facilities in the provinces of Oddar Meanchey, Kampong Thom and Tbong Khmum.
Meanwhile Chan Yuottha, spokesperson for the Ministry of Water Resource and Meteorology, said that the flooding in Banteay Meanchey Province will continue to create challenges as the water levels remain high. Even if there is no more heavy rain, the floodwaters will take at least another five days to subside, he added.
He said that the Ministry of Water Resources is concerned that storms Nangka and Saudel may cause yet more damage to the flood-hit provinces and warned that other provinces will be affected by flooding too.
On Oct. 13, the Ministry of Water Resources and Meteorology announced that more heavy rain would come across Cambodia due to the effects of two tropical storms—Nangka and Saudel—from Oct. 16 to Oct. 20.
At least 10 people have died in flash floods since Oct. 11 as heavy rains have been falling over the country. The floods also have displaced more than 14,000 people, with more than 700 people having to be evacuated. In addition, the floods have damaged more than 10,000 hectares of paddy fields and more than 30,000 hectares of mixed crops.
The damage is expected to rise as the heavy rain continues, with more of Cambodia being submerged each day.
Related Articles