Project Launched to Support Farm Solar Technology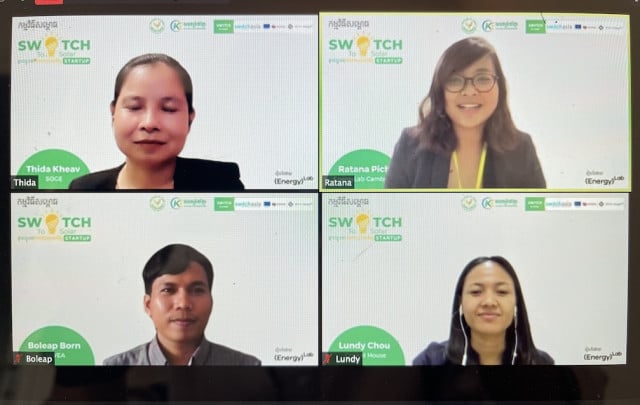 Clean energy to boost production and incomes

PHNOM PENH--Non-profit consultancy EnergyLab Cambodia on Thursday launched a "Switch to Solar Startup program" to encourage more use of clean energy in agriculture and aquaculture.
Pich Ratana, program manager at EnergyLab Cambodia, said the project aims to provide technical assistance and guidance for people to use clean technology on their farms.
"The program aims to pave the way for entrepreneurs to start up businesses using solar for agricultural and fishery markets," Ratana said during the launch.
The project will support entrepreneurs and help them generate and validate ideas as well as launch their business. Those interested will be helped by a mentoring program and be able to engage closely with other relevant activities.
Ratana said the first phase had delivered support to some groups of entrepreneurs, who have made significant progress in introducing solar energy in agricultural practices. These include use of solar-powered driers, storage and aerator devices.
One business that has had help from EnergyLab Cambodia, is Cricket House. Lundy Chou, the founder of Cricket House, said her startup works on supporting farmers shift from traditional cricket farming to more innovative ones by making solar-powered incubators.
This was an environmentally friendly and sustainable business, she said.
"Our business is working on empowering and supporting vulnerable farmers through tech-enabled cricket incubators to ensure quality and consistent yields," Lundy said. The technology could help boost yields by 20 to 25 percent compared with traditional techniques.
Her startup focuses on supplying cricket protein powder to the local market, and she also hopes to sell the products in foreign markets in the future.
Born Boleap, senior consultant at the Sevea company, said small and medium farmers and fish farmers face many challenges, including the unstable supply and high cost of electricity.
Electricity demand in Cambodia has surged up to 20 percent annually since 2010 due to rapid development, and the country has had to heavily rely on dirty and unsustainable energy sources as well as imports from neighboring countries.
Many people in rural communities, most of whom are farmers, still do not have proper access to electricity. This, of course, creates more negative impacts for farmers.
Boleap said modernization of farming by integrating solar power will increase yields and help boost production and incomes.
"The introduction of solar technology will help small and medium-sized enterprises reduce their expense on electricity and enhance production," Boleap said. There were many potential solar technologies that could be used in different phases of production chain from growing to harvesting.
Boleap said farmers must determine what kind of problems they face. Whether or not they should invest in this solar technology also depends on the size of their business.
Related Articles