Protests Continue as International Outrage at Rong Chhun's Arrest Grows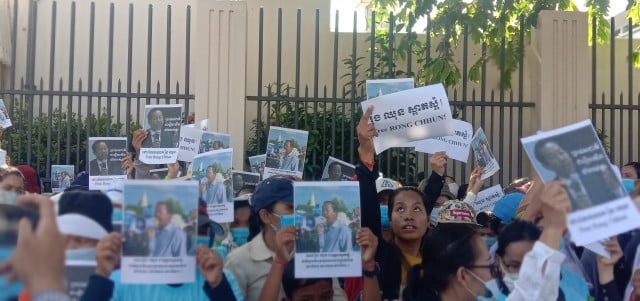 Phoung Vantha & Lay Sopheavatey
September 1, 2020 9:42 AM
The Cambodian government's crackdown on dissenting voices has further damaged an already ailing international image for the country, yet government officials remain unconcerned.
PHNOM PENH--The movement to demand the release of Rong Chhun and three others grew on Tuesday (Sept. 1) as around 100 people gathered in front of the Japanese and German embassies in Phnom Penh to call for international interventions in the cases of numerous political prisoners.
This year has seen an especially brutal crackdown on critics of the government, but throughout August 2020 numerous high-profile arrests were made, including vocal unionist Rong Chhun, Khmer Win Party president Suong Sophorn, as well as youth activists Hun Vannak and Chhoeun Daravy.
Rong Vann, Rong Chhun's nephew, expressed his hope that democratic countries might intervene in the release of Rong Chhun and other prisoners of conscience, as such he—and a range of activists—have vowed to continue protesting.
"Our position is to continue to find all means to find justice for Rong Chhun, who is an innocent person, but he was arrested at night and we do not accept that—we are still committed to finding justice for him and others," he said.
On Aug. 31, Chhun's supporters and advocates of democracy submitted a petition to the Australian Embassy in part of a sustained campaign to petition the embassies of democratic nations and international institutions, including the US, the French and the EU embassies, as well as the Office of the United Nations High Commissioner for Human Rights.
The police raid conducted for the arrest of Chhon at 9.30 p.m. on July 31, which was followed by charging and sending him to prison is an injustice, as he only means to protect the country's national interest, the petition read.
"We hope that all ambassadors and all democratic countries [will] intervene to immediately release Rong Chhun unconditionally," said the petition, which was sent to the European Union; the embassies of France, Germany, Great Britain, Japan, Thailand and the United States; international NGOs, as well as the International Labour Organization and the United Nations High Commissioner for Refugees.
Not only in Cambodia, but Cambodians living abroad also joined in demanding the release of critics who have been detained or imprisoned by the Cambodian government.
On Aug. 30, a group of monks rallied in Montréal, Canada to urge the Canadian government to intervene in the ongoing crackdown on dissent in Cambodia.
A range of national and international organizations have issued a series of statements demanding the release of Rong Chhun, but still to no avail. They were stressing that those arrests constituted a direct threat to Cambodians exercising their right to freedom of expression.
President of the Cambodian Confederation of Unions, Chhun was arrested late at night on July 31 at his home in Phnom Penh after allegedly criticizing the government regarding its border negotiations with Vietnam. The Phnom Penh Municipal Court formally charged Chhun with incitement to cause serious social unrest under Article 495 of the Cambodian penal code.
Suong Sophorn, president of Khmer Win Party, also visited the border to investigate Chhun's claims of land loss to Vietnamese border markers and was arrested along with Hun Vannak and Chhoeun Daravy while protesting for the release of Chhun in Phnom Penh.
Phay Siphan, a spokesman for the Cambodian government, said that Cambodians living in Canada had the right to make demands upon the Canadian government, but added that such demands will not influence the Cambodian government.
"Their demands [are aimed] at [powers] abroad, it's normal, nothing special," he said.
This comes as Cambodia's international image suffered a blow when, in February 2020, the EU found the Cambodian government guilty of serious and systemic human rights abuses—the largest trading bloc in the world subsequently stripped Cambodia of trade privileges granted through the Everything But Arms agreement on Aug. 12, 2020.
On Aug. 31, Australian Member of Parliament Julian Hill raised the deterioration of human rights situation in Cambodia and specifically mentioned Rong Chhun's arrest as further evidence that Prime Minister Hun Sen and his government are not living up to the democratic standards Cambodia's constitution is supposed to guarantee.
"Cambodian authorities descended upon the home of Rong Chhun, president of the Cambodian Confederation of Unions, taking him away and threatening his family with arrest," said Hill while speaking at the Federation Chamber on Aug. 31.
"Rong Chhun now faces up to two years in prison, the regime claims his arrest was because he made comments exaggerating information that caused disruption to social security, this is regime code for he said something the government didn't like—Rong Chhun's real crime is being an effective unionist, upsetting the crony mates of the regime," Hill went on to say.
"The European Commission is taking action against Cambodia and Australia must speak out and consider similar actions against the Cambodian regime's officials for their continued violations of human rights and call for these individuals' [political prisoners] immediate release from detention," Hill concluded.
Related Articles