Pteah Chas: From a 1950s House to a Modern Startups Community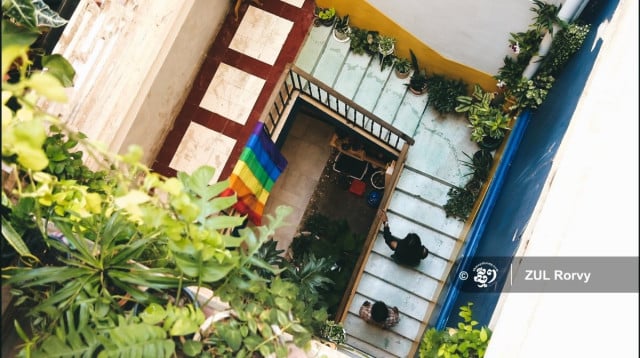 A young social entrepreneur transformed a Phnom Penh traditional house into a community building for SMEs
PHNOM PENH – More than half a century after being built, a classical Phnom Penh house from the 1950s was converted into a community business building for startups by the 29-year-old social entrepreneur Hem Chan Sopheak.
According to Sopheak, founder of the Pteah Chas Community, this four-storey house transmits a vibe of sustainability thanks to its natural ventilation system, allowing the airflow to go through the building and the central patio.
This community is filled with a diversity of businesses such as plant shops, cafés, tailors, design studios, training centers or an art gallery. Most of them use local materials and environmentally friendly packaging to create and sell their products
"At first, we just wanted to transform it into a plant store and café," explains Sopheak. "However, when COVID-19 hit I couldn't cover my operation costs, especially as a new business. So, I started to think of a way out that could help both my own business but also other business owners. In March 2020, I decided to open [Pteah Chas] with the concept of community building."


He added that not all businesses can open in the traditional-style house: the Pteah Chas community solely focuses on social enterprise types of businesses, aiming at addressing a social cause.
"We always meet with business owners who want to operate here. We try to understand what kind of business they are running, and what value they can bring to the community. We try to diversify the businesses set in the building, but not to make it become a competitive environment," Sopheak explained.
As a host for small and medium enterprises and start-ups, the community building provides digital marketing advice or design teams to help businesses in need of such services. "In this community, we always help encourage and exchange ideas with each other," says Pteah Chas' founder.
Sopheak also encouraged all young people who want to create a new business to believe in themselves, have a clear plan and know the customers' needs clearly.
Pteah Chas building is located in street 110, Wat Phnom commune, Daun Penh district, Phnom Penh.
Related Articles