Public Complains of Gasoline Prices, "Use Less" Retorts Commerce Ministry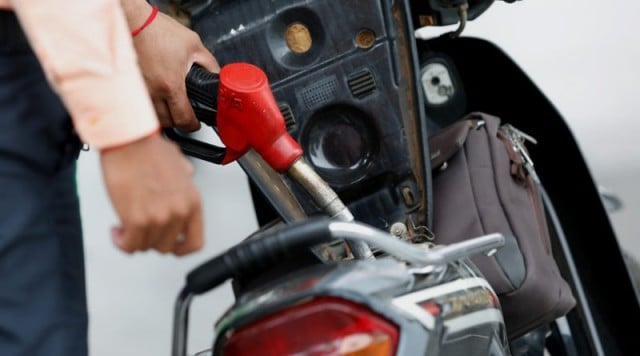 Gasoline prices rose 34 percent in the last year, citizens are complaining of income lost to COVID-19 and expenses rising, but the government maintains that people should just spend and travel less
PHNOM PENH--Following the rise of gasoline and diesel prices across Cambodia, many citizens are now struggling to make ends meet, saying that their income has been lost and their debts are mounting—particularly as the COVID-19 pandemic has ravaged the country's economy.
Responding to public outcry, the Commerce Ministry announced a 14-day freeze on pricing for gasoline at 4,710 riel—roughly $1.15—per liter from Nov. 1 to Nov. 15, but diesel was capped at 4,260 riel—around $1.04—per liter.
But while the regulation of pricing may last two weeks, the COVID-19 pandemic has caused economic uncertainty for almost two years in Cambodia and for Sok Sophorn, a bank teller and student in Takeo Province, the sudden rise in gasoline prices has further added to financial pressures for her family—something she hoped to see the Ministry of Commerce address immediately.
Between work and studies, Sophorn travels frequently within Takeo Province and the new prices of gasoline are making themselves known among her household.
"It takes almost a liter of gasoline for me to travel from home to my work place, and my younger brother also goes to school, which takes nearly one more liter. My family, on top of that, also travels," she said.
Earning $7 per day, Sophorn buys at least 3 liters of gasoline for travelling every day, which costs her more money than she can earn.
"I have to attend classes in the capital of Takeo Province too, which will take another 3 liters of gasoline to travel there," she added, noting that was a weekly expenditure.
Cambodia's informal economy, thought to employ more than 90 percent of the working population prior to the pandemic, has seen livelihoods decimated by COVID-19 and Phnom Penh tuk-tuk driver Heng Sopheaktra is no exception.
Throughout the pandemic, his income dropped and now—with gasoline prices rising—his expenditures have increased far faster than his earnings have recovered, in spite of Cambodia's much-touted vaccine rollout.
Subsequently, Sopheaktra is struggling just make ends meet, but the $10,000 loan he took out for his tuk-tuk cares not for the change in his circumstances—the debt must be paid, on top of his rent, food and bills, which he estimates collectively totals around $500 per month.
"We've got a loan and have to pay in installments, and we also have other debts to pay," he said. "When the price of gasoline goes up, then my income is affected. I barely have money left to pay the bank, and the rest is not even enough to buy food or rice for daily consumption. Now I have to give my children allowance to go to school every day."
With nowhere else to turn, Sopheaktra is now calling on the government to intervene with regards to gasoline prices, adding that he needs stability in order to repay his debts. The prevalence of debt in Cambodia has been well-documented, some 2.8 million loans tracked by the Cambodian Microfinance Association valued at $11.8 billion—a figure consisting of both microloans from microfinance institutions (MFIs) and small portfolios from certain banks.
If the price of gas and the daily expenses keep increasing, Sopheaktra said he will give up his job as a tuk-tuk driver to work as a security guard or work in a shop to earn more.
Undersecretary of State at the Ministry of Commerce, Pen Sovicheat, said the increase in domestic gasoline prices was due to the rise in international gasoline prices, while some neighboring countries such as Vietnam and Thailand also saw rising prices for fuel.
Without offering much practical advice, Sovicheat advised that people like Sopheaktra and Sophorn reduce their use of gasoline.
"There is no method we can use to help or to determine how much it affects the lives of our citizens, but there are two things that we can do to face this problem," Sovicheat said. "Firstly, spend frugally, consumers should reduce their gasoline consumption, secondly, taxi drivers should avoid congestion."
It is unclear how actionable Sovicheat's advice would be among Cambodians, nor was it clear at press time if such guidance would become official policy among the Commerce Ministry, but National Bank of Cambodia data has shown that gasoline prices rose 34 percent between July 2020 and July 2021.
Related Articles