Public Spaces Reopen for Exercise While Gyms Remain Closed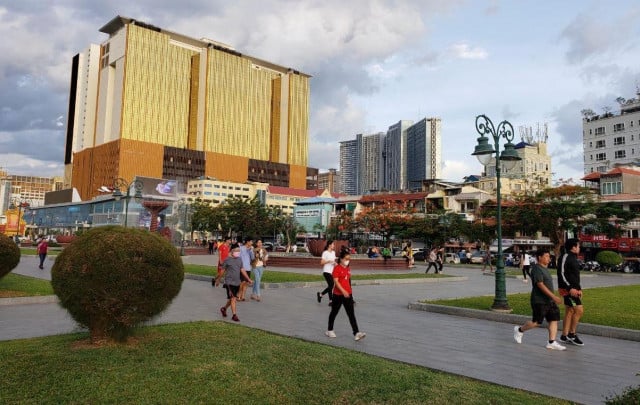 Phoung Vantha
July 28, 2020 5:20 AM
The announcement from the government aims to promote physical and mental health through exercise while protecting people against COVID-19.

PHNOM PENH--The Ministry of Education, Youth and Sports on Tuesday announced the reopening of public spaces for physical exercise and sports activities, including the National Olympic Stadium. The announcement stipulated that gyms and other private exercise spaces must remain closed over fears of spreading Coronavirus Disease 2019 (COVID-19).
"In order to improve the physical and mental health of the people, Prime Minister Hun Sen has allowed sports activities to resume in public squares and the National Olympic Stadium, but not at gyms and sports clubs where sets of equipment are shared," the ministry said in a statement.
Gyms have been closed since April 2, along with a range of businesses that present a high risk of COVID-19 transmission. Despite the apparent lack of community transmission, the government has been cautious of reopening everything too fast for fear of a second wave of infections.
As of July 28, Cambodia has recorded 226 cases of COVID-19, although the majority of the most recent cases have been detected in passengers aboard international flights upon arrival in Cambodia.
The government has again appealed to people to maintain proper hygiene and adhere to social distancing and other precautionary measures to prevent the spread of COVID-19 in accordance with the guidelines set by ministry of health and the World Health Organization.
On July 22 the Ministry also allowed 20 private schools to reopen their schools, but on the condition that students submit to COVID-19 tests beforehand. Similarly, casinos have been allowed to reopen and karaoke bars—known as KTVs—have also been granted permission to reopen, providing that they function as restaurants and abide by Health Ministry guidelines.
Related Articles