Pum Sreyphea, Passionate about Teaching Students with Autism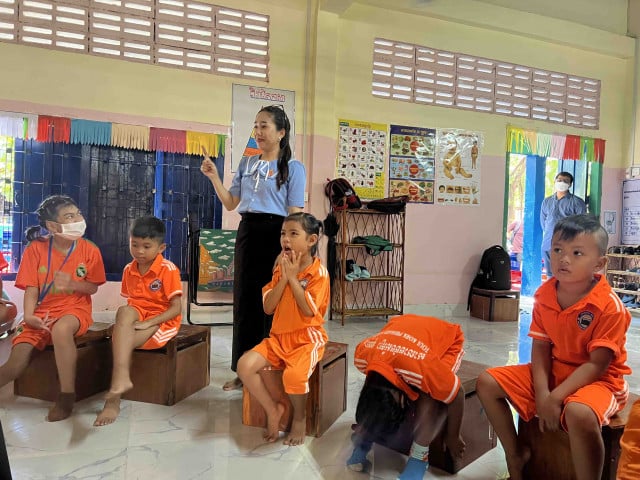 PHNOM PENH – In the Tuol Kork primary school's campus, claps and nursery rhymes echo when approaching a building occupied by the Rabbit School, a Cambodian NGO that provides education to children with special needs.
Inside the classroom, 10 children with autism sing along and dance under the guidance of their teacher, Pum Sreyphea, the true conductor of that special troupe of students.
At 25, the teacher takes her mission to heart and intends to give her students the same education as other children would receive. Dressed in a light blue short-sleeved shirt and a black pleated skirt, Sreyphea, along with another teacher, sings and dances in front of the disabled children, to accompany them in their education.
While some students follow, some do not. But after two years of teaching, she learned that patience is key when it comes to dealing with her special students, whose behavior can change from quiet to aggressive, irritable to joyful in a blink of an eye.
"I love teaching so much and have compassion for children with disabilities. This is why I decided to teach them although it's more difficult than ordinary children. After studying with me, I want them to be as good as normal kids," she said.


Born in Kampong Thom province, Sreyphea is proud of her job. Photo: Ou Sokmean

Teaching has been Sreyphea's dream career for as long as she can remember. After she finished her studies at the Royal University of Phnom Penh, she started teaching in regular public schools. But she quickly decided to dedicate her professional life to children with disabilities, after she realized that autistic children often suffered from discrimination, including from teaching institutions – mostly private schools – that close the door on them.
"We give them love, hugs, and kisses as if they were our children. When we teach them to write letters, we hug them and hold their hand to write and paint pictures. We follow their progress regularly, day after day, month after month," she said.
Born in Kampong Thom province, Sreyphea is proud of her job. Even though she earns only $150 a month, which is less than the regular income of a teacher in a public school, she doesn't want to teach in public schools again.
"I feel so lucky. I come from a very poor family and I didn't think I would be able to study in the capital. But I got a scholarship and could graduate from the Royal University of Phnom Penh," she said. "Once I was here, I decided to stay, even though I had no relatives here."
The young teacher now feels blessed she's able to give back to society. And parents are often here to recall the important role she plays in their children's education.
"I am very happy that the school has accepted my child to study with good teachers," said Suong Raksmey, whose son, Kimpor, is one of Sreyphea's students.


Suong Reaksmey is observing his son, Reaksmey Kimpor, during teaching session. Photo: Ou Sokmean

Before attending the Rabbit School, Reaksmey brought his 7-year-old son to test and interview at many private schools, but none accepted him because he was not good enough at speaking.
"I cannot say my child can speak now because he cannot talk much. But he knows 'A, B, C, D', 'one, two, three' and the first letters of the Khmer alphabet," he said, adding that most of these achievements wouldn't have been possible without the support of Sreyphea.
Two years after getting involved with children with autism, the teacher now wants to go back to school to expand her ability to train children with mental disabilities.
Originally written in Khmer for ThmeyThmey, this story was translated by Sam Sopich for Cambodianess.
Related Articles