Rain Adds to Paddy Field Damage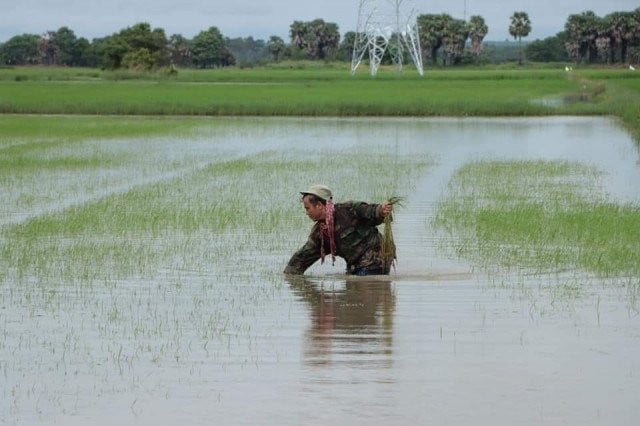 Tbong Khmum province sees big cultivation fall
PHNOM PENH – Three thousand hectares of paddy fields ​in Tbong Khmum province have been damaged by recent floods.
The floods have brought the drop in provincial rice cultivation to about 20,000 hectares in the first six months of this year compared with the same period in 2021.
Heng Piseth, director of the provincial Agriculture Department, said rain has been scattered throughout the province since the Khmer New Year, making it impossible for some farmers to grow rainy season rice.
The paddy fields most affected in the lowlands of the province were in Ou Reang Ov, Tbong Khmum, and Ponhea Krek districts, he added.
"The rice crops can survive if it rains once a week but this year the rain falls continuously, so all the rice that has just grown will be damaged," Piseth said.
He added that the climate change issue had forced some farmers to give up farming.
Rainy season rice in the province has been planted on more than 40,000 hectares, down 20,000 hectares on the same period in 2021, he said.
Piseth was concerned that farmers may miss out on farming if the rain keeps falling. He has told farmers to prepare rice seeds for replanting when the water recedes and select short-duration varieties to replant in some areas.
According to the Ministry of Water Resources and Meteorology, Cambodia will have another week of rain and gusting wind. Central lowlands and provinces are to receive light to moderate rain mixed with thunder and gusts.
The central and northwestern lowlands may receive heavy rain. The highlands will receive light to moderate rain mixed with thunder and gusts of wind. Coastal areas will receive light to moderate rainfall.
The Ministry of Water Resources says that from May to October the natural ENSO-neutral, La Nina and El Nino weather phenomena may cause prolonged heavy rain.
Cambodia is likely to experience moderate to heavy rain, with a water level that could reach 9.65 meters at the Bassac-Chaktomuk Hydrological Station.
Related Articles