Rainsy and PM Hun Sen Spar as COVID-19 Situation Deteriorates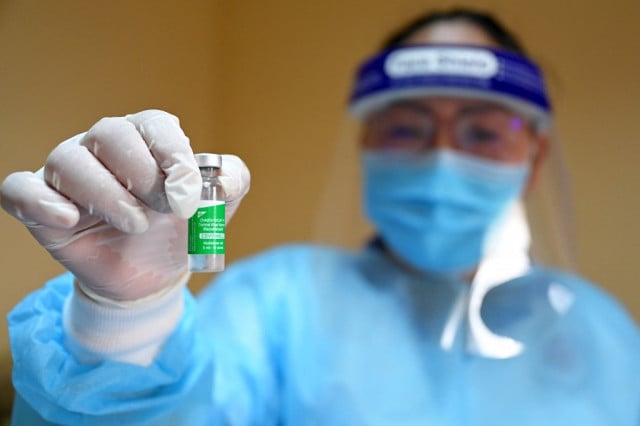 Phoung Vantha
April 12, 2021 4:36 AM
Prime Minister Hun Sen called for patience with regards to accessing vaccines as another 277 locally transmitted cases were found on April 12, mostly in Phnom Penh.
PHNOM PENH--Prime Minister Hun Sen has lashed out at Sam Rainsy over comments the former opposition leader made about Chinese vaccines.
Rainsy, who has previously discouraged Cambodians from accepting the Chinese vaccines available, changed his tune and on April 11 urged Cambodians to take the Sinopharm and Sinovac vaccines given the current deterioration of the COVID-19 situation.
"End the rumors that the vaccines cause health problems or kill people, you shouldn't believe that—China has its honor and is not making vaccines that kill people," Rainsy said, adding that the efficacy of the Chinese vaccines was good enough for the current outbreak.
The Ministry of Health on April 12 reported that 277 new locally transmitted cases had been found in Cambodia—with 204 of them in Phnom Penh. Svay Rieng Province reported 43 cases, while 23 people contracted COVID-19 in Kandal Province. Pursat Province recorded three new infections, Prey Veng Province reported two and both Preah Sihanouk and Takeo provinces each reported one new case.
So far 30 people have officially died due to COVID-19 and there are 2,268 active cases in Cambodia, according to health officials. These latest infections have brought the number of COVID cases in the country since the start of the pandemic to 4,515.
As another 60 people recovered from COVID-19, the 30th death was recorded on April 11: a 61-year-old Cambodian woman, living in Khan Prek Pnov, Phnom Penh. She was admitted to Luang Mey Hospital on March 30, but suffered severe damage to her lungs due to COVID-19 and chronic diabetes.
Hun Sen condemned Rainsy saying it was wrong to spur people to get vaccinated when there are not currently enough doses of the vaccines in Cambodia. He warned people that they need to follow the government's master plan on vaccinations and added that the government is trying to find enough vaccines for the population.
"He [Rainsy] aims to encourage people to come and get vaccinated when we do not have enough for everyone yet," he said.
Cambodia's government had planned to vaccinate at least 10 million people, which requires 20 million doses, but as of April 11, 1,018,605 Cambodians have been vaccinated since the vaccination campaign began on Feb. 10. Among them, 238,779 doses went to military personnel while the 779,826 civilians who were vaccinated did so on a voluntary basis.
But while Rainsy has now publicly called for people to take the Chinese-made vaccines, Gao Fu, director of the China Centers for Disease Control, has admitted that Chinese vaccines do not have offer a high level of protection and that China may look into developing different kinds of vaccines in the future.
Related Articles