Rare Deer-Like Animal Snapped in Cambodian Forest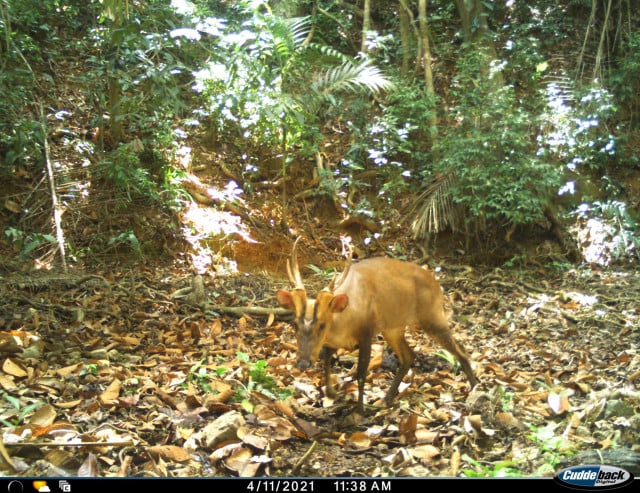 Large-antlered muntjac on critically endangered Red List
PHNOM PENH--A large-antlered muntjac, a deer-like animal so rare that it is on the International Union for Conservation of Nature Red List as critically endangered, has been found in a protected area in Cambodia.
Environment Ministry spokesperson Net Pheaktra said on Thursday the finding was based on images collected from extensive camera tracking between March and May in Virachey National Park, Ratanakkiri province.
"This is very good news for Cambodia and for the whole world that this most endangered species is present in Cambodia," he said.
The ministry will add this species to the country's biodiversity list.
It's almost 30 years since experts discovered the large-antlered muntjac in Vietnam and Laos in 1994 in the Annamese mountains, which extend to Virachey National Park in northeastern Cambodia.
Pin Chanrattana, head of the research team at the ministry's Department of Conservation of the East Mekong River Conservation Area, led the research, sponsored by the Wildlife Research Office of Oxford University in Britain.
Chanrattana said that large-antlered muntjac likes to live in evergreen and semi-evergreen forests.
During the 1990s, giant horns were seen for sale in a remote village in Mondulkiri province, Cambodia, but no direct sightings were reported.
The large-antlered muntjac is the largest of the 12 species of muntjac. The northern red muntjac (Muntiacus vaginalis), which weighs more than 30kg, is present over almost all of Cambodia
Cambodia's biodiversity includes 123 species of mammals, 545 species of birds, 88 of reptiles, 2308 of vascular plants, 874 of fish, 24 types of hard coral, 14 types of soft corals, 10 types of seagrass, and 63 species of amphibia.
Cambodia also has some plants and animals on the Red List in Table 1, including 39 species of animals, 36 species of birds, 13 of reptiles, 38 of vascular plants, and 12 types of amphibia.
Pheaktra called on people to participate in the protection and conservation of Cambodia's wildlife, especially the world's endangered species.
"We must say no to wildlife and do not eat wild animals to stop poaching and trapping illegally," he said.
Related Articles
September 26, 2020 3:10 AM