"READ LOUDER": World Vision Promotes Reading in Rural Cambodia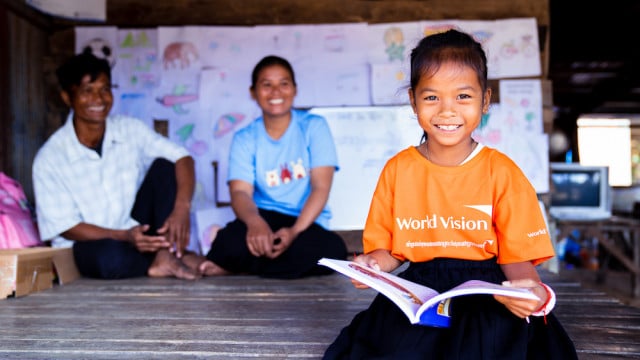 Around 500 people gathered in Phnom Penh to promote reading and raised funds to build libraries for children in rural areas
PHNOM PENH – The evangelical Christian humanitarian organization World Vision held a reading event on March 26 under the theme "READ LOUDER" in Phnom Penh's Odom Garden. It aimed to promote children's reading culture and celebrated National Reading Day, which is officially on March 11.
The event was also the occasion to raise funds to buy books and build libraries in some targeted schools in Choam Ksan, Rovieng, and Cheb districts in Preah Vihear province. Around 500 people joined the event.
Heam Chetra, World Vision's local budget manager, said this kind of reading event encourages the public to participate in promoting a reading culture in Cambodia and helps the children in rural areas to get access to literature, through books or money donations.
Being a rural area, Preah Vihear province is a place where most children and their families do not value reading while the access to a library is still limited, she said. According to the 2019 General Census, 87.7 percent of the Cambodian population aged 15 and over is able to read. But disparities remain: while 93.3 percent of the urban population is literate, this number drops to 83.8 percent in rural Cambodia



"We hope that the money and materials raised from this program will help rural children have access to books and develop their reading skills," Chetra said.
Enthusiastically, she wants to see every parent start training their young children so they improve their reading skills and cultivate their knowledge. This is fundamental to develop one's potential and use it for the development of the nation, she said.
However, she is concerned about the reading culture and habits in both rural and urban areas, where the youth seem to be addicted to smartphones or any digital device, while they have easy access to books, she added.
Five hundred books were collected during the reading event. But Chetra hopes she'll be able to bring 1,000 books to Preah Vihear province before the end of the collection in July.
The amount of funds raised last weekend has not been counted yet, but she said a standard library requires at least $15,000 to be built and fully equipped.
Chetra said that everyone can contribute to improving children's reading skills by developing good reading habits at an early age, or by acting as a role model to them.
People can also donate money or books to World Vision to support their activities in the target locations, she said.
Va Surin, Head of the Technical Program of the Education Program, said that students' abilities are heavily dependent on reading books on their own in their spare time.
"Investing in reading, especially for children, is very important because books are one of the most important repositories of knowledge for students when it comes to studies, research and exploring subjects," Surin said.
Moreover, research has shown that reading books regularly improves memory, can lower stress and helps focus on work better than those who do not read frequently, he added.
Related Articles
November 10, 2021 3:30 PM