Ream: Port and Shipyard, No Military Base Says Cambodian Government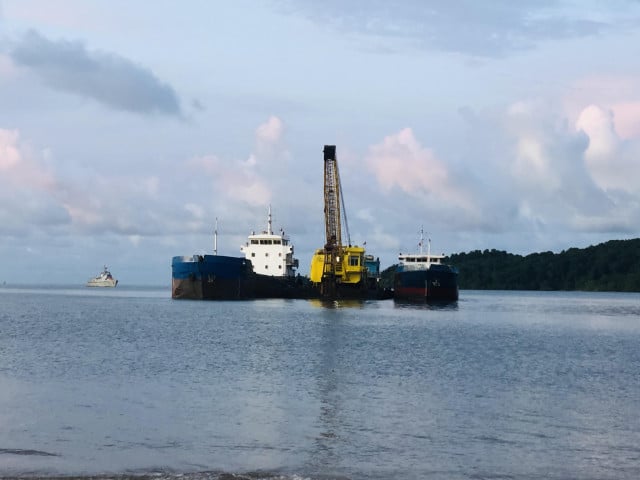 Cambodia denies the Washington Post's report of Ream naval base being used by Chinese military; ground breaking ceremony to be held on June 8
PHNOM PENH – Cambodia denied that China is secretly building a military naval base facility in Ream, Preah Sihanouk province, claiming that there will be a port and a shipyard site for the pure interest of Cambodia.
The Washington Post on June 6 reported that China is surreptitiously establishing a naval base in Cambodia for the exclusive use of its military, while a groundbreaking ceremony for the naval base facility is set for Thursday, June 9, with the presence of the Chinese Ambassador to Cambodia.
Rear Admiral Mey Dina, a spokesman for the Royal Cambodian Navy's Ream naval base, confirmed that there will be a groundbreaking ceremony. But he said that it will be for the construction of the port and the shipyard in Ream, while not only China, but more than 30 other countries, will attend.
Unlike the Washington Post's story, he said the ceremony will be held on Wednesday June 8.
He said he is obliged to prepare the location for the ceremony, refusing to comment any further, telling the reporter to refer to the Ministry of National Defense for more information.
National Defense Ministry spokesman Chhum Socheat could not be reached for comments.
Cambodian Navy Commander Tea Vinh could not be reached for comments.
Cambodia pledges to stand on neutrality
The Washington Post further reported that Western officials said China and Cambodia are currently "taking extraordinary measures to conceal the operation", while both countries are trying to cloak the "end goal" and China's military involvement in the Kingdom.
According to Western officials, the creation of a Chinese naval facility in Cambodia is part of Beijing's goal to build a global network of military installations to support its ambitions to become a global superpower.
China's ambition to increase its regional influence and to reinforce its presence near key Southeast Asian Sea lanes would be achieved by having a base capable of hosting major navy warships to the west of the South China Sea, Western officials quoted by the American newspaper said.
"Essentially, China wants to become so powerful that the [Indo-Pacific] region will give in to China's leadership rather than face the consequences [for not doing so]," one of the officials said.
Government spokesman Phay Siphan condemned the allegation, responding that the construction of the Ream naval base to serve the interest of China is fabricated. "We have said, many times, that the naval modernization in Ream is purely to serve the interest of Cambodia, under the independent and neutral power of Cambodia," he said.
He went on to say that Cambodia has no reason to let foreign states base their military in the Cambodian territory, adding that it is against the constitutional law and the Cambodian law.
Cambodia chooses to adhere to neutral and non-aligned politics. Any nation is a friend of Cambodia in terms of cooperation and development, Siphan said.
"This construction of the base is not in response to Chinese interests or to serve exclusively Chinese needs," he said. "All nations can use it [the port] if they can respond to the conditions set by Cambodia."
However, he acknowledged that China has provided financial assistance for the naval modernization in Ream, as well as any constructions needed for the naval base.
When asked whether Cambodia will give in to China's leadership to avoid any consequences, Siphan said that Cambodia has learned from its experiences from the 1970s until 1990. At that time, the country did not adhere to a neutrality policy and fell into a political and human crisis.
He, thus, guaranteed that Cambodia will not let any countries rule the Kingdom rather than its own government.
"Cambodia appeals to all nations to take Cambodia as a friend," Siphan said. "Do not take Cambodia as a partner to oppose any country because according to Cambodia's foreign policy, Cambodia is standing on neutrality, independence, and peaceful coexistence."
During a meeting with US Deputy Secretary of State Wendy Sherman in Washington on May 11, Prak Sokhonn, foreign minister of Cambodia, assured the US that Cambodia does not allow foreign troops to be stationed in its territory, as it defines in the country's constitutional law.
The Ream Naval Base has been in controversy since 2019 when the Wall Street Journal reported that China and Cambodia had a secret agreement for China's military to use part of the base, possibly helping China press disputed territorial claims and economic interests in the South China Sea.
Cambodian Prime Minister Hun Sen called the news fabricated, while Cambodia keeps rejecting the allegation.
Last year, satellite footage from Maxar Technologies and Planet Labs showed that two additional buildings were built to the north of the base between August 9 and 22, 2021. These were just adjacent to two other buildings completed in the spring.
PM Hun Sen, during a meeting with the Cambodian communities in the US and Canada in May, said the Cambodian constitution prohibited the foreign troops established in the kingdom's territory and that Cambodia would not send Cambodian troops to other countries either unless there was a mission under the UN umbrella.
Hun Sen showed the stance of Cambodia between China and the USA, saying Cambodia is committed to staying neutral and will not choose between China and the USA.
Related Articles