Record 841 New COVID-19 Cases Just Two Days Before Lockdown Lifts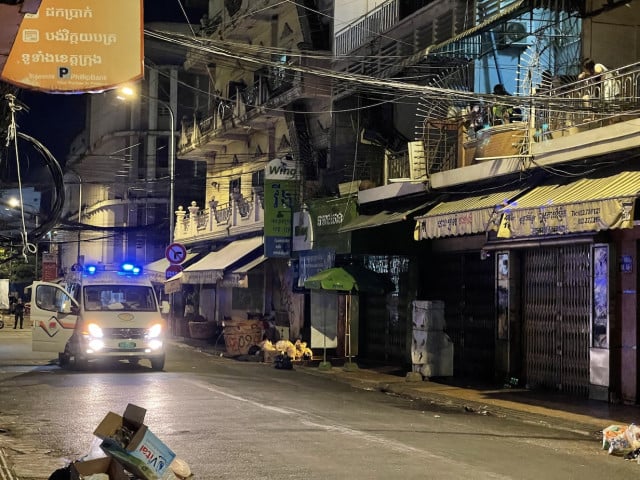 Corrected: 841 New COVID-19 Cases Just Two Days Before Lockdown Lifts
Another large single daily rise in COVID-19 cases comes just after Prime Minister Hun Sen announced lockdown will end on May 5, 2021.
PHNOM PENH--Cambodia saw another huge jump in daily cases of COVID-19 on May 3 with 841 locally transmitted cases being reported by the Ministry of Health, along with an additional four deaths.
Four Cambodian men, aged 24, 40, 55 and 61, have died of COVID-19. Three were residents of Phnom Penh, but the 24-year-old man was a resident of Kampong Cham Province. The official death toll now stands at 106, according to the Health Ministry.
Cases continue to surge throughout the country, but Phnom Penh saw the biggest rise with 525 new COVID-19 cases reported on May 3. Meanwhile Banteay Meanchey Province was the next worst-affected with 153 new cases identified.
Preah Sihanouk Province reported 62, Kandal Province reported 33, Kampong Cham Province reported 21, while Kampong Thom Province reported another 15 cases.
Takeo Province recorded nine new cases, while seven were found in Siem Reap Province and Kampong Speu Province reported six new COVID-19 cases and Prey Veng Province found just one.
Taking to his official Facebook page, Prime Minister Hun Sen appeared to suggest that the lockdown in Phnom Penh and Takhmao City will end on May 5, but that restrictions would remain for red zones.
There has been little clarification to the new rules and many have questioned the lifting of lockdown in light of yet another substantial daily increase in cases, but the Ministry of Health is yet to detail the latest change to the rules.
Cambodia's Center for Disease Control said that a total of 928,777 COVID-19 tests, that is, 55,284 persons per million of population, have been conducted in the country, but it is unclear what time period these tests were conducted in.
Just 61 COVID-19 patients were released from medical care, according to the Health Ministry and as of May 2, there were 1,422,722 people who had received their first dose of COVID-19 vaccinations, but the number of people who received both doses stands at 984,781.
Since the pandemic began in early 2020, Cambodia has officially recorded 15,361 cases among which 9,818 are active and 5,430 persons have recovered.
Officially, 106 people have died of COVID-19 in Cambodia, but several deaths were not attributed to the virus.

CORRECTION: An earlier version of this story claimed that the 841 new cases identified on May 3 was a new record for single-day increases in COVID-19 cases. This is not true, on April 29 Cambodia reported 880 new cases in a single day, which is so far the highest number of new cases found in a day.
Related Articles