REDD+ Projects Still Struggling to Live up to Expectations in Cambodia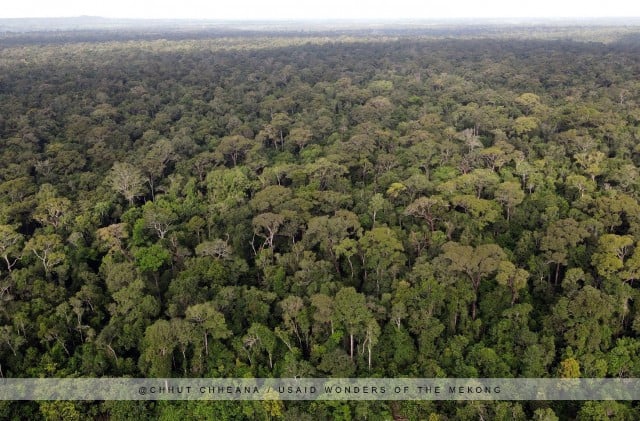 While Environment Minister Say Samal tried to sell carbon credits to the UK during Foreign Secretary Dominic Raab's visit, critics warn that REDD+ has done little for conservation or indigenous communities

PHNOM PENH--During his meeting with British Foreign Secretary Dominic Raab on June 23, Cambodian Minister of Environment Say Samal said he suggested that the United Kingdom purchase carbon credits from Cambodia.
"In the field of environment, the UK can buy carbon credits from Cambodia and that money will be used to serve conservation of forests and wildlife and local economic development by providing new options of employment and income for the people," Samal said.
According to the Ministry of Environment, Samal also requested that UK provide technical assistance in training human resources in relation to environmental conservation.
Raab, whose brief visit to Cambodia aimed to focus on environmental partnerships between the two countries, declined to comment on whether he would push the UK to purchase carbon credits, instead saying that a team of experts would need to visit Cambodia to assess the actual needs of the environment and natural resources.
Cambodia has, to date, embarked on five REDD+ (Reducing Emissions from Deforestation and forest Degradation) projects—environmental conservation projects that generate carbon credits, which can in turn be sold or traded to companies, organizations or governments looking to offset their greenhouse gas emissions.
So, should the UK purchase Cambodian carbon credits, the British government would effectively be paying the Cambodian government not to deforest areas of carbon-absorbing ecosystems that typically make up a REDD+ project.
When asked whether the UK was considering purchasing Cambodia's carbon credits, a spokesperson for the British government's Department for Business, Energy and Industrial Strategy said "The UK is a strong supporter of carbon pricing and a pioneer on carbon markets, through both domestic carbon pricing action and our support for projects around the world."
However, reiterating Raab's apparent hesitance, the spokesperson also cautioned that any carbon credit purchase would need strong assurances from the Cambodian government and its implementing partners.
"It is essential that carbon pricing promotes strong environmental integrity, as well as social and biodiversity benefits, and the UK does not sign contracts for carbon credits without these assurances," they said.
While Cambodian participation in the Asia-Pacific Climate Week, which kicked off on July 6, could prove an indicator of regional commitments to environmental protection and could help determine the viability of Cambodia's carbon credits in the eyes of the British government, Raab's own visit was marred by the recent arrest of environmental activists from the outlawed NGO Mother Nature.
The arrests proved impossible for Raab to avoid after public pressure from civil society organizations—who have condemned the arrests as unlawful and extreme in response to the group's documentation of sewage flowing into the Tonle Sap—but it is unclear what effect, if any, Raab's words had as the government has so far stood by its controversial decision to brand the environmentalists as "terrorists."
A Rocky Start
However, the success of REDD+ in Cambodia has been mixed and progress has taken years, many of which have seen conflicts between government agencies, the implementing NGOs and the communities who call REDD+ sites home.
Cambodia's first foray into carbon credit producing projects began in Oddar Meanchey Province in 2008 and the project spanned almost 64,000 hectares with the aim of ending deforestation, which had been rising steadily since 2002—similarly, the project aimed to meet two market standards at once: Verified Carbon Standard (VCS) and the Climate, Community, and Biodiversity (CCB) standard.
Essentially this means that the project is supposed to go beyond simple preservation of forested areas and help preserve the livelihoods and cultures of the communities who live in the protected area.
The Oddar Meanchey REDD+ project claimed to secure land tenure for 13 community forests, encompassing some 8,000 households throughout the protected area. What happened however, was that the land tenure was "secured" by the Royal Cambodian Armed Forces (RCAF), who were then accused of running lucrative forest-clearing operations. Deforestation actually increased and the RCAF presence led to frequent conflicts, often armed, between communities living on the land and soldiers with orders to clear it.
In turn, airliner Virgin Atlantic, which had been purchasing carbon credits from the Oddar Meanchey REDD project, pulled out and ended payments to the project in January 2018.
The same year that Oddar Meanchey Province's REDD+ kicked off, international NGO Wildlife Conservation Society (WCS)—in partnership with the Cambodian Forestry Administration—were planning their own REDD+ project in Keo Seima Wildlife Sanctuary.
While the project surpassed the Oddar Meanchey REDD+ efforts, even selling carbon credits worth $2.6 million to the Disney Foundation, it too was beset with problems—particularly in relation to indigenous rights.
WCS did not respond to multiple requests for comments, but Sarah Milne and Sango Mahanty—academics from the Australian National University—co-authored a paper in November 2018 outlining the various means through which the Keo Seima REDD+ project had disenfranchised local communities through the ever-evolving bureaucratic standards that REDD+ projects must adhere to.
"We term this effect 'bureaucratic violence'—a phenomenon that is arguably systemic to the green economy, which helps to theorize recent observations of REDD+'s violent effects, including its blindness to or abetting of local dispossession and rights violations," Milne and Mahanty wrote, noting that various documents were effectively forced upon communities whose land fell within the target area of the REDD+ project.
With many unable to read or write and a limited fluency in Khmer, many indigenous communities were forced to rely on government-appointed village chiefs to sign on their behalf, but as Milne and Mahanty noted, "In Cambodia it is well known that most government figures are beholden to the ruling party and elite interests, especially district and village officials."
A Feature or a Bug?
However, the academics found that more fundamental flaws emerge when it comes to assessing the benefits of REDD+ to communities. With the Cambodian government, in this case the Forestry Administration, holding the rights to the carbon credits, all the indigenous communities were left with was community forest titles, which grants them ownership of the land on paper, but much less so in practice.
Much of the conflict that arose between indigenous communities and the REDD+ project stemmed from the perceived threat that indigenous land titling posed to the "permanence" of the REDD+ project, which ultimately led WCS to remove areas where such land titling was happening from the REDD+ project area.
This, coupled with ongoing illegal logging operations, posed a number of problems for Keo Seima's REDD+ project, which underperformed both in terms of conserving the forest and protecting the rights of those who called it home.
Milne and Mahanty touched on what has now become a hotly-debated core issue within the REDD+ structure: That the criteria for carbon credit validation comes at the cost of other conservation efforts, as projects effectively budget for a certain level of deforestation, whether that comes from illegal logging or community land use.
"Beyond this, the readiness to accommodate logging was a tacit acknowledgment of the elite-backed and effectively untouchable political economy in which the REDD+ project was embedded," they wrote.
But while the Keo Seima project still appears to have found little solutions—either for communities or their forests—other NGOs in Cambodia have ventured into the REDD+ system and have emerged somewhat more successful.
"Our project has been successful because we have developed and implemented an approach to defending the forest that meets the threat level with a truly effective response," said Suwanna Gauntlett, chief executive officer of Wildlife Alliance, whose REDD+ project in Kok Kong Province's Southern Cardamoms has arguably been Cambodia's REDD+ success story.
Expected to run for 30 years from 2015, the Southern Cardamoms REDD+ project spans some 497,000 hectares and meets both VCS and CCB standards while securing land for 29 communities. These communities total more than 16,000 people by Wildlife Alliance's own estimates. Each year the project is expected to counter more than 3.5 million metric tons of CO2 emissions and conserve the habitats of at least 50 species of wildlife, many of which are deemed threatened or near-threatened by the IUCN.
"The entire focus and reason for the project is to stop deforestation in a highly-threatened landscape," explained Gauntlett. "This is not an easy thing to do, particularly in the context of a place, like the Southern Cardamom rainforest, that is under siege from so many sources."
Indeed, much of Koh Kong's land that is designated as protected was recently handed over to the Koh Kong Provincial Administration by Sub-decree No. 30, which converted almost 127,000 hectares of eight protected areas from state-public land to state-private, including more than 29,000 hectares of the Southern Cardamoms REDD+ project.
Declining to speak on the matter of the sub-decree and its implications for the project and conservation in general, Gauntlett instead sought to focus on the successes her team have had in the field. With 98 forest rangers and 25 anti-poaching officers drawn from local communities, Wildlife Alliance—Gauntlett said—conducted 5,189 patrols that covered 193,651 kilometers of forest in 2020 alone.
She went on to detail the 140 attempted land grabs her rangers had stopped, the 663 timber trafficking vehicles they had seized, including excavators, bulldozers and tractors, along with the 1,720 illegal chainsaws confiscated and nine illegal sawmills shut down over the course of last year. This is on top of the 500 live wild animals rescued from hunter traps and the estimated 28,000 snares that her team removed from the Cardamoms' forest floor.
"We combine an intensive boots on the ground ranger protection law enforcement model, partnering with the Cambodian Ministry of Environment, with a livelihoods improvement program based on sustainable agriculture and community-based ecotourism to create economic alternatives for communities living in and around the forest," she added.
Limited Transparency in REDD+ Profits
It's this combination of tough enforcement and solutions that involve the Southern Cardamoms' 29 communities that Gauntlett credited for the success, but the measure of that success—at least financially—is one she was unwilling to disclose.
While Everland, the broker who sells carbon credits generated by the Southern Cardamoms' REDD+ project, estimated that operating the project to the standards required costs Wildlife Alliance an average of $5.15 million annually, more than $10 million had been raised as of May 2021 through the sale of the project's carbon credits.
Gauntlett declined to comment on how much the actual total was, nor how much of this went to the Ministry of Environment, who are the project proponent and also responsible for its implementation.
Spokesperson for the Ministry of Environment, Neth Pheaktra, said that 10 million metric tons had been sold to Disney, Shell and Gucci between 2016 and 2020, netting the government $11.6 million from all of Cambodia's REDD+ projects during that time period.
He added that more REDD+ projects are being considered, including in the much-besieged Prey Lang Wildlife Sanctuary from which USAID recently pulled funding due to ongoing illegal logging operations that activists have said are linked to high-ranking government officials.
However, this hasn't stopped USAID from considering entering into a REDD+ project with the government in Preah Vihear Province, although Pheaktra said that the viability of this project is still being studied.
Crediting the REDD+ system with allowing Wildlife Alliance to maintain its operations throughout the Southern Cardamoms, Gauntlett highlighted the jobs created through its ranger teams, its eco-tourism business which generated $190,489 in average annual income between 2018 and 2020 and has benefited the community through land titling that followed Hun Sen's Order 01.
But it's precisely that hardline approach that has seen Wildlife Alliance rangers steeped in controversy and when questioned on allegations of human rights abuses committed by the NGO's teams on the ground, Gauntlett said "The reason why REDD+ projects are needed is precisely because of threats like illegal logging and as discussed, the project deals with these issues on a daily basis."
Conflicts between rangers working for Wildlife Alliance—previously known as WildAid—and the communities living in areas patrolled by the rangers have gone on for years. Communities claim that rangers have forced them from their land, destroyed their farming equipment and in some cases used violence to ensure that local slash-and-burn farming techniques don't harm the money-making environment within the REDD+ site.
Quite how much money has been made is difficult to discern, with REDD+ standard-setters Verra reporting that the Southern Cardamoms REDD+ project as having sold 11,579,768 carbon credits out of the 11,947,134 generated over three years, but market prices for each carbon credit fluctuate.
"These projects depend on private buyers—usually large western companies doing voluntary offsets [being carbon neutral]—problem is there has been a big oversupply of REDD+ projects and hence carbon credits," explained Tim Frewer, an academic based in Cambodia, who said that the oversupply of REDD+ projects helps to drive down the price of carbon credits, therefore making it cheaper for large companies to continue polluting.
"Oddar Meanchey was an utter failure for instance," he said. "[The] price was too low—$4 per ton—and no-one had trust in the project so buyers pulled out."
Hidden Abuses
But while Frewer noted that projects like the Southern Cardamoms REDD+ had been more successful in selling and generated a "not insignificant sum" for the Ministry of Environment, he said that the conservation successes of REDD+ projects in Cambodia come at the expense of the people who live on project sites.
"To me whether or not REDD+ protects the environment is not the main question. Southern Cardamom REDD+ project protects the environment, but at the cost of abusing local farmers and indigenous people and an environment that has already been logged of valuable timber by Try Pheap—not to mention hydropower dams," said Frewer, referencing the infamous logging operations by Cambodia's timber baron Try Pheap, who was sanctioned by the US government in December 2019 for human rights abuses committed by his military-protected logging empire.
The issue of land use in Cambodia has long plagued conservation NGOs as local and often indigenous communities have sought to retain the rights to their land and to use it in ways that they have for generations, but often this is at odds with conservation efforts.
In the Southern Cardamoms REDD+ project, just 10 percent of the inhabitants of Teuk Laak Commune—which is included in the project site—were found to approve of the REDD+ project when auditors visited in 2018, when "a number of community members walked out to show disapproval for the project."
When the project personnel were requested to show how they had acquired consent from locals before going ahead with the REDD+ project, they wrote to the auditor "We assume that as the communities have no land rights to or within the Project Area, their participation in the REDD+ Project is entirely voluntary, and in no way is their participation obligatory, either for the community(ies) or the project developers. We therefore assume that a formal consent is not required from communities in the Project Zone for the validation of the project, as they have no land rights to or within the Project Area."
Wildlife Alliance conducted additional free, prior and informed consent (FPIC) campaigns in the communities of Cheam Sla, Kamlot and Teuk Laak, which all previously contained 50 percent or lower approval rate. The FPIC campaign resulted in 68 percent approval across the targeted communities.
The lack of approval typically stemmed from restrictions to what local communities could do with the land once it had been made into a REDD+ site.
"If REDD+ could actually provide income to small farmers and local conservationists and allow them to use lands already cleared and still give them some control over forests then it would be fantastic—and this is what it [REDD+] claims," explained Frewer. "In reality there is no mechanism to channel money to village level participants and REDD+ nearly always relies on exclusion of people from forests. The people who mostly benefit from it are investors, carbon brokers, governments, consultants and NGOs."
He noted that while implementing partners like Wildlife Alliance, WCS and the Ministry of Environment are all partly to blame for what he said was the effective disenfranchisement of local communities, Frewer agreed with Milne and Mahanty's assessment that these problems are hardwired into the REDD+ setup.
"I don't think REDD+ will ever be in the interests of smallholders—indigenous or otherwise," he concluded. "The money would be much better spent on supporting community conservation efforts."

Additional reporting by Phoung Vantha
Related Articles