Reduce Paper Burning at Chinese New Year: Experts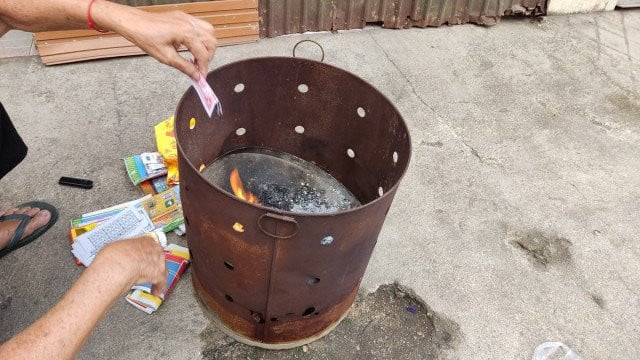 Toxic smoke poses health hazard
PHNOM PENH--Environmentalists and cultural experts have urged Cambodians of Chinese or Vietnamese descent to reduce excessive burning of paper during Chinese New Year festivals because the smoke contains chemicals toxic to humans and which pollute the environment.
Cambodians with ancestors from China or Vietnam and Chinese and Vietnamese families living in Cambodia have organized rituals such as Hungry Ghost Festival, Tomb Sweeping Day, Chinese New Year. Incense and paper are burned during these cultural and religious festivals.
People believe that this sends gifts to relatives who have died. They make offerings by burning paper items such as villas, money and cars.
Chan Mony, vice president of the Institute of Chinese Studies of the Royal Academy, said the rituals were to make offerings to spirits in different ways, based on their beliefs and way of life.
Some people making offerings to spirits just copied other people and did not understand the sacrifice.
The methods of the offering were different but they rarely missed the burning of money and other goods made from paper.
"The belief in the burning paper is the transmission of the items and materials to one's ancestors," he said.
"Nowadays, there are a lot of forms of paper to burn, money, cars, motorcycles and houses. They think their ancestors will receive the sacrifices and give blessings back to them."
However, there was no research to show that the burning of those papers actually reached their ancestors, who blessed them back.
He called on people to reduce the burning of incense and paper because research does not support this belief clearly. He also mentioned that burning incense and paper caused fires.
Or Chanmoly, researcher and director of the Institute of Technology of Cambodia, said fumes from the paper contain chemicals that pollute the air. They also affect human health and can lead to cancer.
"As a principle, the gas emitted from combustion includes carbon dioxide, nitrogen dioxide (NO2), sulfur dioxide (SO2)," he said, adding that other pollutants from the combustion depended on the material burned.
He said burning paper, incense and other materials produced large quantities of emissions such as nitrogen dioxide and sulfur dioxide which have a significant impact on global warming and climate change.
"Nitrogen dioxide and sulfur dioxide have the greatest impact. they radiate into our atmosphere when it rains and turn to acid rain. And it affects our skin," he said. "In addition, it leaves particles in the air when we inhale the air. They stick to our lungs, causing diseases such as cancer."
He called on experts or stakeholders to spread knowledge of the effects of burning paper or unnecessary materials.
Chea Nara, director of the Department of Air Quality and Noise at the Ministry of Environment, said that ministry does not encourage people of Chinese blood or Chinese people to burn paper because it causes extreme air pollution.
"If unavoidable, reduce it to a minimum. We observe that every Chinese New Year, people burn a lot," he said.
China is now calling on its people to reduce the burning of paper and incense because of environment and air pollution, and especially its effect on human and animal health.
Related Articles