Reducing Plastic in Preah Dak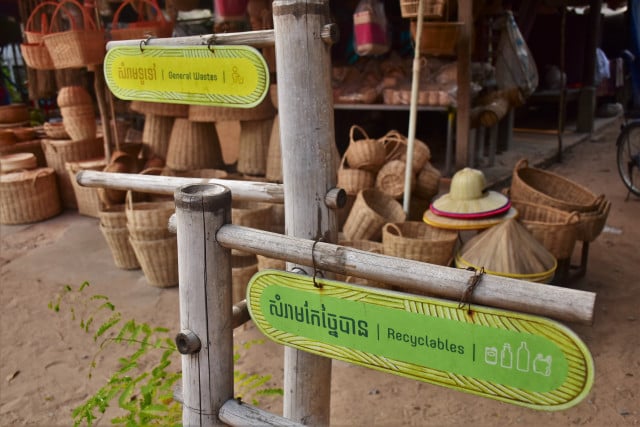 Small steps make a huge difference in plastic reduction

SIEM REAP–No matter where you live in the world if there is a major event, there will also be extensive waste left behind and in particular single-use plastic. Unfortunately, this is a problem that needs to be addressed around the globe.
However, one small community in Cambodia, with the encouragement of its governor, tried to make a difference.
The small village of Preah Dak in the District of Banteay Srei took the step to go plastic bag free for the week of the Khmer New Year celebrations held in April. Khim Finan, governor of Banteay Srei, has a progressive vision for his district and in particular, Preah Dak as he looks to transform it into a role model village for the area.
Some of the previous initiatives in the village have included solar street lights for each house, community-driven trash collection, house beautification projects and encouragement of local trade crafts.
These projects have been carried out to instill pride in the community and their heritage and to raise more positive public awareness of Preah Dak.


When it was proposed that vendors eliminate plastic bags for the week of the New Year, the majority of the 100 vendors participating in the celebrations agreed to the plastic reduction campaign.
"They were very supportive and immediately embraced the initiative with excitement," Finan said.
He believed this is in part due to all the collaborative projects done previously. The kick-off to the celebrations was the puppet parade which had not been held for two years due to Covid.
The large crowd coming to see the amazing giant puppets also saw signs displayed over vendor booths showing they were not using plastic bags. Most sellers used natural products like lotus and banana leaves when serving food like grilled chicken and fish instead of plastic or Styrofoam.
A post-event evaluation showed that many of the vendors did follow through on their promise to eliminate plastic bags for the week of the campaign.
"It's a really good start to slowly embed a new habit, as well as raise awareness to the general public," Finan said.
As a follow-up to this successive first attempt to reduce plastic during a major event, it looks as if there will be future campaigns including one related to Plastic Free July.
This community is taking small steps to reflect a slow but increasing awareness of the need to reduce plastic use in the Kingdom.
The great participation of its residents with the encouragement of the authorities indicates how small changes can be made to protect the environment and demonstrates the pride in their community and their local heritage.
Related Articles
December 22, 2020 2:32 AM