Relatives of Workers Forced to Remain at a Casino in Sihanoukville Seek Police Assistance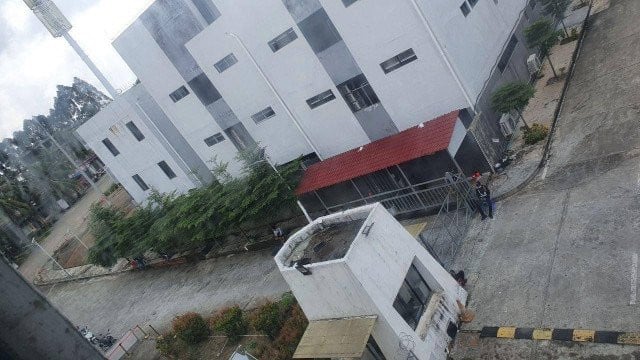 They are not allowed outside the casino, they say, while the Preah Sihanouk Province police authorities say they doubt this is more than a case of workers' dissatisfaction
PHNOM PENH--Relatives of three alleged victims of human trafficking by online casinos in Sihanoukville on Nov. 4 filed a complaint requesting police intervention, while Sihanoukville police commissioners say no case has been identified but the authorities might be prepared to investigate.
According to Nhep Clara, three of his relatives from Takeo Province had applied for jobs in Phnom Penh and, when hired by a Chinese group, were sent to work at a no-name online casino in Sihanoukville in August 2021.
One of the victims told Clara by telephone that the Chinese group had promised her a salary of $1,000 per month but that she only received $500 for the first month. Upon hearing this, Clara and his relatives told the worker to resign, but his Chinese boss refused to let him go and transferred the three of them to another unidentified casino, he said.
"I do not know the name of the company or the casino because there is no name on the casino building," Clara said. "I only know the location where my relatives are working and staying, which is around Wat Krom, Village 1, Sangkat 3, Sihanoukville."
When the employees' relatives told them to resign and they tried to do so, the manager of the casino where they had been transferred told them they had been "sold" for $3,000 by the casino that had first hired them. So, if they wanted to quit, the three of them had to pay $3,000, the casino manager said.
"The company has placed security guards to prevent them from going out," Clara said. "They are threatened and harassed not to post anything on Facebook. There also is restriction on the use of mobile phones."
Khut Heng, who also is a relative of the three employees, said that the three of them were told to sign a 12-month work contract at the second casino but that, since it was written in Vietnamese, they did not know the terms of the contract.
After talking to his relatives on Oct. 27, Heng filed a complaint with the Sihanoukville Provincial Police on Nov. 4. In the complaint, Heng accused a Chinese man nicknamed "Ah Long" to have sold his relatives from one casino to another.
"Now we, the relatives, are just waiting for action from the authorities and are looking for other relevant organizations to help free the victims," Heng said.
Hang Ty Ty, who is one of the three workers, said in an online message via Telegram that she did not know the name of the first or second companies that employed her.
"At first, they said I would be working in Phnom Penh," she said. "But when we arrived in Phnom Penh, I was told that the positions in Phnom Penh were filled. And I was sent to Kampong Som [Sihanoukville]. I don't know the name of the company; I had received information about the job from my sister."
Preah Sihanouk Provincial Police Commissioner Chuon Narin said that he would review the complaint and investigate this case, adding that he had not been aware of the case due to too much work.
Direct complaints about human trafficking are few as most are hotline complaints about trafficking and illegal detention, he said.
Irregularities in working conditions in Sihanoukville casinos: a trend or exceptions?
In the past, the police investigated each case and found that there were only cases of dissatisfaction of employees who wanted to change workplaces, Narin said, adding that he did not consider such a case a trafficking case.
"I want to know more regarding the information about human trafficking and will investigate the root of this case," he said. "I only heard this information from the press, but I have not received detailed information. I will look into this case."
At the same time, he stressed that the authorities' investigating team had not identified any case related to human trafficking until now.
Seng Reach, legal officer of the Center for Alliance of Labor and Human Rights (CENTRAL), said he is cooperating with the relatives of the three employees to gather more information on this case. However, he still did not know the name of the casino company as he had only been able to find its website: https://fir.b-888.com/download/?share_code=y0p3g5
Khun Tharo, program manager for CENTRAL, said there are many irregularities in human and labor right situations in Sihanoukville and, in fact, workers' rights are continuously being violated. He added that he has received information on four cases in which about 1,000 employees have been forced to work in the hotel and casino industry.
"We are concerned that Cambodia could be transformed into a geographical location for human trafficking," Tharo said. "Not just Cambodians are the victims, but also foreign workers are being trafficked in Sihanoukville."
He stressed that detention, restriction, intimidation, exploitation and forced labor are serious human trafficking and human-rights violations.
The authorities, and especially the Ministry of Labor and Vocational Training, have the task of inspecting companies and places of business to ensure the safety of the public, he said, adding that the Central team is investigating and waiting to see action from the authorities.
Meanwhile, he said, many people may have been caught into human trafficking during the COVID-19 pandemic as so many people are in financial crisis and looking for jobs.
So far in 2021, the Preah Sihanouk Provincial Department of Labor and Vocational Training has inspected about 200 business locations, according to department Director Yov Khemara.
More than 70 labor disputes have been resolved, including some that were reported over the telephone, he said, adding that no case of human trafficking had been identified.
Some anti-government media outlets often publish misinformation, misrepresenting human trafficking while the authorities and workplaces carry out internal measures, Khemara said. "The picture is there, but the journalists themselves, who tend not to support the government, often interpret it in other ways."
In some cases, when workers were in quarantine or were not performing their duties, anti-government supporters would perceive the situation as illegal detention of the workers, Khemara said.
The authorities set up a working group to investigate cases of detention and human trafficking at the Century Casino in Sihanoukville, but no suspected cases of human trafficking were found according to preliminary information, he said.
In early October 2021, a large number of employees at the Century Casino in Sihanoukville were found to be infected with COVID-19. Some of them refused to go to hospital, concerned about the treatment they may receive, and also claimed that the casino owner restrained them from going out. The provincial authorities have been investigating this as a case of detention at the Century Casino.
There have been several cases of human trafficking reported in Sihanoukville, but the authorities have so far dismissed them after looking into them.
In September 2021, Preah Sihanouk Provincial Police Chief Chuon Narin explained on his official Facebook page that the case of a group of Thais who posted a video asking for intervention on detention was not a case of detention, but instead, they were required to stay in quarantine due to COVID-19.
In late October 2021, Minister of Interior Sar Kheng said at a meeting of the US-ASEAN Business Council that the security situation had improved in Cambodia during the first nine months of 2021, with criminal offenses of various types decreasing by 9 percent. However due to the COVID-19 outbreak, cross-border smuggling and technology-related crimes have been on the rise, he added.
Related Articles