Release of Autistic 16-year-old from Prison Delayed by Two Days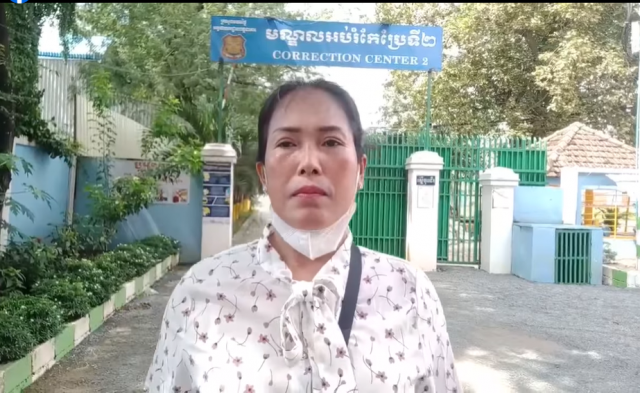 No explanation was given as to why Kak Sovann Chhay's release, scheduled for Nov. 8, was delayed until Nov. 10, his mother Prum Chantha said after waiting outside Correctional Center 2 for her son
PHNOM PENH--Officials at Correctional Center 2 have said that the release of Kak Sovann Chhay, the 16-year-old with autism whose arrest prompted outrage among human rights advocates, has been delayed until Nov. 10 after he was due to be released earlier today.
Prum Chantha, Sovann Chhay's mother, said she was waiting for her son at Prey Sar Prison when she received the information that his release had been postponed.
"You [the prison officers and the court] said my son would be released on Nov. 8, but it was now put off to Nov. 10," Chantha said. "All I want to say is that I will always be constantly frustrated because you have lied."
The Phnom Penh Prosecutor's office spokesperson Plong Sophal is yet to provide any explanations regarding the case.
Sam Sokung, Sovann Chhay's lawyer, said that no specific time was set for Sovann Chhay's release, adding that the prison unit has yet to release him because they are still waiting for the official documents from the court, which had sentenced him earlier this month promising that on Nov. 8 he would be released with the remainder of his sentence suspended.
Sovann Chhay, 16, was arrested June 24 on charges of incitement and insulting public officials by sending messages over the app Telegram to an anonymous recipient—who Chantha suspects works for the Cambodian People's Party and who later forwarded the messages to the authority.
He was sentenced to serve practically 4 months and 15 days in prison.
This comes as a number of former Cambodia National Rescue Party (CNRP) officials and youth activists—all of whom had been arrested on incitement charges following the arrest of Rong Chhun in August 2020—were released from prison, including two former CNRP activists, Chum Puthy and Chhour Pheng, three youth activists of Khmer Thavrak Youth Group, Venerable Koet Saray, Mean Prummony and Tha Lavy.
Sovann Chhay's was due to be released on Nov. 8, but he would remain under probation for additional two years and would appear in court when he is summoned, along with a raft of restrictions on his freedom.
"If he [Kak Sovann Chhay] commits another crime during his probation, he will be imprisoned and another sentence will be added to the existing one," Sokung said.
Despite international and domestic criticism, the Phnom Penh Municipal Court has defended its verdict, saying that Sovann Chhay was given the benefit of the doubt as he is a minor, but Justice Ministry spokesperson Chin Malin—previously contradicted this, saying minors were those aged 14 and under.
The court then tried to claim that there was no evidence to suggest Sovann Chhay actually has autism.
The defendant's lawyer, Sokung, said that Sovann Chhay has had autism since birth and all the neighbors know that, but that the original documentation from the doctor has since been lost.
The arrest and sentencing of Sovann Chhay has been widely regarded as a politically motivated attack on the 16-year-old whose father, Kak Komphear, is a former CNRP official who was arrested in June 2020—Komphear's arrest was also regarded as a political move from Prime Minister Hun Sen who set about re-arresting the CNRP activists who had initially been arrested in November 2019, following acting CNRP president Sam Rainsy's failed attempt to return to Cambodia.
Like his son Komphear was charged with incitement, which many rights advocates have argued is the ruling party's weapon of choice to silence critics and political opponents.
Sovann Chhay has been arrested previously, but was held for 48 hours on Oct. 4, 2020 after he entered the former CNRP headquarters in Meanchey District, Phnom Penh, and was released on Oct. 6, 2020, after having been proved innocent regarding the accusation.
Related Articles