Remaindered book sale comes to Cambodia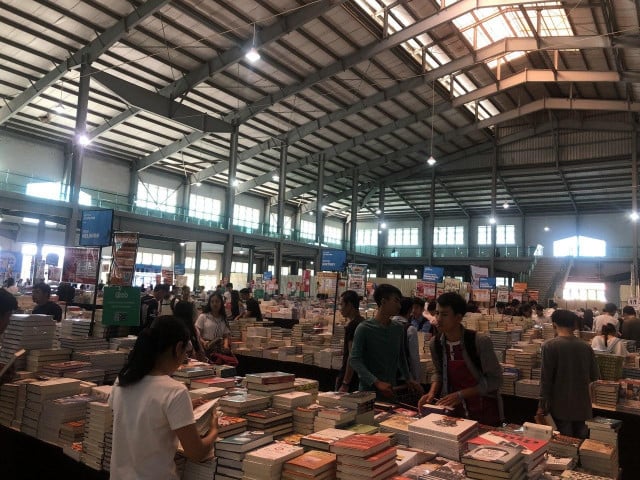 PHNOM PENH — A Malaysian business disposing of unsold books at reduced prices has come to Cambodia as part of a global reading advocacy effort.

The event, organized by Selangor-based Big Bad Wolf Book Sale Sdn Bhd, opened at Rung Reung Market last Thursday and runs until Sunday.
"It has always been the book sale's mission to spread the love of reading and to change the world one book at a time," business co-founder Andrew Yap told Thmey Thmey.
"We hope that through these books, people will be empowered with knowledge and inspired to chase their dreams."
Yap said he and his wife Jacqueline Ng started the business in 2009.
"We felt the need for more people to access affordable books but we needed to create a bigger impact," he said.
After the first sale in Malaysia in 2009, the company says it has organized sales in more than 25 cities, attracting some three million visitors and selling over 25 million books.
Jump-starting a culture of reading Yap said sales should be viewed in terms of the long-term impact on the book industry and readership in Cambodia.
"At the same time, we are also attempting to jump-start a culture of reading in the country, through which we hope to create a new generation of readers who will not only help create a larger market for books, but will also help take Cambodia to greater heights," he said.
"Books should not be a luxury item for people to purchase as knowledge should not be a privilege but people's rights."
The company says it has brought one million books to Cambodia. During the sale in Phnom Penh, books can be purchased between 9 a.m. and midnight at discounts of as much as 90 percent.
In addition to Malaysia, the company says its has held book sales in Indonesia, South Korea, Myanmar, Pakistan, the Philippines, Sri Lanka, Taiwan, Thailand and the United Arab Emirates since 2016.
Related Articles