Report: Cambodia Leading in Climate Health Actions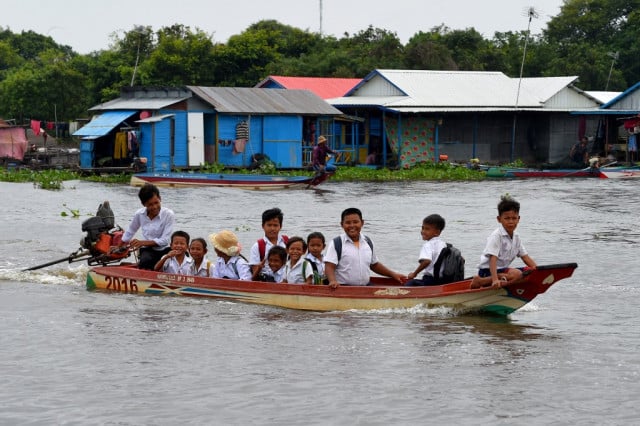 The report by the Global Climate and Health Alliance praised low-income countries for their contributions while rebuking the inefficient efforts of larger polluters
PHNOM PENH--Cambodia has been ranked among the three leading countries in climate health actions, according to the Global Climate and Health Alliance (GCHA)'s new climate actions assessment.
The second edition of "Healthy NDCs Scorecard" released on Sept. 21, which assess the progress of countries in achieving the inclusion of health within national climate commitments—Nationally Determined Contributions (NDCs)—indicates that three middle-income countries; Cambodia, Moldova and Cabo Verde as joint leaders for their consideration of health.
Cambodia, along with Moldova and Cape Verde, scores 14 out of 15 over five categories, such as health impacts, health in adaptation, health in co-benefits, economics and finance and bonus points.
"The NDCs of Cambodia, Cape Verde and Moldova demonstrate the inextricable links between health and climate change," the report read, adding that Cambodia's NDC includes appendices which provides detailed information of financial costs and returns of mitigation and adaptation measures, with health impacts among those considered.
"These appendices also detail which actions can unconditionally be completed using existing national resources, and which are conditional on financing from donor countries," it continued.


Executive Director of the Global Climate and Health Alliance, Jeni Miller noted that, following the release of the Healthy NDCs Scorecard's first edition in July 2021, many smaller countries, which are more susceptible to climate impacts, are taking action in the form of their climate commitments to protect their citizens, demonstrating a clear understanding of the need to protect people's health.
Meanwhile, she continued, there has not been any tangible reaction from governments of many high emitting countries to address health impacts created by the climate crisis, although global health has been affected by extreme weather events like floods as well as wildfires.
The latest climate health action assessment came out ahead of the 26th United Nations Climate Change Conference (COP26) to be held in Glasgow in November 2021 and also following UN Secretary General António Guterres' stark warning that the recent IPCC's Climate Report signals "code red for humanity."
"​​With COP26 fast approaching, governments must make people's health the keystone of their climate policy, by making and meeting commitments to dramatically cut GHGs and by building health and equity into national climate mitigation, adaptation and financing," Miller added.
In the meantime, she called on high-income countries to ultimately live up to their promises of providing $100 billion annually to low and middle-income countries to support them in their transition to more sustainable economies.
"This financial support is crucial for enabling all countries to play their part in bringing the world closer to a low emissions future, and to build resilience that will yield benefits for people everywhere," she stressed.
In addition to financial contributions from economically advanced nations, the Global Climate and Health Alliance also called on other countries to act now to step up their national climate action commitments to protect the health of the people, including reducing greenhouse gas emissions in line with the Paris Agreement target of limiting global temperature rises to 1.5 degrees Celsius.


More measures to reduce greenhouse gas emissions that mitigate climate change and to increase health co-benefits need to be taken, the Global Climate and Health Alliance said. Meanwhile, adaptation strategies need to encompass health aspects while climate smart and resilient healthcare systems, along with public health systems need to be built.
"The COVID-19 recovery investments must also align with healthy national climate action. So that sustainable future can be attained," it added.
Despite its insignificant greenhouse gas emission, Cambodia is among the most vulnerable to global climate breakdown, according to the Global Climate Risk Index. The country has seen more frequent extreme climate events, particularly droughts and flooding.
A recent report by UNICEF said Cambodia is the world's 46th most at risk among 163 countries when it comes to children's climate risk. It says children in Cambodia are highly exposed to water scarcity, riverine flooding and vector-borne diseases.
Therefore, paying greater attention to climate health impacts is very critical for the country in order to minimize the health risks.
Neth Pheaktra, spokesperson at the Ministry of Environment, welcomes the evaluation, pointing out that this can serve as a recognition of Cambodia's efforts in addressing the climate crisis.
"This demonstrates that our efforts in creating national policies to deal with climate crisis as well as our commitment to carry out policy implementation especially in terms of climate adaption have been recognized internationally," Pheaktra said.
More Work Needed
Despite the fact that Cambodia has integrated specific health impacts into its climate policy frameworks, there remains to be seen whether it can effectively realize its climate ambitions to ensure public health, with Cambodia's commitment to greenhouse gas reduction remaining unevaluated.
"The level of commitment by Cambodia, Cape Verde and Moldova to reducing greenhouse gas (GHG) emissions, which is essential to limiting global temperature rise and therefore to protecting health, has not yet been evaluated," the report emphasized.
"It is therefore not possible to validate whether Cambodia, Cape Verde and Moldova's level of climate ambition also matches their apparent commitment to protecting health."
Cambodia's government has routinely faced criticism over its complicity in illegal logging operations that ravage protected forests, as well its increasingly coal-fueled attempts to burnish the country with much-needed energy. Two new coal-fired power plants have recently been given the go-ahead by the government, one within one of the largest protected areas in the country, but while Prime Minister Hun Sen issued a moratorium on the damming of the Mekong until 2030, other hydropower dams are scheduled to come online and existing dams have been met with fierce criticism for social and environmental impacts.
It was against this backdrop that a number of environmental activists were sentenced to prison for incitement earlier this year after members of Mother Nature Cambodia sought to raise awareness of the environmental consequences of numerous development projects across the country.
When asked what the Cambodian government will do more to make sure it can deliver results in terms of health protection, Pheaktra responded that the country remains determined to ensure the success of the policy implementation, particularly in regards to climate adaptation and mitigation.
"Cambodia is committed to combating the adverse impacts of climate change and accelerating the transition to a climate-resilient, low-carbon sustainable model of development," Pheaktra said, adding that it can benefit from the value and the aspirations towards a cleaner, greener, and low-carbon economy.
Speaking of development, Pheaktra also indicated that Cambodia prefers the Western development model as it provides lessons and mistakes to avoid repeating.
"This will provide more, better solutions for the country's economic development which will focus on less GHG emission and more environmentally-friendly technologies," he concluded.
Related Articles