Report: Marginalized Communities Targeted with Online Abuse in Cambodia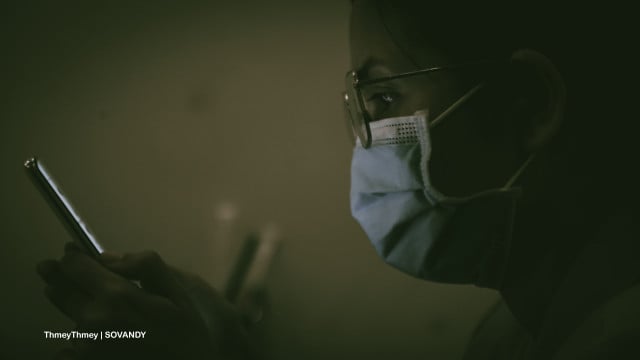 Often targets online, women, the LGBTQ+ community, activists and unionists share their experiences of online abuse and the impact of social media on their lives following a new report from rights group LICADHO
PHNOM PENH--As the world retreated to an online existence in the wake of the COVID-19 pandemic, abuse across social media platforms became more visible and while Cambodia's lockdowns were comparatively short, a new report from rights group LICADHO detailed the prevalence and consequences of online abuse in Cambodia.
Between July and August 2021, LICADHO surveyed 718 people and found 38 percent had directly experienced online abuse in one form or another, while 54 percent of respondents reported having seen someone else abused online. Disproportionately though, it was marginalized communities and outspoken activists who found themselves the target of this abuse.
LICADHO cautioned that the findings were limited due to the absence of children from study and the reliance on highly-literate smart device owners.
This supports findings from the UN, whose studies found that women in particular experienced a sharp rise in online abuse during the pandemic.
Whether for their ethnicity, gender, sexuality, political beliefs or social values, online abuse in Cambodia was found to be most rampant on platforms owned by Facebook, which recently rebranded as Meta in the wake of a cache of damaging internal documents leaked by whistleblower Frances Haugen earlier this year.
The seismic leak led to what has been dubbed the Facebook Papers, a collaborative effort by journalists around the world to make sense of the documents Haugen leaked. What was uncovered has painted a disturbing picture of Facebook, which was revealed to have been aware of and ineffective at addressing hate speech, human trafficking, misinformation, climate denial, along with the online abuse of both adults and children.
Against this backdrop, LICADHO's findings—which extend to cover defamation, discrimination, doxing, fake accounts, hacking, sexual harassment, surveillance and threats—highlight the real-world offline consequences of online abuse. Of those who had experienced it, 71 percent said online abuse had a negative impact on them, while 27 percent said they feared for their physical safety as a result.
Other respondents reported more severe impacts: Physical harm, struggling to access employment, education, housing or services—4 percent reported having suicidal thoughts.
"Youth and LGBT+ people more often reported negative impacts, while activists were most likely to fear for their physical safety," the report read.
Activists in the Crosshairs
Prime Minister Hun Sen has previously lauded his ability to listen into people's private phone calls, but tactics have advanced in line with technology and earlier this year, Hun Sen gatecrashed a private Zoom call between political activists associated with the former opposition party in an act of intimidation.
For the environmental group Mother Nature, social media has represented a double-edged sword: Allowing their work to spread fast and far, but simultaneously painting a target on their backs.
As activism went online, the government followed and for Mother Nature, the value of online security has been underscored by prison time. Ly Chandaravuth, a 22-year-old law student who joined Mother Nature in 2020, was arrested on June 16, 2021 for attempting to document water quality in the Tonle Sap River.
By June 20, Fresh News claimed to have acquired video footage of a Zoom call between Mother Nature activists—such "evidence" was also pushed by a Facebook page that roughly translates to "Destroy the Traitors."
The video has since been taken down from Fresh News's site and replaced with an op-ed that details the video's "offenses," but not before the reportedly hacked footage was used as evidence to charge Chandaravuth, Alejandro Gonzalez-Davidson—the group's founder—and fellow activists Sun Ratha and Yim Leanghy with insulting the king and plotting to overthrow the government.
"We regularly get comments from fake accounts," said Chandaravuth, referring mostly to Facebook. "They all say the same thing, or similarly worded messages, and it's not good to keep them in the comments, so we just block them from our page."
But blocking the accounts did little to stop more Facebook users from threatening the activists with jail, which gave Chandaravuth, who was released from prison last month, the impression the accounts were linked to the government.
"People responded to them [the fake accounts] with harsh words, they continued to support us online—there was even an online campaign to get us released, so I don't think online abuse scares people away [from activism]," he added.
Before Chandaravuth was sent to prison, his colleague at Mother Nature, Phun Keorasmey was arrested alongside fellow environmental activists Thun Ratha and Long Kunthea in September 2020.
Keorasmey said that the online abuse she experienced formed part of the culture of self-censorship that is becoming dominant on Cambodia's digital platforms as the government continues to prosecute people based on what they have posted online—even hacking into private messaging apps.
"I was harassed even by friends, they didn't want to be seen associating with us, then there were people who made fun of my face, my body, they wanted to take away our confidence so we wouldn't be so visible," she said.
Blocking fake accounts became a routine part of Keorasmey's life online, but when she went to prison, she managed to deactivate and delete her old Facebook account, which she said she no longer has access to. On that account, she said the abuse sometimes amounted to threats.
"One message I got just before I was arrested, it was from a fake account, and it warned me about my work, telling me to be careful," she added, noting that she felt the Facebook user—whether government affiliated or not—was trying to scare her out of the planned protest.
Activists experienced the highest prevalence of online threats among respondents in LICADHO's study with 10 percent of activists who'd been on the receiving end of online abuse saying they'd been threatened.
Ten respondents said they'd had death threats, while men reported higher levels of violent or economic threats, women typically experienced more sexual threats. LICADHO found that views and beliefs were the top perceived cause of abuse, with 23 percent of those who have experienced abuse reporting that they were attacked online for the opinions they expressed.
LGBTQ+ Community "Self-censoring Online"
This was closely followed by gender, or gender expression, which caused 19 percent of abuse reported among respondents. Skin color or appearance made up 18 percent whereas political persuasions and sexuality each accounted for 11 percent of the abuse reported.
"I've experienced this indirectly more than directly," said Nuch Thearo, an openly gay man working in Phnom Penh's arts and media scene. "People I used to know, when they see me in drag, they made some shitty comments."



From Thearo's perspective, the LGBTQ+ community has done good work in campaigning for behavioral change, but growing up in rural Kampot Province, those surrounding him for his upbringing simply didn't understand homosexuality—something Thearo attributes to the educations available at the time.
Despite the progress in recognizing LGBTQ+ identity in Cambodia, Thearo said that it remains very difficult for people to express their sexuality or gender identity online and that repression plays a large part in it.
"There's still an idea that men should be a certain way and that gay men should be a certain way, it's a complex spectrum," he said. "When I'm online, being myself, it's not attractive to a lot of gay Cambodian men who are still trying to be so manly—it's sad to see that much repression just for likes [on Facebook].
"What I want to do is talk about expressing sexuality, it's really just another form of self-expression," he added.
Thearo recalled how, at 13, he was forced to drink with his family, because in their view he was now a man. Alcohol then became a response to discrimination Thearo faced online and off, but he has since made peace with how he presents himself online and is grateful for being able to express himself authentically.
"Many gay men in Cambodia, they're very careful about what they put online," he said, citing the abuse that can result from not following the rigid gender norms that are interwoven into Cambodian society. "They mostly stick to photos of their muscles, their abs, them at the gym—there's a void of emotion because it's safer to just keep things physical, but really, it's another form of self-censorship."
For his participation in drag shows, Thearo gets cat-called on the streets and mocked by people he thought were his friends online, but while digital platforms like Facebook and Instagram provide a space for people to abuse others relatively free from consequence, it has also provided a stage from which the LGBTQ+ community can rally around one another.
Before Thearo was used to having to unfriend people who harassed him online for his appearance or his sexuality, but more recently, younger Cambodians have rushed to his defense, calling out social media accounts using homophobic slurs.
"The Gen Z Cambodians, they've changed the narrative, they don't tolerate injustice and as a millennial, it's great seeing them change things—it's given me a lot more confidence," Thearo explained.
That confidence has seen Thearo reclaim his social media usage as a tool for LGBTQ+ advocacy, saying that digital platforms have allowed the community to develop and share their experiences. But while Thearo said things are markedly better than they were 10 years ago, or even since 2016 when estimates suggest 27 percent of Cambodians were actively using social media—compared to 71.3 percent as of 2021—the progress is largely confined to urban areas.
"We need more engagement in small towns and need to foster engagement between these communities and LGBTQ+ communities, that's how we can create more awareness and change the narrative nationally," he concluded.
Sexual Harassment Most Common Form of Abuse
Seventeen percent of all respondents said that they received unsolicited sexual messages, photos, videos or requests, but 20 percent of women surveyed reported the same—a figure that jumps to 24 percent among women aged 18-24—making it the most common form of online abuse.
This comes as no surprise for Catherine Harry, a popular Cambodian feminist who runs the blog, A Dose of Cath. She said that online harassment is a regular occurrence for her: She receives an inordinate number of unsolicited photos and videos of men's genitals.
"Sometimes it's accompanied with an obscene message, they'll say they want to do something to me or they order me to do something for them—I get these kinds of messages a lot," said Harry, who added that Facebook and Instagram were the most common platforms where this happened, mostly from fake accounts giving the abuser anonymity.
"For example, I talked about oral sex and I received many abusive messages in my inboxes, telling me to do that for them, it was harassment," she added.
Harry's blog focuses on sexual and reproductive health, but also touches on sexual expression and safe sex practices, but she believes that because she is a woman discussing these things publicly, men have taken that as an invitation to sexually harass her online.
Harassment of Harry is so prominent that Thearo said he had seen this on one of Harry's posts discussing rape in Cambodia, where Thearo described the comments section as filled with men jumping to the defense of men, playing down the prevalence of rape and refusing to accept criticism of rapists.
"I've reported these things to Facebook many times, but it doesn't seem to work very effectively, so what I hope is that the government will strengthen the law and its enforcement when it comes to online harassment," said Harry. "As Facebook/Meta is a private company, they're not under control of the government, so the interventions are limited."
She called on authorities, not just to strengthen protections for Cambodia's internet users, but also to broaden gender education to ensure when sexual harassment—online or off—is reported to authorities, they don't assume that the women "deserved it."
"We need to stop the culture of blaming victims or saying it's just a 'moral case,'" she said, adding that some of the abuse she has experienced is criminal in nature. "We have to change the mindset of society, both the people and the government."
Chhim Sithar, a former union leader at Phnom Penh-based gambling giant NagaWorld, agreed, saying that she too has been targeted—mostly by men—with pornographic images and sexual harassment.
"My solution was to block accounts, not to accept Facebook friends I didn't know and not put up real pictures [of myself]," she said, but she added the abuse stems from the fact she is both a woman and a prominent unionist.
During the COVID-19 pandemic, Sithar led multiple protests against NagaWorld over union-busting and labor rights abuses, but as she organized walk-outs online, a string of fake Facebook accounts spammed her posts with insults.
Having her house burned down under suspicious circumstances and having been dismissed from NagaWorld, Sithar is no stranger to receiving abuse for her work in unions and suspects that due to the casino's close political ties to Hun Sen, many of the accounts attacking her online could be linked to the government.
"Honestly, I don't know how to speak with the authorities as I find there is no effective solution, what is obviously harassment leads a victim to go and find support by filing a complaint, but there is no intervention," she said. "In some cases, they just suggest mediation to avoid court, the authorities are indifferent to online harassment and are careless because they don't think it's a problem."
Big Tech and Government Need to Step Up
The Ministry of Posts and Telecommunications, did not respond to questions regarding Cambodia's draft Cybercrime Law, which was widely derided by critics for the potential it would create for government abuse while failing to address what LICADHO suggested is a growing problem of online abuse.
Chea Pov, director of the Anti-Cybercrime Department at the Ministry of Interior said that COVID-19 had deprioritized the Cybercrime Law and added that he didn't know when the draft would be re-examined.
"The law covers all kinds of online abuse, because it's the Cybercrime Law," Pov said, but declined to go into details.
LICADHO also cast blame at the feet of Facebook, whose platforms hosted 95 percent of the online harassment reported by the study's participants. The report called on social media companies to upgrade the default privacy settings, localize all features by providing better resources in Khmer language and demanded greater transparency with better, disaggregated data, rather than the cumbersome sub-platform Facebook has developed, Facebook Open Research and Transparency (FORT).
"Facebook is failing people in Cambodia," said Naly Pilorge, LICADHO's director. "Facebook must take a public stand against government surveillance and harassment, and take responsibility for the various types of harassment that are widespread across its platforms."
While LICADHO said they did not receive "A meaningful response" from Facebook/Meta, Facebook's public policy manager for Cambodia, Heng Pheakdey, did not respond to specific questions put to him by reporters.
Facebook, now rebranding as Meta, hired consultants to perform a human rights impact assessment in 2018, but it wasn't published until 2020—the company's response to the findings of the assessment was also published and Facebook has since increased its number of Khmer language resources on the app, hired Pheakdey and made expanded community standards available in Khmer.
But Pheakdey would not say how many Khmer language content moderators work for Facebook, nor would it discuss reforms related to the abuse of women and LGBTQ+ users in Cambodia. It's not clear whether Facebook keeps a record of abusive posts or whether their data suggests the pandemic resulted in a rise of online abuse in Cambodia.
Instead, Pheakdey's statement was brief.
"We are deeply concerned by the increasing intimidation, surveillance and silencing of human rights defenders, journalists and peaceful political activists around the world—a trend which has accelerated with the COVID-19 pandemic," Pheakdey said. "We conducted human rights due diligence to understand the risks in Cambodia, and we continue to take concrete steps to mitigate these risks and keep our community safe."
Whether such deep concerns will translate into meaningful action on the embattled social media giant's platforms remains to be seen.
Related Articles