Report: Undocumented Migrant Workers in Urgent Need of Government Support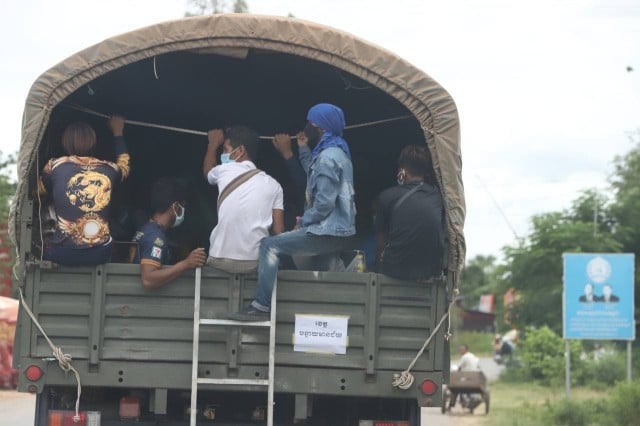 Labor rights advocates have called on the government to defend the rights of Cambodian migrant workers who have been routinely exploited and were unable to access healthcare abroad
PHNOM PENH--Labor rights advocates have called on the government to support the legal registration of undocumented Cambodian migrant workers in Thailand to ensure equal access to opportunity and protection.
The need for access to services such as healthcare has proven crucial throughout the COVID-19 pandemic, but would also provide long-term benefits for Cambodians venturing overseas for work, according to labor rights group CENTRAL who warned that a lack of social protection leaves many Cambodians vulnerable to exploitation.
"They are vulnerable because they are seeking legitimacy only to be deceived by brokers through excessive costs for processing documents, unspecified timing, risk of arrest and suppression and exploitation by employers," CENTRAL wrote in a report released earlier this month.
The 33-page report focused on Cambodian migrant workers in Thailand and found that undocumented workers are prone to losing their jobs due to a lack of access to government subsidies.
Try Sophea, migration officer at CENTRAL's Cambodian office, said the civil society organizations are hoping for a sustainable solution from the governments of both Cambodia and Thailand to address the abuse that undocumented Cambodian migrant workers face.
"The government has set out some policies but what we want is a long-term solution, in which each procedure is convenient, fast, and not costly so that affected migrant workers are able to afford the process of any document registration," she said.
Sophea explained that most undocumented Cambodian workers work illegally in Thailand because they rely on employment brokers as their facilitators to process documents. This has led to a string of documented abuses, with some brokers lying about fees or about having applied for migrant workers, while some do not extend their visas.
"People want to spend less, so they choose to go to Thailand through brokers, who charge them less than most private companies," Sophea said. "They don't possess any legal documents such as passports. On the other hand, some workers do have legally migrated to Thailand through private companies and have sufficient documents in their hands. However, in some circumstances, if they do not extend their visas or have lost important documents, they will become undocumented workers."
She said most Cambodian workers who are working legally in Thailand cannot afford to extend their visas or register more documents, so once expired or lost—due to the high cost and the complication of the process—even those who initially migrated legally end up undocumented.
"Therefore, they don't really adhere to the policies required for migrant workers, which turns them into illegal workers," Sophea said. "They sometimes depend on someone they know to facilitate their document registration, but they get scammed. They will become undocumented workers living in Thailand."
Easily Exploited
Between 1.8 million and 2 million of both documented and undocumented migrant workers from Cambodia are working in various industries in Thailand, such as construction, food processing, electronics, fishing, agriculture, services and domestic work, according to the report. However, only about 300,000 workers have traveled and sought jobs through the memorandum of understanding on migrant work.
Undocumented workers mostly work in informal sectors such as construction, agriculture, restaurants, domestic work and small-scale enterprises. The report states that some employers recruit illegal workers because they're an easily exploited labor force.
By providing insufficient or no wages at all to the workers, those who hire undocumented Cambodians often seek to control every aspect of their staff's life, threatening to file complaints and have the workers sent home without compensation or payment.
"Mostly they don't receive equal benefits as those documented. If they want to seek a new job, they cannot either because they do not have sufficient documents while they are also afraid of being arrested by the authorities," she said. "Moreover, they do not receive social protection and government subsidies. If they dare to mobilize within the country without any legal documents in their hands, the Thai authorities will use the force of their immigration law on them. They might be imprisoned or deported to Cambodia."
She said there is no equity for undocumented workers, and they often get paid little and exploited by their bosses. Their life in Thailand is unstable, Sophea said, if their bosses happen to lay off workers during the COVID-19 outbreak, undocumented workers will be the first people to be dismissed.
Po Sopheaktra, 33, is one of the thousands of migrant workers who returned from Thailand in 2021, after he and his wife migrated to Thailand last year through a broker. He said he was so short of income that he and his wife had to leave Cambodia for jobs in Thailand. He traveled through the forest at night with another 100 workers before getting on a truck and finally being taken to Thailand.
"I was expected to work at one eating house, but the boss didn't want me and my wife because we did not speak Thai," Sopheaktra said. "It was like finding needles in the ocean because we did not really know whether or not we could find jobs once we arrived in Thailand as we were undocumented migrant workers."
Sopheaktra then was introduced to one company that helped workers find jobs in Thailand. He was offered a job in a chicken factory with a monthly salary of 1500-1600 baht or about $450. However, he quit the job after six months due to pressure from the factory as well as the company that had helped him find the job.
"The company charged us a lot. I barely saved any of my wages," he said. "They told us that they needed our money to process our documents like passports. However, it was not true. They didn't care about us and even abandoned us when problems occurred. Moreover, in the chicken factory, I worked from 4 a.m. until 12 a.m. every day just to have my money ripped off by the company. Working in the factory, we were not allowed to go outside often, only when we needed the bathroom. I also phone the embassy for intervention, but they didn't pick up my call."
Sopheaktra was helped by CENTRAL and finally found a new job in the electronic factory at Chon Buri Province. He worked there for five months before returning to Cambodia due to the COVID-19 crisis.
Between January and July 2021, CENTRAL received intervention requests in cases related to dismissal and non-payment of severance from roughly 1,037 undocumented Cambodian migrant workers, of whom 420 were females.
Numerous Cambodian migrant workers in the informal fail to get access to protection from the National Social Security Fund as well as the Thai government's subsidies, the report said.
The report noted that just 172,893 out of 405, 261 foreign workers in Thailand's construction sector were covered by the National Social Security Fund according to data from the Foreign Workers Administration Office.
Ministry of Foreign Affairs Spokesman Koy Kuong referred reporters to the Labor Ministry, whose spokesperson Heng Sour did not respond to questions.
Being Undocumented Exacerbated Problems during the Pandemic
As the COVID-19 pandemic in Thailand intensified and more restrictions were imposed, the Thai government offered 50 percent of wages and additional benefits, but only to documented workers whose jobs were suspended or lost during the COVID-19 outbreak.
Undocumented workers who were COVID-19 positive were not provided any social benefits and unable to get treated at hospitals. Employers also failed to take responsibility for their undocumented staff, meaning many Cambodians working illegally in Thailand had to cover their own expenses while trying to avoid being deported.
Documented workers in some large factories were provided with proper medical treatment in public and mobile hospitals, CENTRAL's research found.
Sopheaktra said that he was required to quarantine for 15 days when COVID-19 cases started rising in Thailand. But then when he got out of quarantine, the electronic factory where he'd been working refused to take him back, citing concerns of infection.
"The Thai government said they did not have to treat or take responsibility for Cambodians, Laotians and Burmese COVID-19 patients," he said. "So, I was forced to quit my job, receiving only half of my wage. After being fired, my wife and I didn't dare to go anywhere in Thailand because we were afraid of being arrested. We only stayed at our rental room until we were allowed to return to Cambodia."
Sopheaktra was supposed to be paid 20,000 baht—roughly $600—each month working in the electronic factory. However, he was compensated only 10,000 baht or about $300 after being dismissed.
Loeng Sophon, CENTRAL's migration officer based in Thailand, said many Cambodian workers contracted COVID-19 while working in the construction industry, canned fish factories, chicken factories and electronic factories located across Thailand.
As of mid-August 2021, migrant workers not covered by the social insurance scheme are yet to be included in Thailand's national vaccination plan, according to the report.
The Journey Home
Due to mounting challenges in Thailand, many migrant workers decided to return to Cambodia, however, this meant finding transportation without help from the authorities or their bosses.
According to International Organization for Migration in Cambodia, 239,235 migrant workers have returned to Cambodia since March 2020, with 14,060 workers returning in August 2021.
In addition, a total of 25,388 migrants returned to Cambodia between Aug. 13 and Sep. 27, 2021.
Workers typically travel in taxis in groups, departing late at night. They were at significant risk of contracting COVID-19 and had to spend a lot on travel costs. They had to undertake hazardous journeys under the cover of darkness, walking through woods, crossing streams or sleeping in the middle of the forest without adequate food. They would face legal consequences if caught by the border police.
Sophea of CENTRAL said both documented and undocumented workers return to Cambodia because the COVID-19 situation in Thailand has grown so severe that there are too few jobs and too many risks associated with getting sick.
"Documented workers can receive proper travel preparation and facilitation from their bosses, whereas undocumented workers are likely to be abandoned," she said. "They have no choice, so they have to spend their own money on brokers. If they get scammed, they are likely to be abandoned amid the journey."
Sopheaktra returned to Cambodia through a broker who charged him 6,300 baht or about $190. He said traveling was tough because many people were stuffed in one truck. Entering Cambodia, everyone in the truck was required to test for COVID-19. Sopheaktra tested positive, but life in the treatment center was even harder than the journey, he said.
"In the truck, women had to sit on men's laps. Three women were forced to sit on my lap and I could barely move," said Sopheaktra. "Entering the Cambodian border, I was COVID-19 positive, so they took me to treatment at three different centers in Banteay Meanchey Province since June, and I was only released yesterday.
"We were discriminated against in the quarantine center. The doctors did not have morality. They did not talk to us nicely. They threw the medicine at the ground near us and we had to pick it up for consumption. Moreover, the food was awful and plain. I was given only chicken necks and not allowed to buy anything from outside the center."
Lack of access to social protection, proper healthcare, equal opportunities or services, all the while at risk of being trafficked into even worse labor conditions present major concerns for undocumented workers who are usually overlooked by the Cambodian government, the report stated.
Sopheaktra said working abroad was not easy, but he had no choice. Wages and opportunities in Cambodia remain lower and Sopheaktra is concerned that he will not be able to find work after returning to his hometown.
He has to wait at least six months until he's eligible for the COVID-19 vaccine and has called on the government to support migrant workers and those who have returned to Cambodia with no jobs.
Related Articles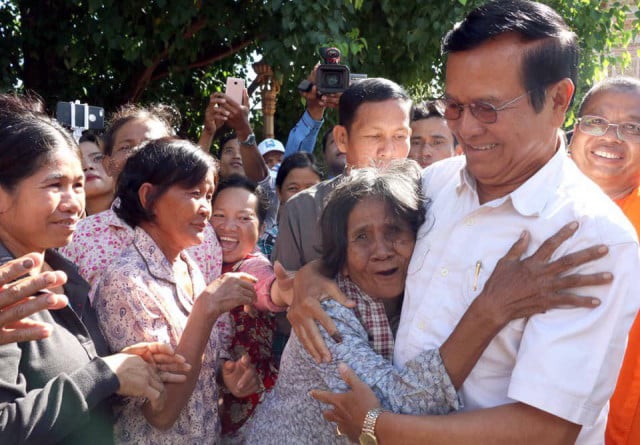 November 11, 2019 4:34 AM