Residents of Phnom Penh Call Lawmakers for Emergency Help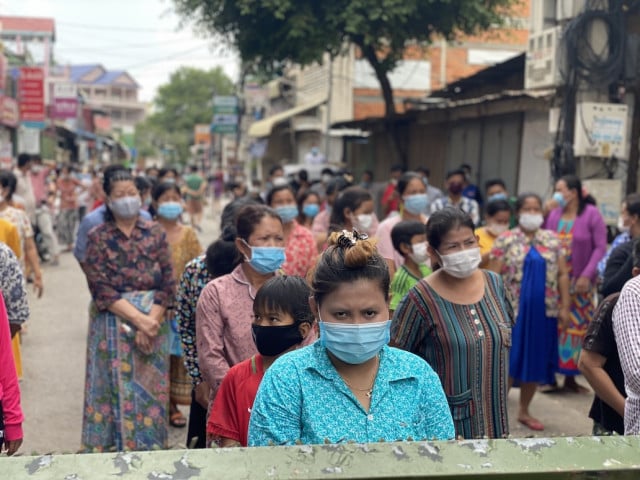 Mao Sopha and Phoung Vantha
May 4, 2021 10:31 AM
Cambodians in lockdown have begun to reach out to the lawmakers who are supposed to represent the public as the government's food donation programs appears to be missing many communities.
PHNOM PENH--Citizens of Phnom Penh and Takhmao City are questioning the effectiveness of their public representatives in light of the challenges that have emerged during lockdown. Many are now taking to social media to ask for support to alleviate the suffering caused by the lockdown restrictions.
Ou Virak, president of Future Forum, a think-tank dedicated to public policy, posted a photo of 12 lawmakers from Phnom Penh along with their contact details to social media. Virak went on to suggest that those who have problems, especially in the red zones, should reach out to their elected representatives for help.
Lawmakers have obligations and people also have obligations as citizens, he added.
Since May 2 when Virak posted on social media, Lork Kheng, a ruling Cambodian People's Party lawmaker in Phnom Penh named by Virak, said she has received many phone calls from people across different districts in Phnom Penh.
She said she was aware of the challenges citizens faced and was working with other lawmakers, including the heads of district working groups, district governors and commune chiefs to establish ways to help people.
After people told her that the assistance provided by the government had not been enough, Kheng said that many were concerned they would not have enough basic necessities such as food, masks and sanitary products if COVID-19 restrictions continue.
"If [people] are running out of food—call me three days in advance and I will tell the district team immediately," said Kheng. "I guarantee not to let anyone go without food to eat."
Lawmakers are both legal and political representatives of the people, said Yang Saing Koma, a senior official of the Grassroots Democratic Party.
"Especially those [lawmakers] in Phnom Penh and Kandal Province, should be working at all levels to help the government solve the problems of the people during this COVID-19 outbreak—especially needed are measures to address the impact on livelihoods."
However, Kheng said that lawmakers were still bound by the administrative measures.
"Please check carefully the measures in the red and yellow zones so that there is no misjudgment that will lead to disaster for the society and the lives of our people," she said.
Although the most recent restrictions appear set to change on May 6, government officials are allowed to enter red zones, provided they have permission from their superiors.
Some 387,000 members of the public living in the red zones are not allowed to leave their homes for any reason beyond medical emergencies and all markets, street vendors and shops are supposed to be closed.
Subsequently, food shortages have been reported and more than 51,000 people have joined a Telegram group chat to request emergency support—mostly in terms of food, infant formula and other essentials—from the government.
So far, the government appears to be in denial of these facts, but is going ahead with plans to lift the lockdown measures in large parts of the affected areas. In the meantime though Virak's post urging citizens to call lawmakers has drawn the ire of Justice Ministry Spokesperson Chin Malin.
"Those people who are calling lawmakers, did they vote for these lawmakers or are they just trying to humiliate them?" asked Malin, who answered his own question by stating that lawmakers must represent the public, regardless of political affiliation.
"In the red zone, strict travel rules were applied and many activities were banned, including by lawmakers to prevent the spread of COVID-19," said Malin. "Therefore, all the assistance lawmakers can provide is cooperation with the competent authorities who implement that measures which can access to the red zone."
It's unclear if Malin's interpretation of the red zones' restrictions is accurate, as government officials have been exempted from previous lockdown rules in order to carry out their duties.
Related Articles