Resilient Grandma Supports Whole Family by Selling Steamed Palm Cakes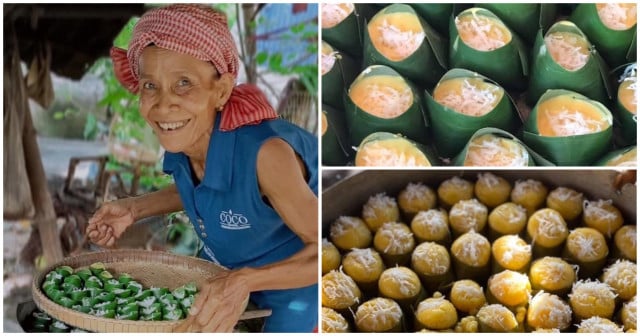 Life has been hard or Im Sary, the 67-year-old grandma in Prey Veng Province, who—despite her age—works relentlessly to make and sell steamed palm cakes to support three generations of family
PHNOM PENH--Im Sary, a 67-year-old grandma in Prey Veng Province, has been forced to take on the role of breadwinner in her family, selling steamed toddy palm cakes to support her mother, her sick husband and her four orphaned grandchildren.
The sweet desserts have been the only source of income for Sary for more than 30 years, but now, in the face of the COVID-19 pandemic, she worries about the loss of customers and what will happen if she gets sick now that she is getting older.
As a daughter, a wife and a grandmother, Sary cares for her 90-year-old mother, her 72-year-old husband who, prior to falling sick, had been working at Buddhist monasteries, organizing religious ceremonies. Then there are her four grandchildren—two boys, two girls—who lost their father three years ago to a kidney infection. Their mother died three months ago, reportedly due to complications after suffering from hypertension, leaving Sary to care for the whole family.
She explained that the two eldest grandchildren dropped out of school following their mother's death in order to find work to support their family, but now—while the other two grandchildren have continued their studies—their schools are closed due to COVID-19 so all four are working or helping her to make palm cakes.


During the daytime, Sary is mostly collecting palm fruit before getting home and starting to mix the rice, flour, palm fruit paste and other ingredients at around 6 p.m. and then, around midnight, she puts the batter into containers and steams them until they're cooked. Then, the cakes are prepared for her grandchildren to sell at the Neak Loeung Market at 6 a.m. the next morning.
Sary said that she makes anywhere between 300 and 400 palm cakes a day, each one selling for 300 riels—roughly $0.07—but these days, COVID-19 has wiped out the bigger orders for weddings and ceremonies that used to provide her with a decent income.
"My grandchildren go to sell at Neak Loeung Market every day," she said. "So we typically earn around 100,000 riels [$25] and after buying food, as well as ingredients for the palm cakes, there's only a little we can save each day to keep for when we get sick."
Compounding the problem is the availability of palm fruit, which only ripens from May to October each year, so the money earned over those five months has to be spent wisely and saved to last the remaining months of the year.
Now, exhausted from work, not sleeping from stress and the cumulative consequences of ageing, Sary is worried that she could fall ill and leave nobody in the family able to work.
She has three other children who have families in other provinces, each sends her a little money to support her family, she said, but now the only hope is for her eldest grandson to find a job soon.
"The job is very tiring and I'm old and weak, maybe next year I will have to stop," she said.

Additional reporting by Phoung Vantha
Related Articles