"Rest, Vacations and Administrative Nightmare": Third Episode of my Journey's Travelogue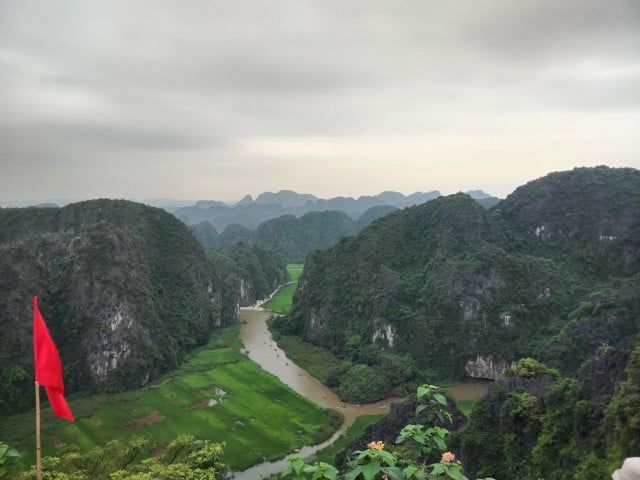 Nicolò Tissier will travel across South-East-Asia for 3 months, during which he will write regular columns, in the form of a travelogue about his travel experience. A few weeks after his first and second stories, Nicolò recounts his adventures and misadventures on the road to Laos, particularly with the Immigration Office.
Following the motorbike accident that I described in the travelogue's second episode, my travel partner Tom and I decided to stay in the coastal city of Hoi Han for a week.
There we took some rest and I received appropriate care and medication at the city's hospital.
Hoi An is very touristy, but not in a bad way. The city is dotted with many quiet places that visitors can easily walk from and to, giving the town a very relaxing atmosphere. One can only appreciate it after having experienced chaotic Southeast Asian cities like Saigon or Phnom Penh where pedestrians seem not to be welcome.
The old center of Hoi An is very charming in the evening with many lights shining between century-old buildings. While we found it was very crowded, it is nothing comparable to pre-pandemic times: According to local sellers, there used to be three times more people before COVID-19.


Hoi An is very touristy, but not in a bad way. Photo by Nicolo Tissier

I reckon it must have been way too much for my standards if I had visited the city at that time. But local people relying on tourism still miss the economic activity and wish it will soon be back to what they considered 'normal'.
Once we arrived in the city of Danang, we sold Tom's motorcycle to continue the trip by other means, starting with a long, yet delightful, train trip to Hanoi.
I totally recommend experiencing the night train in Vietnam. The main railway follows the coastline from South to North, connecting both extremities of the country.
In addition to being really pleasant and comfortable, the journey sometimes offers exquisite views of the country's great landscapes or traditional villages.
The sleeping cabins are great and still very much affordable. Even though a night train ticket is slightly more expensive than a night bus, it offers a faster and more convenient journey. In short: Night trains can be a good plan.
When we arrived in Hanoi, we didn't have the intention to stay long. Instead, we wanted to directly leave for Laos, as our Vietnamese visa was expiring a few days later.
Our original plan was to cross the border and go to the Northern city of Luang Prabang to spend our last week of vacation before reaching Vientiane and starting our walking project.
As I had the chance to explain in the travelogue's first episode, that plan is the core of our trip across Southeast Asia. Reexploring the most ancient mean of transport – our feet – to discover the mighty Mekong River, and hopefully experience the benefits of slow travel.
Visa imbroglio
A few hours after arriving in Hanoi, we jumped into a bus to go to Luang Prabang. But once we arrived at the border, after a 12-hour ride, things didn't go as anticipated.
We had planned to do a Visa-on-Arrival, which we believed was possible to do at that kind of border gate.
But since the COVID-19 pandemic, Lao authorities no longer issue visas on land border crossing with Vietnam. A little-known information with major consequences: Along with six other travelers – also unaware of the administrative change – we had to go all the way back to Vietnam's capital city to sort that visa issue.
With no option left, we embarked on a fully-packed bus – in which we had to sit on the floor – and concluded a 24-hour round-trip that left us right where it started.
While it was an unpleasant moment to go through, we can now laugh about it!
But back in Hanoi, we found ourselves in a tricky situation. We needed to get the Lao visa at the Embassy, which can usually be done in one day. Nevertheless, the Vietnamese visa must still be valid at the moment we leave the territory.


Photo by Nicolo Tissier

And here is where our administrative nightmare began: our Vietnamese visa was expiring the next day. So before being able to do the Lao visa, we needed to do an extension of our Vietnamese one.
But when we went to the immigration office on the first weekday, the officer told us that a simple extension of the initial visa was impossible, and that we had to fill out a request for a new proper visa that can take up to 10 days to be issued.
We were told to come back a week later, but had to wait an extra 3 days because of a national holiday during which all the official institutions were closed.
And that's how the unlucky turn of events forced us to stay in the chaotic and noisy Hanoi instead of the peaceful Luang Prabang.
Travel can be unpredictable!
Having no other choice, we decided to take it on the bright side and enjoyed our stay in the city as much as we could. We also went for three days in the beautiful and picturesque region of Ninh Binh, in the countryside of Hanoi.
We were lucky enough to find a homestay run by a lovely Vietnamese family, which allowed us to enjoy the traditional celebrations that took place those days in the area.
Once the national holidays came to an end, we went back to the immigration office to finally settle our visa situation.
The office is a very crowded and loud place where everyone is lost and tries to communicate with one of the few overwhelmed officers. A great human comedy show, where tourists, foreign residents and Vietnamese living overseas meet, united in the same place by their administrative setbacks.
It took us another full day of arguing and waiting until we eventually got the precious sesame: Our visa extension!
We could then finally go to the Lao Embassy the next day and get the Lao visa – it took us only half a day to have it stamped in our passport. The very same evening, we jumped on a night bus for Laos.
Given the days we lost in this administrative imbroglio, we decided to skip Luang Prabang and went directly to Lao's capital city, Vientiane. From there, we will finally start our main and initial project: A two-month walk towards the south and Cambodia.
Related Articles