Restoration of Sihanoukville's Roads Almost Complete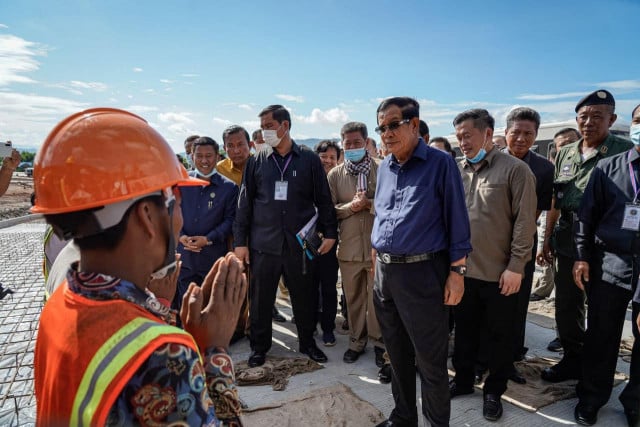 Phoung Vantha
June 1, 2020 11:51 AM
As the government takes steps to rebuild the city of Sihanoukville's infrastructure, road networks are almost complete Prime Minister Hun Sen announced.

PHNOM PENH--Prime Minister Hun Sen on June 1 announced that construction of a 34-road network in Sihanoukville province is now 90 percent completed. These roads, Hun Sen said, form part of a strategic plan to make Sihanoukville a civilized tourist destination and develop its potential as a commercial city.

"The ring road and 34 roads in Sihanouk city are now 90 percent complete," he said on his official Facebook page.

Once a small coastal city and popular with tourists, Sihanoukville has undergone rapid transformation as Chinese money flooded in. A real estate and construction boom saw local residents driven out as Chinese investors drove up the price of properties and rent, completely and irrevocably altering the city, which soon became riddled with gambling-related crimes.

While the Cambodian authorities struggled to cope with the rising levels of crime, the haphazard development that was taking place at an alarming rate raised more than just eyebrows when a building collapsed, killing 28 Cambodian construction workers while they slept on site. What followed was a series of investments designed to revitalize the ailing seaside city, but this came amid reports that some 90 percent of businesses in the city were now owned by Chinese nationals.

But with every boom must come a bust and, under pressure from China, the Cambodian government decided to ban online gambling, which in turn sent many Chinese investors packing—leaving Cambodia to deal with a city in ruins.

Cambodia's government has since decided to release a budget of $300 million to build 34 roads with a total length of 82,145 kilometers in Sihanoukville. This ambitious project broke ground on Nov. 16, 2019 by Hun Sen.

He said that Cambodia hoped to develop a modern city with one of the most picturesque coastal resorts in the world, as well as a multi-purpose economic zone to attract more tourists and new investments from abroad.
Related Articles