Restrictions Change Again as Cases Surge and More Vaccines Arrive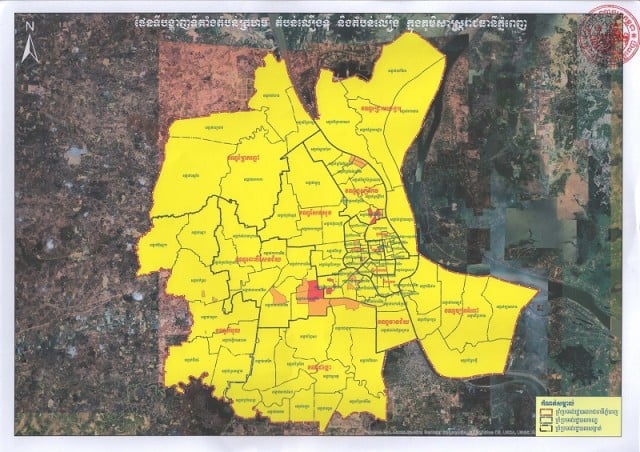 Teng Yalirozy
May 12, 2021 5:43 AM
Cambodia is set to receive 9.5 million doses of COVID-19 vaccines from China by the end of September 2021.
PHNOM PENH--The COVID-19 crisis in Cambodia continues unabated as another 472 cases were identified nationwide on May 12, although the Ministry of Health decision not to break down the numbers by province has made it harder to establish how the virus is spreading.
Three of the new cases were imported, but the remaining 469 were locally transmitted, bringing the total number of cases recorded in Cambodia up to 20,695. As of May 12, there were 136 deaths attributed to COVID-19 and 8,539 people have recovered from the virus, according to the Health Ministry.
Despite this, Phnom Penh City Hall announced today that more parts of the city have changed from red and orange zones to yellow.
Updated Red Zones


Touk Kork District: Sangkat Boeung Kak II (village 23), Sangkat Boeung Salang (village 10)


Meanchey District: Sangkat Steung Meanchey II, Sangkat Steung Meanchey III


Russey Keo District: Sangkat Toul Sangke I


Por Sen Chey District: Sangkat Choam Chao I (trapaing Thloeng I,and II).


Updated Orange Zones


Toul Kork District: Sangkat Teuk Laak I, and Sangkat Phsar Deum Kor


Pou Sen Chey District: Sangkat Choam Chao I, trapaing Thloeng 3 and 4, Toul Pongro villages), Sangkat Choam Chao II (some part of Chrey Koang village)


Russey Keo District: Sangkat Russey Keo, Sangkat Chrang Chamres I and Sangkat Chrang Chamres II


Meanchey District: Sangkat Steung Meanchey I II and III.


But as the restrictions continue to ease up across Phnom Penh, the risk remains high as daily increases in COVID-19 cases continue to hover around the 500-mark.
However, the vaccination drive has also accelerated with the government reportedly taking a more systematic approach to residents in the previous and current red zones.
As of May 12, the health authorities noted that 1,877,840 people had received one dose of a COVID-19 vaccine, while the number of people who have been fully vaccinated crept up to 1,123,726.
This comes after another 500,000 doses of Sinovac arrived in Cambodia from China on May 11, with Youk Sambath, a secretary of state at the Health Ministry, saying that Cambodia plans to procure 26 million doses to inoculate 13 million people.
"Based on the urgent decision of Prime Minister Hun Sen on [May 10] we will order more [vaccines] from Chinese biopharmaceutical company Sinovac," she said, adding that another 5 million doses are on their way.
According to the Prime Minister Hun Sen, the next batch of 500,000 doses of Sinovac vaccines will arrive in Cambodia on May 15.
Cambodia's vaccine schedule is set to bring in 9.5 million doses by the end of September 2021, with 3 million expected in May 2021, a further 3 million in June 2021 and then an extra 1 million in July 2021, followed by 1 million more in August 2021 and then finally an additional 1.5 million in September 2021.
In addition to the vaccines obtained from China, Cambodia has also received substantial assistance from Japan to cope with the COVID-19 pandemic.
The Japanese government donated 35 ambulances to Cambodia's Ministry of Health on May 7 to cope with the rising number of patients afflicted with COVID-19.
According to Karimata Atsushi, deputy chief of mission at the Japanese Embassy in Cambodia, another 60 ambulances are expected to arrive in June 2021 under Japan's Economic and Social Development Program that's fostered aid to Cambodia since June 2020.
Karimata added that the Japanese government was committed to supporting the development of Cambodia's healthcare system and so far, in response to requests from the Cambodian government, has supplied medical equipment such as ambulances, X-ray inspection equipment, ultrasound diagnostic equipment, oxygen generators and ICU beds to Cambodia.
"We'll always try to help our friend in difficult situation. We believe that to support Cold-Chain for vaccination is as important as vaccines itself. In this connection, we are now discussing on cold-chain equipment. Not only cold-chain equipment, we will think also about other necessary assistance continuously," Karimata said.
Related Articles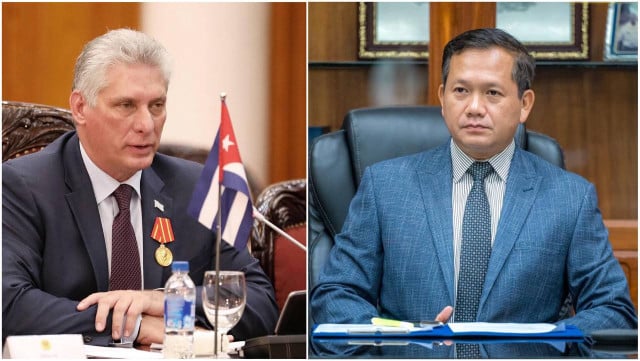 September 10, 2023 7:37 PM