Rice Exports Generate $850 Million in Nine Months
Phnom Penh – Cambodia's milled rice and paddy exports in the first nine months of 2022 generated $850.44 million, according to data released by the Cambodian Rice Federation on Oct. 10.
Cambodian milled rice exports generated total revenue of $286.9 million, with 449.325 metric tons flowing to international markets, an increase of 10 percent compared to the same period last year.
Paddy rice exports take the lion's share, with 2,357,674 metric tons being exported in the three first quarters of the year, for a total value of $563.54 million.
In that period of time, Cambodia exported rice to 55 destinations, of which eight countries account for more than 80 percent of the total. China comes first with 44.09 percent of the exports, followed by France (14.83 percent), Malaysia (5.58 percent), the Netherlands (4.65 percent), Italy (2.65 percent), Gabon (2.63 percent), Brunei (2.44 percent), the United Kingdom (2.25 percent), and Germany (2.08 percent).
All sort of rice varieties is being exported. It ranges from premium aromatic rice to fragrant rice, long-grain white rice, parboiled rice, or organic milled rice.
Song Saran, President of the Cambodian Rice Federation, said that the situation in the rice sector, especially in the export market, is usually good.
However, he said the industry is facing new challenges with the increase in production costs due to the surging price of fertilizers. On the other hand, the export price is mostly stagnating and is sometimes below the production costs, causing financial losses for farmers.
Saran emphasized that the situation will gradually return to normal as long as the COVID-19 situation in the world keeps improving.
Regarding the ongoing floods which are affecting thousands of hectares of rice filed in the northwestern and coastal provinces, Saran said he is monitoring and awaiting the possibility of an assessment by experts.
"Exports are growing, but we are still not very satisfied. We would like the export situation to be more stable, especially with the current global economic situation. Because of inflation, some countries that used to buy premium and expensive rice now more often turn to buying ordinary rice," he said.
Nevertheless, exports were still high enough to support Cambodian farmers, he pointed out.
"Exports are key to helping farmers have a market for their agricultural products and stabilize their price," Saran said. "Cambodian farmers have a production surplus: Once the national demand is fulfilled, there are still 5 million metric tons of rice available, so they need to be exported or they'll be spoiled."
There are currently 55 companies actively exporting rice. Of them, 10 companies account for 75 percent of Cambodia's total rice exports.
Related Articles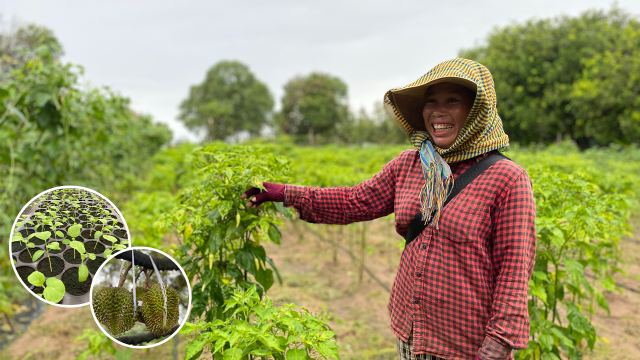 February 20, 2023 8:43 AM