Rights Body Alleges Election Irregularities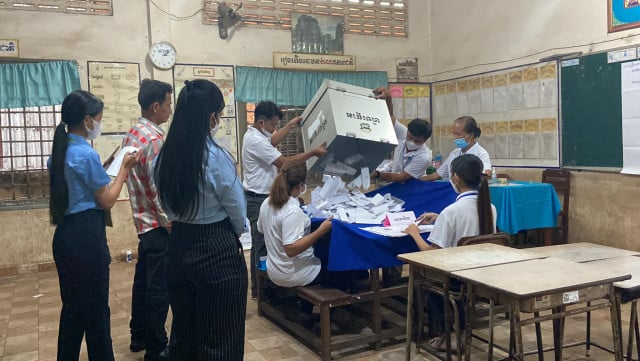 Names collected as voters leave polling stations
PHNOM PENH­ – Rights group LICADHO says its monitors found irregularities in 15 provinces during Sunday's commune elections. Election officials say there were no major problems.
LICADHO said on its website, "In most of these cases, the authorities are seen to have recorded the names or the number of people who went to the polls.
"In one case, the village chief and deputy village chief were seen sitting outside the entrance to the polling station and voters were required to give their names after the election."
LiCADHO said irregularities took place in Banteay Meanchey, Battambang, Kampong Chhnang, Kampong Speu, Kampong Thom, Kandal, Kampot, Koh Kong, Oddar Meanchey, Prey Veng, Siem Reap, Pursat, Siem Reap, Takeo and Tbong Khmum.
It said there were reports of local authorities visiting individual homes to ask people whom they voted for.
LICADHO official Am Sam Ath said he could not think why authorities recorded voters' names.
"Waiting to note names of voters like this frightens and worries citizens," he said, adding that elections must be free, fair and without intimidation.
Footage has spread on social media of people's names being taken after they voted. When those collecting names were asked why, they said it was for village chiefs or various authorities.
However, NEC president Prach Chan said the elections had been conducted with good order and security and the absence of violence and intimidation.
Primary NEC figures show that 77.91 percent of the 9.2 million registered voters cast their ballots. Seventeen parties were contesting the election. Polls closed at 3 pm.
Earlier, the UN Human Rights Office also expressed its concern over the environment, saying candidates had faced many restrictions and reprisals that hindered their activities.
These included imprisonment of a number of candidates, which appeared designed to curb campaigning.
"We are disturbed by the pattern of threats, intimidation and obstruction targeting opposition candidates," spokesperson Liz Throssell said.
Human rights concerns prompted a group of European states with diplomatic representation in Cambodia to not deploy observers.
The decision was made on May 16 after a meeting between senior European diplomats and NEC members.
The delegation included EU Ambassador Carmen Moreno, French Ambassador Jacques Pellet, Czech Ambassador Martin Vavra, Hungary's Charge d'Affaires István Bakos as well as Camilla Ottosson head of the Embassy of Sweden section office.
Related Articles