Risks and Opportunities for Renewable Energy in SEA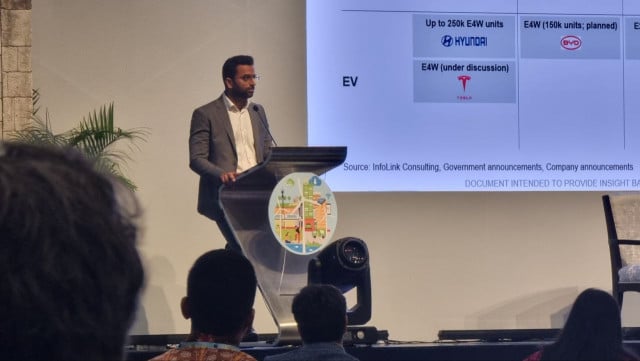 Bali, Indonesia – An estimated 30 percent of Southeast Asia's GDP and approximately half of all countries in the region are risk from climate impact by 2050, a leading economist says.
Globally, 15 percent of the GDP and approximately eight percent of all countries face the same risk, Vaibhav Dua said.
Dua, leader of McKinsey's Sustainability Practice in Southeast Asia, was speaking on March 30 at the Asian Development Bank's Southeast Asia Development Symposium 2023 in Bali.
However, risks generally came with opportunities, he said.
By the same year, Southeast Asia may experience a sustainable revenue pool of up to $200 billion annually and around six million new jobs in renewables.
Low carbon mobility such as electrification of vehicle power trains, charging infrastructure or EV financing as well as clean power such as renewable power generation and microgrids made up more than half of the revenue pool.
Areas within reach
Vaibhav said that, based on the region's natural advantages and existing capabilities, solar photovoltaic, electric two-wheelers and batteries had immediate potential.
"Manufacturing is not something that is new to us", he said. "It has been a backbone for our GDP for a long time.
"The SEA region has a significant untapped renewable energy potential particularly in solar, wind, hydro and thermal power."
Damilola Ogunbiyi, CEO and Special Representative of the UN Secretary-General for Sustainable Energy for All and co-chair of UN-Energy. said, "What should be nudged for is to absorb and keep that readiness in the region."
Countries like Singapore, Thailand and Vietnam used advanced manufacturing to sustain more than 15 percent of their GDP and this strong backbone can be used to manage and develop technologies capable of responding to climate impact while offering benefit to the economies.
"As with everything, the right enablers need to be in place for us to achieve it," she said.
"The regulatory maturity varies across different countries. To realise this potential, regulatory unlocks will be critical."
Indonesia and Vietnam have particularly high demand for electric two-wheelers with a projected sales of 2.5 million and 900,000 units respectively in 2030 while Cambodia will see an increase from less than 1,000 units in 2021 up to around 10,000 units in 2030.
Battery manufacturing will also be one of the important areas as Southeast Asia, especially Indonesia and the Philippines, holds a huge nickel reserve, a crucial component for batteries and therefore solar power and electric two-wheelers.
Stakeholders must work hand-in-hand
Vaibhav said these opportunities would not solve themselves. Critical ecosystem partnerships and stakeholders would need to collaborate to ensure these opportunities are realised.
A combination of four key stakeholders was essential in accelerating the three potential areas mentioned above.
Governments should pay more attention to regulations, manufacturing sector reform, financial support, cross-ministerial cooperation and regional cooperation.
"It is not just the international players who have been coming to the region. It is also the local businesses who have started and come up with innovative business models as the role of the industry will remain extremely important," he said.
In the upscaling of renewable energy manufacturing, the role of industry is to input policy making, ensuring capital and operational excellence and more.
Advocacy and technical input for policy reform should be managed by NGOs while the same thing goes for green growth funding and workforce upskilling.
The last stakeholders in the equation are private sector financial institutions which can accelerate growth through policy dialogue facilitation, monetary support and financial assistance.
"The opportunity is there and the unlocks between the four stakeholders will be critical and it ensures that we continue to be the backbone in manufacturing as we have been to some of the traditional technologies," he said.
Damilola said the Asian Development Bank, Sustainable Energy for All and other institutions were planning to work with Southeast Asian countries to scale renewable energy manufacturing capabilities.
This was done by strengthening a supportive policy, enforcing environmental capacity and building a regional supply chain among other measures while supporting economic growth and jobs.
Related Articles