River Dwellers Get Short Eviction Reprieve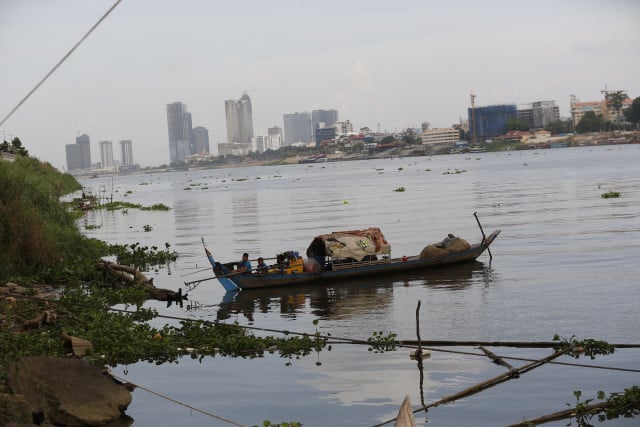 City gives boat homeowners time to dismantle illegal structures
PHNOM PENH--City Hall has given a few more days for people living illegally on the Mekong to remove their boat houses.
The reprieve to get rid of the unregulated structures and fish farms was issued on June 9.
City Hall spokesman Met Meas Pheakdey said City Hall had given a few more days for people to move their belonging but he could not confirm the new deadline.
Authorities do not want to take immediate administrative measures that could damage the property of people living on the river, he said.
"We want to give them a little more time, as many people have volunteered to remove their structures from the river gradually," he said.
Sok Sambath, Governor of Prek Pnov district said he had advised the owners of floating houses, fish farms, and informal structures to move out of the river by June 11. If people did not move out, district authorities would take legal action.
Prek Pnov district has 292 floating houses in the river but 12 house owners had volunteered to move out, he said.
Cheng Monira, Governor of Chbar Ampov district, said there are more than 200 fish farms and illegal structures on the river in the district.
"After we instructed them to move out, some people volunteered to dismantle and some refused to move, so if any illegal fish farms and structures have not been removed by June 10, our team will dismantle them," he said.
June 9 was the deadline for people living on floating houses at the Tonle Sap river after Phnom Penh City Hall issued a letter telling the owners to move out.
Phnom Penh city governor Khuong Sreng said on June 2 that authorities will file a court case to deal with anyone who refuses to dismantle the illegal structures.
Vietnamese Ambassador to Cambodia Vu Quang Minh has expressed dissatisfaction because the Phnom Penh authority was causing great hardship to people in floating houses, especially in the context of Covid-19.
The ambassador said about 1,000 families were living on the river in Phnom Penh, including Vietnamese, Cambodians and Muslims (Cambodian Cham).
"These people have lived there for more than 40 years and have legal residency permits," Vu Quang Minh said.

Additional reporting by Phoung Vantha
Related Articles