Royal Academy Head Says Wealthy People Behind Surge in Illegal Logging in Techo Sen Park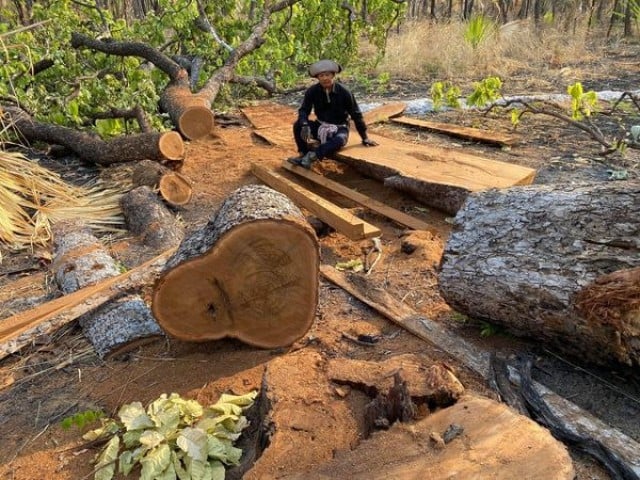 More determination to end the deforestation needed, he says
PHNOM PENH--The president of the Royal Academy of Cambodia has requested that tougher law enforcement measures be taken to put an end to illegal logging activities in the Techo Sen Russey Treb Cambodian Royal Academy Park, stressing that wealthy and powerful people must be behind these actions.
During an interview on Aug. 28, Sok Touch said that he and his team have often caught local villagers entering the park illegally to cut down trees.
These deforestation activities continue because of powerful and wealthy business people hiring locals to do so as those villagers don't do this for themselves, he said.
"These villagers are just tools for the rich," Touch said. "When I caught those illegal loggers, I know there were big businessmen behind them. These farmers have just been hired and get paid to do this."
"Therefore, we should not be upset that our ancestors lost Banteay Longvek [the ancient Khmer capital in 16th] because they wanted to get Duong [money]."
When asked whether job creation for local villagers to help them get income or establishing tourism areas or hiring them to do something else will help end the deforestation, Touch responded that some local villagers will continue to do the same because they are addicted to doing so.
"We support embracing tourism activities to help local communities but it is impossible here. It becomes their habit to cut down trees and get paid."
"We see the loss of forests, the loss of wildlife, the loss of lakes and rivers because of dollar money," Touch said.
For the president of the royal academy, in order to stop illegal logging, there must be strict law enforcement and people's determination to forest conservation.
"There doesn't need more appealing, but there needs to be stricter legal enforcement. This is very critical," Touch explained.
He continued, "And our people must be determined to stop this problem. We must not crave for dollar money that we are paid for doing this, but we must crave for a conservation."
Located in Chhaeb I and Chhaeb II communes in Chhaeb district in Preah Vihear Province, the Techo Sen Russey Treb Park was established in 2014 and lies over 114.35 square km of land.
Despite being designated as the national park, Techo Sen Russey Treb has seen increasing illegal logging activities over the past years. A series of crackdowns have been carried out and several timber trucks along with many tools had been confiscated.
During a forest patrol in late March, Touch and his team also seized two timber trucks belonging to the loggers. In May, four other trucks illegally transporting luxurious timbers from the park were also confiscated.
Related Articles