Rubber Exports Nudge $100 Million in First Quarter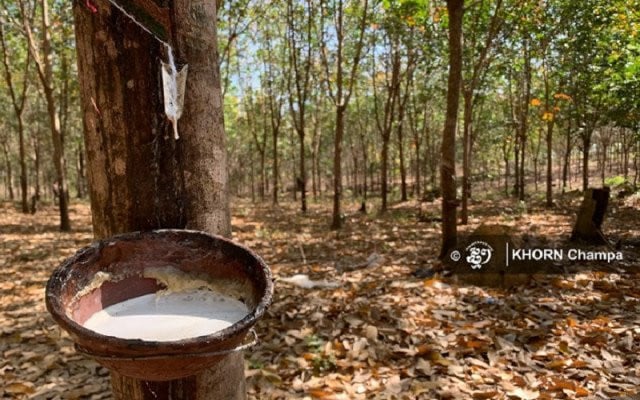 Pandemic hits price of raw product

PHNOM PENH–Cambodia exported nearly $100 million worth of natural rubber and rubber trees in the first three months of 2022. Of this, more than $98 million was earned from rubber.

In the first quarter of 2022, Cambodia exported 61,839 tonnes of natural rubber, an increase of one percent from the first quarter of 2021, according to the report of the General Department of Rubber Plantation of the Agriculture Ministry.

The export of rubber timbers reached 836 cubic meters, up about three percent on the same period in 2021. Exports of natural rubber and rubber trees totaled $99,146,970, of which $586,700 was from the timber.

The report, released on April 18, said the average market price of natural rubber is $1,594 per tonne. This is down $42 from the same period in the first quarter of 2021.

General director of the ministry rubber department Him Oun said the fall in the price of rubber in the first quarter of 2022 was due to the global economic situation affected by the COVID-19 outbreak in late 2021.

Crude oil prices play a leading role in the commodity market, so these may affect the prices of other commodities, which also include natural rubber, he added.

"However, the decreased price does not affect the total revenue earned from exporting rubber," said Oun.

Sor Chi Sin, a rubber plantation owner in Phteah Rong village of Pursat province, said that he could sell his natural rubber for 3,200 riel or $0.8 per kilogram and he had only started to sell his rubber for one month in 2022.

He collected and kept his natural rubber for a month before selling it to his regular customers from Tboung Khmum province, he said, adding that the collected rubber had been sold out before Khmer New Year.

"My customers export the rubber to Vietnam for 3,700 riel [roughly $0.9]," said Sin.

However, the price of rubber has increased since 2021, he said. In 2020, he could sell his rubber for 2,500-2,800 riel or $0.62-$0.7 per kilogram, while in 2021, his rubber was sold for 3,000-3,200 riel or $0.75-$0.8 per kilogram.

Sin's rubber plantation stretches on 85 hectares and he has been doing the business since 2012. However, he said his business was not affected during the COVID-19 pandemic.

"There was no restriction in the market. The borders were closed, but they had a mechanism for us," he said.

For two years of the COVID-19 pandemic, no rubber companies in Cambodia have gone bankrupt, but larger companies faced financial difficulties with high administrative and production costs, said Him Oun, general director of the rubber department. Family rubber businesses had made lower profits.

Oun added that no new companies are coming to invest in the rubber business in Cambodia as the government no longer has a policy of granting economic land concessions.

However, Cambodia will strengthen product management and quality to attract investors to invest in processing finished products to increase value-added.

The Cambodian rubber market consists of China, Vietnam, Malaysia, Singapore, India, and the European Union, he said, adding that the authorities are trying to cooperate and coordinate the local market with car tyre makers in Svay Rieng province and Sihanoukville.

So far, Cambodia has about 400,000 hectares of rubber plantations. There are more than 310,000 hectares of rubber tapping area, accounting for 77% of the total rubber area. Cambodia has 108 rubber investment companies.

In 2021, Cambodia earned more than $600 million from the export of rubber and rubber timbers.
Related Articles