Russian Envoys Reject War End Petition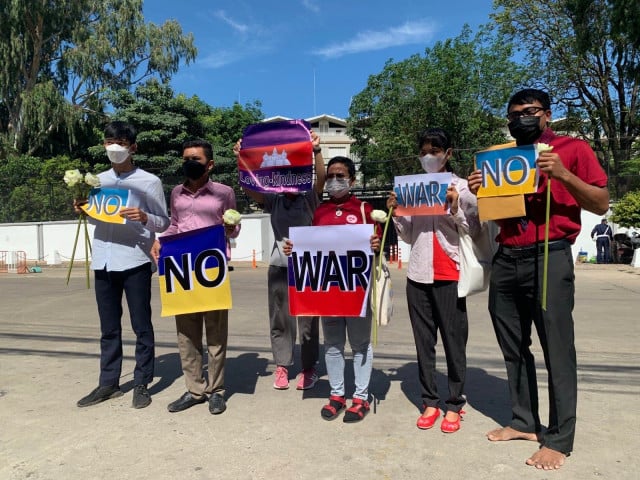 Youth groups are calling on Russia to stop its war and restore stability
PHNOM PENH – Four youth groups submitted a petition to the Russian Embassy in Cambodia on April 5, calling to end the war and the invasion of Ukraine. But embassy representatives did not accept the petition.
Six representatives from the Cambodian Independent Teachers Association (CITA), the Khmer Student Intelligent League Association (KSILA), the Cambodian Confederation of Unions (CCU) and Khmer Thavrak (KT), filed a petition at the embassy's door in the morning, but saw their request turned down by the embassy.
Koet Saray, KSILA's president, said that although the embassy​ rejected the petition, his group publicly calls on Russia to stop its invasion of Ukraine.
"As we are a civil society group and activists in Cambodia, we call on Russia to stop the invasion of Ukraine and to restore political stability and peace, in order to ensure that world peace​​ moves forward with confidence and trust," he said.
The petition's purpose is to encourage Russia to stop its aggression against Ukraine, restore political stability, and keep global peace away from World War III. The signatories call on Russian President Vladimir Putin to declare a ceasefire and find a solution to the conflict through negotiations instead of using military force. They also appeal for restoring peace in Ukraine and facilitating the supply of humanitarian assistance to the people of Ukraine.
"As human beings, the Cambodian civil society would like to extend our love and sympathy to the people of Ukraine, who are in the throes of a brutal war and we really want to see them away from it," he said. "All human beings in the world [should] live in peace, reunited with their families happily."
Cambodia has gone through countless chronic wars, so on behalf of the Cambodian nation, we really do not want to see any countries into the flames of war, he added.
"Please, the people of Ukraine and Russia, accept our love and respect," he said.
Prime minister Hun Sen reiterated on March 28 that Cambodia will stand with Ukraine, adding that Cambodia could not adhere to the neutralist policy for Russia's act of aggression upon Ukraine.
Related Articles