Sam Rainsy Criticizes Kem Sokha for Not Voting in the Commune Elections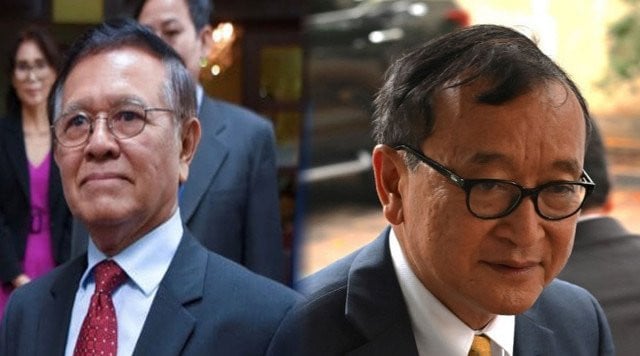 This implied there was no possible choice, which was not the case, he said
PHNOM PENH­–Former opposition-party leader Sam Rainsy criticized his former colleague Kem Sokha for not going to vote on commune-election day, which amounted, he said, to Sokha stating that there was no possible choice for voters.
During an interview with Radio Free Asia on June 9, 2022, Rainsy, who had repeatedly declared that he and former opposition leader Sokha were one and the same, inseparable partners, said that Sokha not casting his vote on June 5 was a serious mistake.
According to him, the several millions of people who voted for the Candlelight Party are supporters of the former Sam Rainsy Party, which merged with Sokha's Human Rights Party in 2012 and became the now-disbanded Cambodian National Rescue's Party (CNRP) in 2017.
In the commune elections held countrywide on June 5, candidates of the Candlelight Party ran against those of the ruling Cambodian People's Party (CPP) of Prime Minister Hun Sen.
Sokha saying that the Candlelight Party was no different from the CPP was insulting for the patriots who supported the CNRP in the past, Rainsy said. "I really regret …his speech: I hope he wakes up to find that the Candlelight Party is far better than the CPP," he said.
Muth Chantha, an aide to Kem Sokha, did not respond following attempts to contact him to obtain comments regarding Rainsy's criticism of Sokha.
In fact, on the election day, Sokha did not say a word regarding the commune elections taking place. The comments as to why he was not voting did not come from him but from his aide Chantha.
"His Excellency Kem Sokha did not go to vote because there was no choice for him to choose from," Chantha said when asked whether Sokha had voted.
His words "no choice" were then interpreted as meaning that Sokha did want to cast his vote for either the CPP or the Candlelight Party.
It is rare to hear Sokha speak negatively and directly about Rainsy. But at the end of November 2021, he posted a text message on his personal Facebook page in which he blamed Rainsy and his colleagues for walking away from the original spirit of unity built since 2012 by forming several political movements and then backing the leadership of their old Candlelight Party.
"Their actions show that Sam Rainsy and Kem Sokha are not the same person, because all these activities do not have my support or position," Sokha wrote.
In spite of his criticism of Sokha on June 9, Rainsy still demanded that the Cambodian court drop the charges against him and other former CNRP members.
In the June 5 commune elections, the CPP received 5.3 million votes, which amounted to 74.32 percent of the votes, while the Candlelight Party received 1.6 million votes, that is, 22.26 percent of the votes, according to preliminary results of the National Election Committee.
As a result, the CPP won more than 8,630 commune council seats while the CLP obtained around 2,500 seats. The CPP secured at least 1,648 commune chief positions while the CLP got four.
Related Articles