Sam Rainsy May Face Legal Action for Insulting King Norodom Sihamoni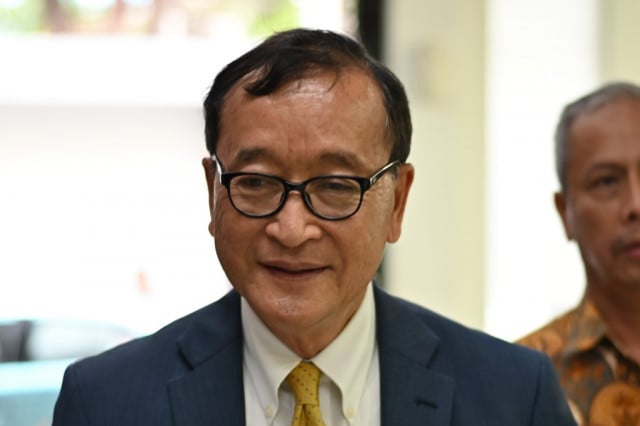 Romdoul Chetra and Sao Phal Niseiy
December 25, 2020 12:44 PM
His comment on the king was made as he put down Cambodia's strategy to get COVID-19 vaccines
PHNOMP PENH-- Minister of Justice Keut Rith on Dec. 25 requested that the Phnom Penh Municipal Court prosecutor take legal action against former opposition leader Sam Rainsy for affront to the dignity and reputation of King Norodom Sihamoni.
"Sam Rainsy's statement, which has been disseminated on social media, is insulting and affecting the dignity and reputation of His Majesty the King of the Kingdom of Cambodia […]," Rith wrote in his letter to Phnom Penh Municipal Court Prosecutor Chroeng Khmao.
According to Rith, Rainsy's comment is in violation of Article 7 of the country's constitution and a criminal act according to Article 437 of the criminal code.
"The Ministry of Justice would like to call on the prosecutor to take immediate and firmest legal action against…those insulting the monarch in accordance with the procedures in effect."
The request was made following comments posted on Dec. 20 on Facebook by Rainsy—the exiled former leader of the now-dissolved Cambodia National Rescue Party—who criticized Prime Minister Hun Sen's COVID-19 vaccine purchase plan.
"Hun Sen doesn't know there is no COVID-19 vaccine retail sales, and if they want to make bulk purchases, it can only be ordered directly from pharmaceutical [companies] and laboratories in the free world and [buyers] have to deposit billions of dollars in advance," Rainsy wrote, qualifying the government's vaccine purchase plan as "absurd."
He went on to say that, "[n]ow Hun Sen becomes tongue-tied about this issue and he has been prepared to return the money donated by many generous contributors who have been tricked by him including the scarecrow King."
Rainsy's statement does not deserve the government's response, spokesman says
The Cambodian government did not immediately respond to the comments made by Rainsy.
As government spokesman Phay Siphan explained in an interview on Dec. 24, Rainsy's comments were not worth a government's response.
"What has been [said by Rainsy] is just to seek attention from the media and…to get a response from the government," he said, adding that the government had no intention of doing so.

Concerning the issue of insulting the monarch, Siphan said that the government was leaving this to the government's lawyers to look into this with the court.
​"What he stated has affected his own interests because we can't say anything more, but the court can," he said. "But it is blatant evidence, which can be used by the court."
Ky Tech, lawyer for the Council of Ministers and Prime Minister Hun Sen, could not be reached for comments as of Dec. 25.
Issue of upholding political ethics
Regarding this latest comment made by Rainsy, social development observer Seng Sary said that politicians should behave appropriately and uphold political ethics while avoiding any comment that may affect King Sihamoni's reputation.
"If we speak of legal dimension, he [Rainsy] desecrated the country's constitution because the king as well as the monarchy shall not be violated," said Sary, who is also co-founder of the Cambodian Institute of Democracy.
"If we focus on the political regime, we have the king as head of state, therefore any message that insults the supreme leader of the nation is a violation. Politically speaking, it is not beneficial," he said. "And if we look at the moral and ethical dimension, as a citizen, this [action] is even more inappropriate."
Sary added that politicians should compete with each other based on political strategies as well as ideas, which are of interest to nations. This, he said, is better than political messages that only criticize or insult their political opponents' families, which only hurt their feelings.
Rainsy was charged with inciting military to disobedience and insulting King Sihamoni in 2017 and 2018 respectively. In May 2019, he was sentenced to 8-year imprisonment and a fine of 20 million riels ($5,000) for insulting the king. In September 2019, he again was charged with insulting the king.
Related Articles