Sam Rainsy on his Way to Cambodia, Route Unknown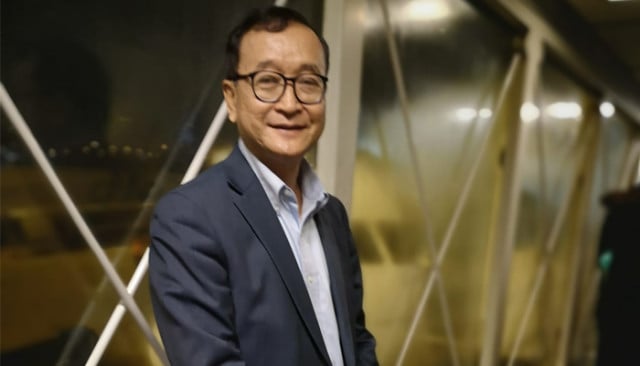 Torn Chanritheara
November 9, 2019 8:18 AM
Opposition leader Sam Rainsy Friday departed from Paris in another effort to come to Cambodia, having been prevented from catching a Thai Airways International flight to Bangkok one day earlier.
A short statement posted on his Facebook page read that "Sam Rainsy boards a plane in Paris today for another destination." The message did not specify which destination.
Over the last few months, Rainsy has repeatedly said that he intended to return to Cambodia on Nov. 9—the national holiday commemorating the country's declaring its independence from France in 1953. He has been warned that he faces immediate arrest if he sets foot on Cambodian soil.
To prevent his return, the Cambodian authorities have strengthened security along the borders. They are on high alert in Poipet town where hundreds of officers have been deployed to watch arrivals at the Thai-Cambodian border and check every vehicle arriving from Thailand. Large trucks heading for Banteay Meanchey Province are not allowed to enter Poipet.
The self-exile opposition figure was turned away from boarding a Thai Airways flight on Nov. 7. He later asked his supporters to have patience.
Related Articles