Sar Kheng: Road Accidents Down Since Stricter Traffic Laws Enforced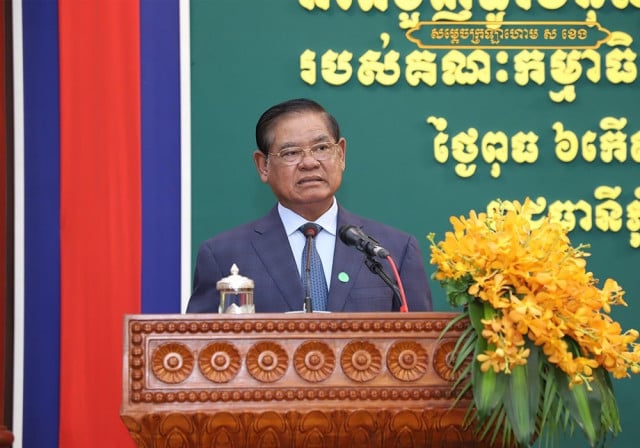 Mao Sopha
May 28, 2020 1:51 AM
Despite being introduced just 26 days ago, Deputy Prime Minister Sar Kheng hails the new traffic fines a success.
PHNOM PENH--Road accidents have decreased during the first 26 days of May 2020 compared with the same period of the previous month, Interior Minister Sar Kheng said Wednesday (May 27) as he renewed his support for stricter traffic laws.
Kheng, who is deputy prime minister and head of National Road Safety Committee, said that from May 1 to May 26 the number of fatalities caused by road accident stands at 98, down seven from the same period in April 2020 where 105 deaths were recorded. The number of injured also decreased by 82.
He added that by contrast to the same period last year, the first 26 days of May 2020 had seen a decline in road deaths from 132 in May 2019 to 98 so far this month, while the number of injuries sustained on the roads fell from 414 in 2019 to 253 since the stricter regulations came into force.
Kheng provided the data during a ceremony to release the findings from the 2019 National Committee for Tackling Human Trafficking, as well as setting goals for the committee for 2020.
"This is the result we have gained from this enforcement," Kheng noted, referring to nationwide campaign to strictly enforce road traffic laws in a bid to reduce traffic accidents in Cambodia.
He vowed to provide continued support for the campaign while reminding police to follow the rules while on duty.
"I ask competent authorities not to retreat, continue this and the police must strictly respect the rules of professionalism and ethics," he added, calling the implementation of road traffic law 'a turning point' which honors the nation and serves to protect the lives and happiness of citizens.
According to Kheng, during 26 days traffic police fined more than 38,000 vehicles. Among them, more than 27,000 are motorbikes and more than 10,000 are car.
It remains to be seen whether the efficacy of the new, stricter laws will continue as more data becomes available.
Related Articles