Sar Kheng Urges the Cambodian Government Sector to Better Inform the Public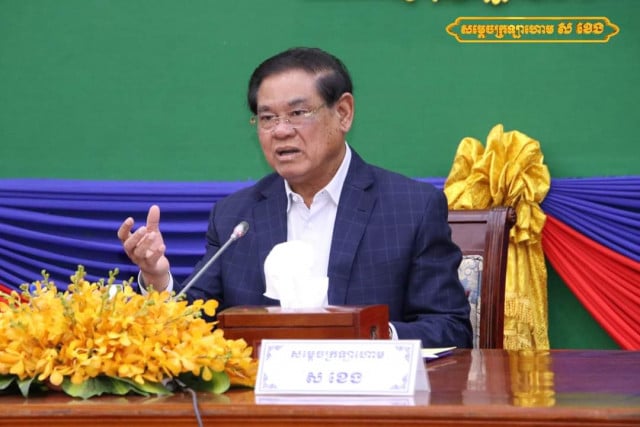 January 15, 2023 11:30 AM
PHNOM PENH — Interior Minister Sar Kheng asked spokespersons of all ministries and government institutions to actively and widely release information on government services to ensure that people are aware that they are available to them.
"Providing comprehensive information is the responsibility [to ensure] the knowledge and understanding of the people so they can fully take action to receive public services effectively," he said during the closing ceremony of the meeting on "Information Political Strategy" that was held in Phnom Penh on Jan. 12.
Kheng said that the news is a means of disseminating information on all the government has achieved. The authorities also must receive information from the population to learn about people's needs and challenges as well as to get suggestions that can be used as a basis for formulating policies to address and respond to the people, Kheng said.
"This field is considered an important sector to help improve the efficiency and effectiveness of the provision of public services in the reform of the democratic development at the sub-national level," he said. "News is a means for disseminating policies issued by the state or public services that must be provided to the people."
In the past, representatives of ministries and institutions at both national and sub-national levels have made efforts to disseminate information, Kheng said. However, further efforts are needed to distribute this information in accordance with the country's information political strategy, he added.
In August 2022, the United Nations High Commissioner for Human Rights in Cambodia said in a report that information access in Cambodia was still a concern and urged the Cambodian authorities to improve information access.
"While the Cambodian Constitution does not explicitly guarantee the right to access information, the constitutional guarantee of freedom of expression, as per international standards on that right, includes the right to access information," the report read.
Reporters Without Borders ranked Cambodia 144 out of 180 countries in its 2021 Index of Press Freedom. And according to CIVICUS—an international coalition of civil society organizations and activists committed to promoting global citizen action and civil society—"press freedom remains under attack in Cambodia."
Related Articles