Scholars' Perspectives: What Will happen to Cambodia-U.S. Diplomacy after the U. S's Arms Embargo on Cambodia?
PHNOM PENH--U.S. implemented its new restrictions and imposed a U.S. arms embargo on Cambodia on Dec. 8 to address human rights abuses, corruption, and regional security concerns in Cambodia.
The U.S. remains committed to Cambodia's independence and sovereignty of Cambodians. However, the restriction is to urge the Cambodian government to address corruption and human rights abuse in the country, as well as reduce the influence of China's military influence in Cambodia, "which threatens regional and global security," said Gina Raimondo, Secretary of U.S. Commerce.
Cambodian Prime Minister Hun Sen posted an affirmative message on Dec. 10, in response to the U.S.'s sanction, saying that the U.S. Commerce's restriction was the proof of the right decision he made in 1994, when Cambodia was not to buy the U.S.'s weapons. With that said, PM Hun Sen ordered all army units in the country to have all made-in-US weapons destroyed or kept in the warehouse accordingly.
"Thanks to the U.S. again for proving that my decision was right for not buying their weapons for Cambodia's defense," the post read.
"It is also a warning message for the next leader of the Cambodian government to not use the U.S.'s weapons if they want an independent national defense sector."
Vann Bunna, co-founder of The Thinker Cambodia and research fellow at Cambodian Institute for Cooperation and Peace (CICP), views this restriction as the U.S.'s containment policy in the context of geopolitical perspective, which is to prevent the spread of China's influence within Indo-pacific region, especially Southeast Asia.
Bunna said there is a part of the U.S.'s containment policy that is to prevent the rise of China's influence by imposing sanctions on the countries in partnership with, or are serving under China's passion.
"As in this context, the U.S. viewed Cambodia as a country that is close with China; therefore, the U.S. is trying to put more pressure on Cambodia."
There is no specific answer to how influential the sanction is for Cambodia, but this research fellow added that this issue leads the relationship between Cambodia and the U.S. to be in even more serious and uncertain circumstance.
"…making it more difficult for the Cambodian government leader and current President of the U.S. Joe Biden in restoring the relationship between the two states."
From another point of view, Ear Sophal, Cambodian-American political scientist and analyst, refers the arms embargo to "lumps of coal" that is to punish Cambodia in terms of arms supplying although "the U.S. has not really sold anything to Cambodia since the Khmer Republic."
"Of course, it's more symbolic because China and Russia have been Cambodia's main arms suppliers," he said.
Sophal suggested Cambodian authorities take the middle path as he thinks that Cambodia will probably get closer to China.
"They should stop walking left, as the Khmer saying goes," he said.
Sophal thinks that Cambodia is currently "single-mindedly focused on pleasing China", as if it is a part of China and under the Chinese government.
"However, Cambodia is not a province of China. It is the Kingdom of Cambodia. It is nobody's Banana Kingdom," he said.
Saying through Email on Dec. 16, Sophal, on top of that, said another U.S.'s sanction is coming on Cambodia when it passes the Senate [of the U.S.].
"Thanks to Senator Ed Markey of Massachusetts who will have the support of Lowell, MA, Cambodian-Americans. The Sanctions are coming! The Sanctions are coming!"
Peireira Maurice, Senior student at the Faculty of Social Sciences and International Relations, Pannasastra University of Cambodia said that the restriction is not viewed as influential to Cambodia, as Cambodia's weapons are not dependent on the U.S.
"In my opinion, the restriction doesn't affect Cambodia much, as Cambodia's weapons are not dependent on the U.S.," he said.
From Maurice's perspective, there is a trust issue between Cambodia and the U.S. since Lon Nol regime, and Cambodia is not close with the U.S. either as Cambodian PM Hun Sen does not trust the basic instincts of the U.S. regardless of the changes of Presidents.
"Lon Nol was like a pawn to the U.S., and the U.S. moved back and forth without thinking about Cambodia whatsoever," he said.
"Therefore, when PM Hun Sen fully took over the position of leader of the government of Cambodia in 1998, he started to build friendship, instead of with the U.S., with China, Japan and other rising power countries," he added.
This research fellow thinks the U.S. putting pressure is not alarming Cambodia but letting Cambodia off its hand. However, it does not necessarily mean that Cambodia is running towards China.
He said Cambodia is even more distant and far from fear of the U.S.'s power, adding that Cambodia needs to find out where it can get more weapons in replacement with the ones from the U.S.
"We need to understand that Cambodia does not follow any superpower country," he added.
On the other hand, China should be careful because there is a possibility that Cambodia can do what it did to the U.S. too.
"I think China will also understand that…and Cambodia should be also careful not to decide carelessly, or it will lose another source to buy weapons," he said.
"However, Cambodia is in advantage too for China, as it is in focus point in West China competition."
Related Articles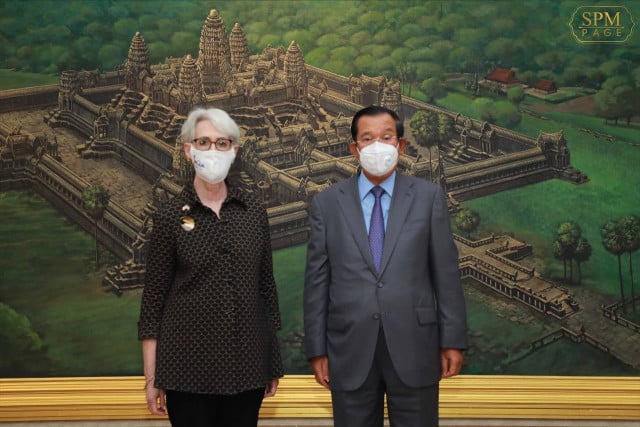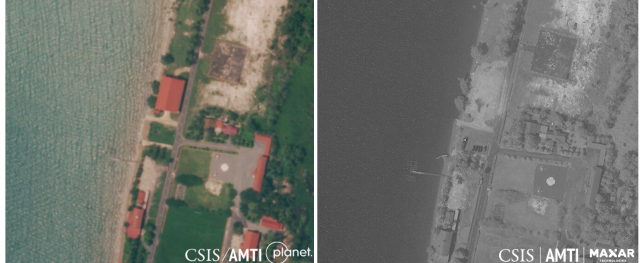 November 10, 2020 10:10 AM