School Meals Program Gets $4m Boost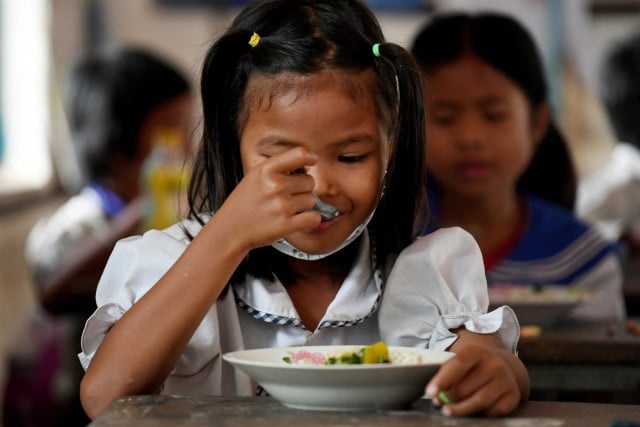 PHNOM PENH – The government plans to spend $4 million on a feeding program using community-based agriculture products in 427 target schools across ten provinces.
The Education and Finance ministries were ordered on March 13, to provide allowances for students' meals and cooks based on the number of students at each school.
Education Ministry spokesperson Ros Soveacha said the community-based program aims to improve the nutrition and education of children in poorer and more vulnerable areas.
"This is also to increase enrollment and reduce dropout rates at the primary level as well as participate in promoting the community economy," he said.
The government has allocated approximately 17,080 riel or about $4 million for 110,645 students this year.
The provinces include Battambang, Banteay Meanchey, Kampong Cham, Siem Reap, Kampong Thom, Stung Treng, Preah Vihear, Oddar Meanchey, Kampong Chhnang, and Pursat.
Locally sourced products will include rice, fish, meat, eggs, milk, vegetables, fruit and whole grains.
The Education Ministry budget includes kitchen supplies, repair, and hygienic supplies.
In any emergency that prevents teaching or learning in schools, the education ministry can divert student food allowances and tell cooks to buy food to distribute to students in families with the equity cards so they can cook at home.
The school feeding program was implemented in 1999, starting with the 64-school breakfast program and benefiting 37,500 students under the auspices of the World Food Program.
Since then, the program has provided daily meals to 280,000 pre-primary and primary school children in 1,113 schools across 10 provinces, according to the World Food Program.
In 2014, a domestic school feeding program was launched in which local producers could sell the ingredients, boosting their economies and creating jobs.
Since 2019, Cambodia has begun to transform the local school-based school feeding program into a national program, gradually using the national budget to enhance access to a variety of meals for children in disadvantaged households.
In 2022, with an allocation of $ 2.9 million, the Government managed and funded the program in 290 schools, or 26 percent of all schools.
Related Articles