School Reopening Postponed One Week in Parts of Siem Reap Province due to COVID-19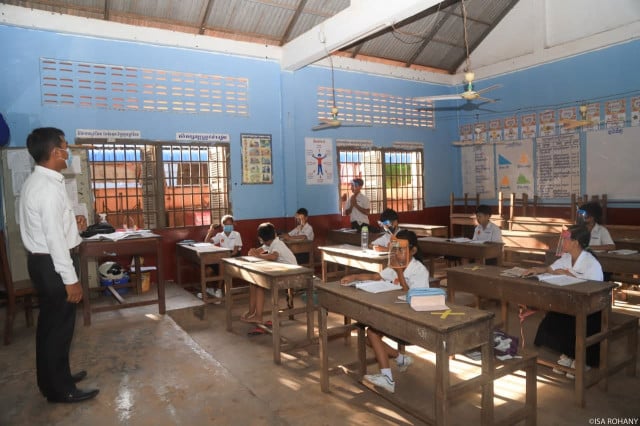 As the vaccination campaign continues nationwide to curb the spread of the disease
SIEM REAP--The Siem Reap provincial authorities have decided to postpone school reopening in Siem Reap City and four districts due to a spike in COVID-19 cases.
During an interview on Sept 11, Provincial Governor Tea Seiha explained that the reopening of schools in the provincial city and some districts had been delayed by one week.
While the Cambodian government and the Ministry of Education, Youth and Sport are allowing schools to reopen, Seiha said, "the provincial authorities have to look into the actual situation [in their areas] first.
"Based on our assessment, the situation in Siem Reap City as well as in Puok, Kralanh, Prasat Bakong and Soutr Nikum districts has not improved," he said. "So, school opening needs to be postponed for another seven days."
If the situation improves after the one-week postponement, schools in these areas will be open for in-person learning, Seiha said. As for schools in rural areas and in areas with lower contamination risks in Siem Reap Province, the reopening can be carried out as planned, he said.
While he could not provide specific data as to the number of schools that have requested approval to reopen, he said that his administration had informed school principals in the province to get everything ready for reopening, including implementing health measures in classrooms.
The authorities in many provinces and Phnom Penh have been gearing up to reopen schools following Prime Minister Hun Sen's recommendation on gradual school reopening in areas considered at lower risk of COVID-19 spread. The schools must comply with the standard operating procedures set by the Ministry of Education including allowing no more than 15 students in each classroom.
In Phnom Penh, in-person learning for all secondary and high schools will resume on Sept. 15.
As the vaccination campaign continues, the number of new cases remains high in the country
The decision to allow the gradual reopening of schools came as the country has achieved a high vaccination rate throughout the country. As of Sept. 12, a total of 11.42 million people, which amounted to 71.44 percent of the total population, had received their first dose of COVID-19 vaccine while 9.44 million people had received two doses.
On Sept. 12, the Ministry of Health said in a press statement that 660 new COVID-19 cases had been identified in the country. Among them, 122 cases involved patients coming from abroad.
Meanwhile, 493 patients have made a full recovery and been discharged from hospital while 12 patients have succumbed to the disease, according to the ministry's statement.
These latest cases have brought the total number of cases to 99,504 since the start of the pandemic in Cambodia, with 93,904 patients having recovered. The death toll due to COVID-19 stands at 2,024 persons.
Related Articles