Scientific Culture Is Key to Cambodia's Growth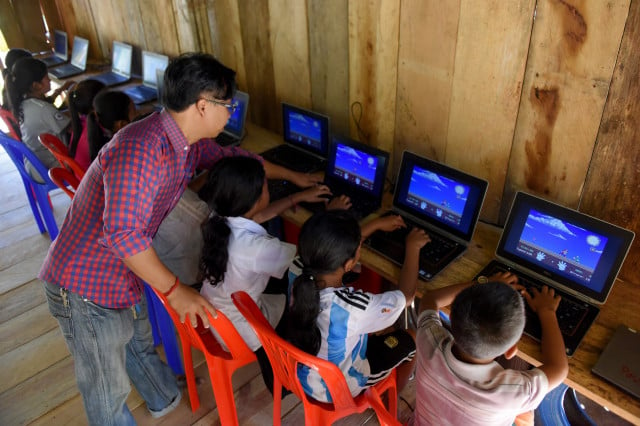 December 28, 2022 10:32 AM
CANBERRA – Cambodia needs further support of scientific culture and innovation to develop a more skilled labour force as the country prepares to graduate from Least Developed status.
Among 46 countries labeled as least developed, Cambodia is expected to graduate from the category by 2028 or 2030 if, following the triennial review in 2024, it meets at least two of three thresholds—income per capita, an index of human assets, and an index of economic and environmental vulnerability.
However, the country has faced many development challenges, especially having sufficient skilled workers to support sustainable growth. Therefore, the government has made more efforts to promote the critical sectors, particularly the adoption of the science, technology, and innovation (STI) policies that aim to support basic research, technology development, and innovation commercialisation and adoption.
Alissar Chaker, the UNDP country coordinator, pointed out in an interview with Cambodianess that although Cambodia has managed to increase its GDP, there are fundamental development challenges lagging in. the country, particularly human resources and infrastructure development.
"If we think about the dimensions of human development and relevant deprivations, there are inequalities in the standard of living, basic income, education and health, and access to opportunities," Charker said.
In terms of human resources, skills, and training, an inadequately skilled labour force was a significant constraint to attracting foreign business given that Cambodia is an open economy with an increasing manufacturing sector.
"A higher-skill workforce would accelerate its access to global value chains. Moreover, inadequate infrastructure has long been one of Cambodia's key constraints and is seen as a major bottleneck for the country's development," Charker said.
Investing in human capital
As a least developed country, Cambodia, according to the World Bank's Data, has been investing around 0.1% of its gross domestic product (GDP) in research and development even though the research and development sector plays a critical role in assisting a country in achieving sustainable growth. However, the same trend occurs in all LCD countries as they have yet to be able to invest up to 1 per cent of the GDP in research and development.
Out Sophalkun, program manager at Energy Lab Cambodia, agreed that research and development can contribute significantly to the least developed country such as Cambodia as it enables the creation of ideas that can lead to "innovations and inventions, whether they are products, process improvements, improved technologies, or services."
She argued that lacking investment in this sector can hinder the country's progress, particularly in important sectors such as health, nutrition and education.
Heng Kimkong, a co-founder and Editor-in-Chief of the Cambodian Education Forum, said that the report by the World Bank is not a surprise, pointing out that the country has been ranked relatively low in many areas.
"For example, its innovation capacity and overall competitiveness were lower than its ASEAN counterparts. In addition, research has shown that academic publications from Cambodia remain low," Kimkong said.


However, he said the government has already recognised the importance of research and development as more policies have been introduced.
"The Cambodian government has developed and implemented national research policies and projects that promote research in Cambodian universities. For example, the Ministry of Education, Youth and Sport has implemented the Higher Education Quality and Capacity Improvement Project (HEQCIP) and is implementing the Higher Education Improvement Project (HEIP)," Kimkong said.
Nonetheless, the gap remains big with low funding and Kimkong believed a lot more work needs to be carried out to further promote research activities in the country.
When asked what can be done to ensure more investments can be allocated to research and development, Sophalkun said there need to be both public and private fronts determining what study and why it has to be done.
She also believes it is crucial to create platform that allows engagements and cooperation on research promotion to take place. "When more and more people see and understand the importance of this work, the funding may come more naturally to support and strengthen it," she said.
Kimkong, who is also a senior visiting research fellow at the Cambodia Development Center, concurred that the public and private partnerships forged on mutual benefits would be vital in achieving this goal.
In addition to such collaboration, he also argued that a clear vision and effective leadership are needed to make this happen, adding that providing incentives for cooperation and competition will be another boost.
"This is linked to a culture of meritocracy. Of course, it can be overwhelming to achieve all of these, but there needs to be a starting point somewhere, and effective leadership with a clear vision can make a difference to this status quo," Kimkong said.
While asserting that the research and development sector can be bolstered on both a voluntary and mandatory basis with investment coming from public and private stakeholders, Chou Koksol, who is a lecturer and electric vehicle researcher at the Institute of Technology of Cambodia, proposed that connection between education institutions through which researchers work and industrial sector needs to be in place to accommodate this trend.
"University and industrial liaison offices at the national level should be established to help connect both sectors. Researchers don't know what the industrial sector needs and the industrial sector doesn't know what researchers can do for them," Koksal explained, continuing that the investment doesn't need to be huge at the beginning as it can increase step by step.
Another initiative was holding more science research exhibitions through which many people can be inspired and encouraged to be focused and involved with the sector.
The government has to be mindful that investing in research and development is investing in the nation's future, he said, equating it to planting trees which naturally takes more time to reap benefits.
"We will not get results straight away, but we must start planting the seed anyway."
The Ministry of Education, Youth and Sport's spokesperson could not be reached for comment on current efforts and policies undertaken by the government to support the research and development sector.
Building strong research and development culture is a long-term investment for the least developed country like Cambodia, although achieving it will take time and efforts given its current financial constraints. Moreover, its financial capability has also been hampered by the Covid-19 pandemic.
In a co-authored article titled "Technology is the key to transforming least developed countries. Here's how," published on the World Economic Forum, Taffere Tesfachew, acting managing director of the United Nations Technology Bank for the Least Developed Countries, noted that Cambodia as well as other LDCs can mobilise resources to support skills development as well as research through different sources.
"LDCS can ultilise the revenue from commodity exports and external sources of funding, such as through South-South cooperation, Aid for Trade (AfT), foreign direct investment, blended finance and impact investment to upgrade technological capabilities," Taffere said.
He also noted that the Fifth United Nations Conference on the LDCs, which is scheduled to take place in Doha from March 5-9, 2023, will also be a great opportunity to "realign the international community's efforts to assist the LDCs on the path to transformational change."
"A clear strategy, backed by an investment plan for technological upgrading, is needed to enable the LDCs achieve structural transformation and higher levels of income," he added.
Cambodia's lack of scientific culture
Cambodia's path to achieving a sustainable future faces more daunting challenges beyond building mainstream human resources. Considering the digital transformation which requires technical skills, Cambodia needs to foster a scientific culture among its human capital and establish a favourable environment for this culture to flourish.
According to the case study report commissioned by the United Nations Technology Bank for Least Developed Countries titled "The State of Science, Technology and Innovation in the Least Developed Countries," Cambodia was found to have many limitations when embracing science, technology and innovation.
Given that Cambodia has strong governance for STI development and a growing innovation infrastructure with a large chunk of the working-age population, the report suggests that scientific culture and skills in the country have barely existed, with low participation from women and girls.
The insufficient scientific culture among Cambodians can be understood through its culture and existing education ecosystem, which, to a certain extent, limits people's exposure to science, technology, engineering, and mathematics (STEM) and hinder their interest in scientific studies.
Koksol noticed the low interest in science, technology, engineering, and mathematics among young people because they are not exposed to such studies at a young age — the condition that makes many perceive that STEM is challenging to learn.
"With only abstract concepts and without physical objects to experience, students will think that STEM is hard to study. If we can help expose them to this, they will know that STEM is interesting and not boring. But to do this can cost a lot of money," he emphasised.
As a lecturer, Koksol noticed that in Cambodia, STEM studies only are introduced to students when they reach upper secondary school, which he believes is quite late. Moreover, the trend of students not choosing scientific majors can also be partially driven by the high school examination standards and the results.
"High school students tend to choose subjects that guarantee a high percentage of passing the national exams," Koksol explained.
Sophalkun, who also graduated from La Fayette College in engineering, agrees that the inadequate real-world experience provided by schools when studying STEM majors needs to be tackled.
"Most high schools allow students to take all the classes in various subjects to learn theories, but when it comes to learning first-hand and bringing ideas into practice, there are no resources to do that," said Sophalkun. "Young people like to explore while having fun and are encouraged to try and make mistakes."
On the other hand, Kimkong pointed out that the whole STEM ecosystem that helps spur students' interest in STEM majors needs to be more present, and the shortfall in guidance or orientation in high school on STEM majors compels that.
"Meanwhile, the limited offering of STEM subjects in higher education is another issue, and the inadequate career opportunities for graduates with STEM majors is another essential factor."
Sophalkun recognised that more women and girls get the opportunity and are allowed to explore STEM and are encouraged to do so.
Nevertheless, she said many women and girls, especially in rural areas, continue to be held back from scientific studies by the cultural dimension.
"There are certain parts of the country where women are not encouraged and oppressed to follow the status quo in which they should stay home and take care of the family. This is one of the challenges we are still facing as a society." Sophalkun said.
Awareness-raising and investment
As most of LDCs experience the same development issue, the experts believe that what can guarantee a success in fostering scientific culture will only partially depend on financial capital. The will to make the change and ability to opt for more innovative approaches that can minimise the cost of investment should also be on the table.
"It is true that introducing STEM majors early to the students is critical. In this case, if providing physical subjects is too costly to achieve, we can create videos and add them to the elementary school curriculum," Koksol explained, "More airtime of science hour should be introduced to the commercial and public broadcasting network."
Meanwhile, he suggested that the government consider holding more science exhibitions and even setting up science museum tours through which more children can access and immerse themselves.
"To realise gender balance in science studies, more female researchers should be supported and employed as they can help students learn through their example or role model," he added.
Kimkong emphasised building research activities by integrating them into the education curriculum while setting scientific research culture as the requirement for in-course assessment and establishing a favourable environment that induces people to conduct research.
"We need to treat active researchers differently by providing support and incentives to encourage them to continue their research activities. They are the ones who can inspire the younger generation to take up research," he said.
While acknowledging that there need to be more equipment resources and upskilling of the teachers to facilitate and lead the students in spurring their interests, Sophalkun argued that the focus could go beyond classrooms, as parents have a more significant influence on their children when it comes to building interest in science and choosing science majors.
"Parents have to get involved since kids can be informed of what and why this encouragement is essential to their kids in school and what agendas are the priority so they can reinforce those messages," she said.
Related Articles